It's nearly Wednesday, and you know what that means: a fresh load of comics and graphic novels! With so many publications hitting your local comics store or digital storefront, the BF staff is here to lead you through the woods with our weekly staff picks. Satisfaction guaranteed.
Comic of the Week
Arcadia #1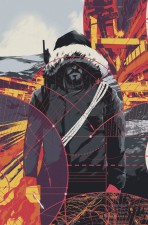 Red-hot newcomers Alex Paknadel and Eric Scott Pfeiffer take center stage this week with their first creator-owned project from BOOM! Studios. Set against a grim near-future backdrop, where 99% of the earth's human population has been wiped out by an especially efficacious papillomavirus, Arcadia has already drawn comparisons to such popular franchises as George R.R. Martin's A Song of Ice and Fire and The Matrix Trilogy by the Wachovskis.
With over four billion souls "saved" by having their signature brain patterns uploaded into a vast virtual reality computer simulation, it's left to "the Meat" in the physical world to ensure their disembodied loved ones survive long enough to develop a cure for the rampant killer virus. Political maneuvering, not-so-secret espionage plots, and subverted family values combine to illustrate the disturbing moral decrepitude driving the "new" human race's final fall.
Although the media and BOOM! are quick to draw parallels to Martin and the Wachovskis, Arcadia has a more direct antecedent in Tad Williams' epic sci-fi/fantasy series Otherworld, which also explores themes of moral decay, cutting edge VR sims, and twisted family dynamics. Despite these obvious similarities, Arcadia stands on its own as a wholly original work, built upon a solid foundation of complex world-building and character development.
Timely, challenging, and extremely well-crafted, Arcadia is quite possibly one of the strongest debuts I've read in years. Keep an eye out on Paknadel and Pfeiffer – I have a feeling we'll be seeing a lot more from them in the months and years to come.
Alex Paknadel (W), Eric Scott Pfeiffer (A) • BOOM! Studios, $3.99
– Jason Wilkins
Minimum Wage: So Many Bad Decisions #1
In contrast to the big releases of the week, cartoonist Rob Hoffman's conflicts are decidedly more banal: while his work-for-hire gig on a quartet of mutant horseshoe crabs challenges his artistic morals, visions of his ex-wife bombard him on his first newly single birthday. Then again, he also doesn't have a multiverse of heroes ready to pick up the slack.
Fingerman's been firing on all cylinders with this series since its return from a nearly 15-year hiatus (in last year's Focus on the Strange). It's more romantic tragedy than romantic comedy, but that just makes it all the more endearing – and relatable.
As an artist, Fingerman can be an earnest draftsman or a caricaturist as the scene calls for it, but most of the time his work just exudes an indie cool that's only got more comfortable with time. Pull up a seat at the table this week – it's more fun than listening to your mate cry into his beer at the bar, and a hell of a lot funnier.
Bob Fingerman (W/A) • Image Comics, $3.99
– Paul Mirek
A Bit of Undigested Potato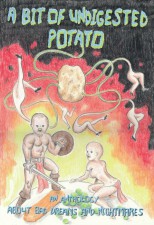 When UK small presser Keara Stewart put out a call for contributors for a proposed anthology zine of short accounts of dreams and nightmares she had no idea of the massive positive response she would get. Forty creators have provided short strips for the project including the likes of Karrie Fransman, Matilda Tristram, Mike Medaglia, Rachael Ball, Andy Poyiadgi, EdieOP, Sean Azzopardi, SJ Harris, Viviane Schwarz, Kelly Froh, Richy K. Chandler, Tim Bird and many more!
The book takes its title from a line in Dostoevsky's classic novel Crime and Punishment when a character is told his nightmares are nothing to worry about, probably only caused by "a bit of undigested potato". A remarkable piece of comics community, A Bit of Undigested Potato will debut at the Alt Press Takeover this Saturday and is available for pre-order from Keara Stewart's online store. You can also see a preview of the anthology in my interview with Keara Stewart here.
Anthology – Various creators • Self-published, £5.00 
– Andy Oliver
Black River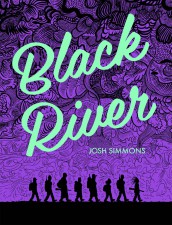 Seattle-based cartoonist Josh Simmons created quite a stir with his horror collection The Furry Trap back in 2012, and his first book-length graphic novel since 2007 looks set to have a similarly forceful impact.
Black River depicts the wanderings of a rag-tag group of damaged survivors through a post-apocalyptic world, in search of a fabled city where civilisation still has some sort of a foothold. Along the way they fry their brains on a drug called "Gumdrop", encounter murderous gangs and visit a comedy club.
Their bleak odyssey through the blighted landscape is depicted forcefully in Simmons' powerful and visceral black-and-white cartooning. Fantagraphics have put up a nine-page preview here.
Josh Simmons (W/A) • Fantagraphics, $18.99
– Tom Murphy
Secret Wars #1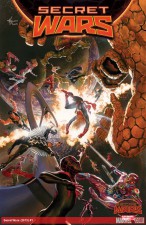 Marvel Comics unleashes its biggest event of the year with this week's Secret Wars #1. Building on the Free Comic Book Day release of Secret Wars #0, this eight-issue series pits the Marvel Universe against the Ultimate Universe—and Marvel promises that neither will survive. As with all universe-altering events, Secret Wars will spill over into Marvel's ongoing titles, so you'll need a checklist to keep up with all the special tie-in books and their release dates.
As with DC's Convergence, Marvel will bring back and bring together characters we haven't heard from in a while to fight for their version of the universe. It's worth the price of the book to see Iron Fist teamed up with Power Man and to watch Rocket Raccoon hurl insults at Tony Stark. With the creative team of writer Jonathan Hickman and artist Esad Ribic on board, one thing is for sure—this series should make the Secret Wars of the 1980s look pretty tame by comparison.
Jonathan Hickman (W), Esad Ribic (A) • Marvel Comics, $4.99
– Karen O'Brien
Rocket Girl #6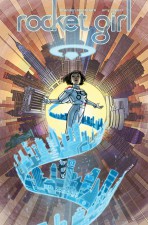 Rocket Girl blasts into her second time-traveling story arc! After traveling back to 1986 to the point where things started to go wrong in her own timeline, DaYoung Johansson, member of the 2013 New York Teen Police Department, manages to stop Quintum Mechanics from launching their Q-Engine before it's too late. The only problem, DaYoung now has not future to return to.
Stuck in 1986 NYC, she vows to hang up her helmet and jetpack for good. But without the young hero, there's no one to save the city. Maybe there was a higher purpose for her to traveling to this time after all. And what could possibly be happening in the future she left behind? The one that shouldn't even exist anymore!
Brandon Montclare (W), Amy Reeder (A) • Image Comics, $3.99
– Tyler Chin-Tanner

The Comix Reader #6
After being chosen in the 2015 Selection for best Alternative Comic at the Festival de la Bande Dessinée d'Angoulême, The Comix Reader's long-awaited sixth issue is officially launched at London's Gosh! Comics this Friday 8th May. A tabloid style newspaper anthology, The Comix Reader has a true underground vibe to it with its larger page size giving the work of a number of indie artists a real space to breathe.
This latest edition features work from talents like Lord Hurk, Alex Potts, Ellen Lindner, Paul Ashley Brown, Peter Lally, Maartje Schalkx, Mike Medaglia, Craig Burston,  Richard Cowdry, Alex Widdowson, Bernadette Bentley and Julia Homersham, Paul O'Connell and Dan Locke, amongst others. At just £2.00 for that level of indie comicky goodness you really cannot go wrong!
Anthology – Various creators • Self-published, £2.00 (available for mail order here)
– Andy Oliver