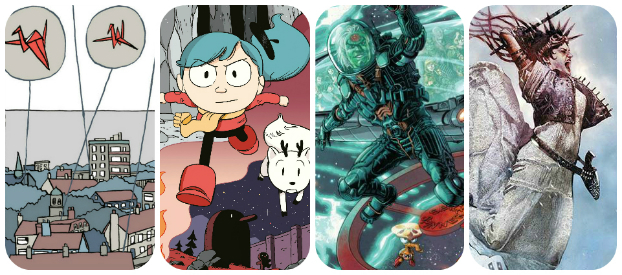 It's nearly Wednesday, and you know what that means: a fresh load of comics and graphic novels! With so many publications hitting your local comics store or digital storefront, the BF staff is here to lead you through the woods with our weekly staff picks. Satisfaction guaranteed!
Comic of the Week
Grey Area: Our Town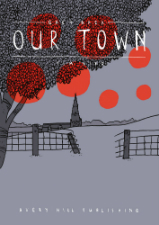 Last year's British Comic Awards saw Avery Hill Publishing mainstay Tim Bird's very individual take on psychogeographical comics getting a level of recognition that was long overdue when his Grey Area: From the City to the Sea was voted 'Best Comic'. Debuting at Bristol Comic and Zine Fair this weekend, the fourth instalment of the self-contained Grey Area series is subtitled Our Town and cements Bird's place as one of UK comics' most subtle and nuanced storytellers.
This latest offering sees a structural shift to a more narrative-based comic but with the same tonal emphasis on the links between environment, memory and the lives that link the two. It's powerful yet delicate in construction and further evidence of both Bird and Avery Hill's place at the forefront of the new wave of British comics. You can pre-order a copy of one of the most eagerly anticipated new comics of 2016 from the AHP online store here.
Tim Bird (W/A) • Avery Hill Publishing, £7.00
– Andy Oliver
2000 AD #2000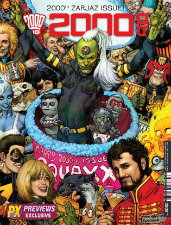 Nearly 40 years on from its 1977 debut and 2000 AD – that last remaining bastion of a bygone era of weekly British serial comics – reaches its incredible milestone number this week. The impact and influence of the Galaxy's Greatest Comic in that time cannot be underestimated and this anniversary celebration is full of nods to the rich history of the book.
Pat Mills and Kevin O'Neill collaborate on a new Nemesis the Warlock tale while John Wagner and Carlos Ezquerra team up on a very special Judge Dredd story. There are returns from such creative luminaries as Brian Bolland, Mick McMahon and Dave Gibbons and favourite characters like Rogue Trooper, Sinister Dexter and Judge Anderson. And looking to the future there's also the debut of new story Counterfeit Girl by Peter Milligan and Rufus Dayglo.
Whether you're a regular enthusiast, a lapsed reader or a complete newbie looking for a thrill-power taster then 2000 AD Prog 2000 simply has to be one of the top choices on your pull list this week.
Anthology – Various creators • Rebellion, £3.99
– Andy Oliver
Hilda and the Stone Forest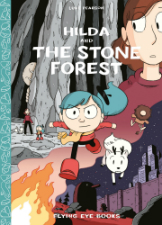 Luke Pearson's Hilda series occupies the same realm of whimsical yet heartfelt childhood fantasy as Miyazaki's greatest works, and is a longtime favorite here at Broken Frontier. This latest volume from Nobrow's Flying Eye imprint is the fifth in the series, and the first since the announcement that Hilda will be making the leap to Netflix as an animated series in 2018.
Nevertheless, Pearson's love letter to bandes dessinées feels fresher than ever. This time, Hilda's mother is along for the adventure – and as with any family road trip, tensions are high. Mother and daughter soon find themselves lost in the land of the trolls, and it's going to take all of Hilda's cleverness (and just a little bit of magic) for them to find their way home again.
Pick up the latest volume's US release at your shop this Wednesday, and take the opportunity to catch up on the previous episodes while you're there – or enjoy the pleasures of exploring Pearson's world for the very first time.
Luke Pearson (W/A/C) • Nobrow Press/Flying Eye Books, $19.95
– Paul Mirek
Sneaky Business Volume 2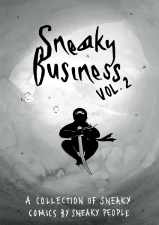 Another debuting comic at this weekend's Bristol Comic and Zine Fair, Sneaky Business Volume 2 has been edited and curated by BF 'Six to Watch' creator and Broken Frontier Small Press Yearbook contributor Rozi Hathaway. Featuring 17 largely two-page strips, the themes of the stories within its pages all revolve around the idea of stealth or sneakiness.
Look for a number of oft-featured creators from our 'Small Pressganged' column including the inimitable wit of Danny Noble, the powerful autobio of Wallis Eates and something a little different from comics diarist Elizabeth Querstret. A great sampler of diverse work and creative styles for an absolute bargain price. Grab yours at BCZF and from Rozi Hathaway's online store shortly thereafter! You can read a full Broken Frontier review here.
Anthology – Various creators • Self-published, £3.00
– Andy Oliver
Frostbite #1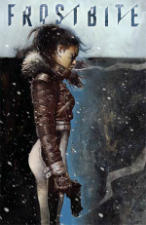 Winter is coming… in a couple of months, that is. What better way to celebrate than with the "cool" new Vertigo mini-series Frostbite from writer Joshua Williamson and artist Jason Shawn Alexander?
The Earth has succumbed to a second Ice Age with the surviving population living a Mad Max-style existence where heat (rather than gasoline) is the coveted currency of power. To make matters worse, a new disease is on the rise – "Frostbite" – that causes the moisture in victims' cells turn to ice, effectively freezing them from the inside out. Two scientists may have discovered a cure, but unless they can reach a secret government installation in far-away Mexico City and create a vaccine, the extinction of humanity is imminent. They enlist the help of Keaton, a South American woman skilled in the human-trafficking ways of the "coyote", to help them traverse the dangerous frozen wastes. What Keaton doesn't know, however, is that the scientists have a price on their heads and the journey will put them all to the ultimate test.
Frostbite is the first new series to launch under the newly-restructured Vertigo, so this title certainly carries a lot of weight. Thankfully, Williamson, whose work on DC's rebirth of The Flash has proven him to be a writer worth his salt, and Alexander, whose ongoing Image series Empty Zone is some of the best cyberpunk to come along in decades, are the perfect creative team to "break the ice" for the re-emergence of one of comics' most important imprints.
Joshua Williamson (W), Jason Shawn Alexander (A) • DC Comics/Vertigo, $3.99
– Matthew Box
American Blood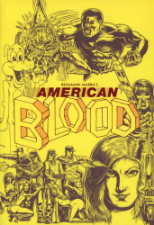 Around this time last year former Broken Frontier stalwart Tom Murphy reviewed Benjamin Marra's graphic novel Terror Assaulter: O.M.W.O.T. – a darkly comedic tale of a secret super-team of U.S. agents protecting American interests overseas. He intriguingly described the book's aesthetic then as "an affectionate emulation of the sort of thing a 15-year-old headbanger might have lovingly rendered in the back of an exercise book in the 1980s, after watching one too many straight-to-video action flicks. (And that recognition is very much part of the joke.)"
Marra's latest book from Fantagraphics is American Blood, a collection of uncompromising shorts with their tonal roots in exploitation movies and gloriously '80s lowbrow culture. With titles like 'Gangsta Rap Posse', 'The Naked Heroes' and "Ripper' expect another healthy dose of satirical social commentary from this decidedly distinctive creative voice.
Benjamin Marra (W/A) • Fantagraphics, $19.99
– Andy Oliver