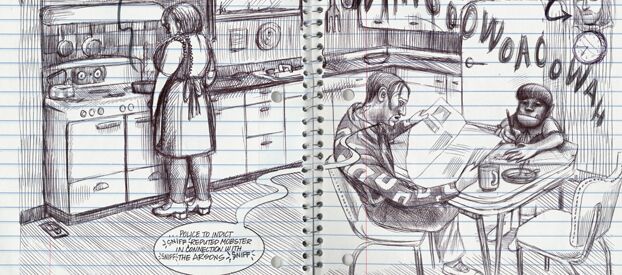 BROKEN FRONTIER AWARDS – BEST ORIGINAL GRAPHIC NOVEL WINNER!
Every year the comics critics' "best of" lists start to congregate like wiry hairs in the internet plughole, and every year they provoke the same range of reactions, from sage nods to weary eyerolls to spluttering outrage.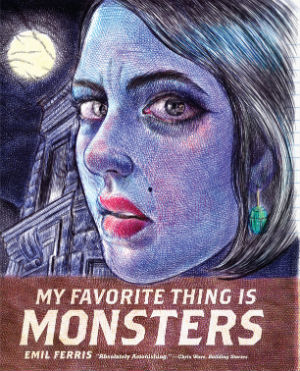 However, as 2017 made its exit (to a chorus of "Don't let the door bang your arse on the way out"), there was an unusual sense of consensus among panelologists – including the inmates and readers of Broken Frontier – about the original graphic novel of the year: My Favorite Thing is Monsters, by Emil Ferris, published by Fantagraphics.
So what is it about Monsters that has exerted such a gravitational pull on readers?
Of course, there are a couple of obvious PR hooks. First up – and surprisingly noteworthy – is the fact that in a market that loves its youthful prodigies, Emil Ferris is an honest-to-goodness Grown-Up, making her comics debut in her mid-50s. Pow! Zap! Comics aren't just by kids any more!
There's also the altogether more pertinent issue of the artist's medical history. Having faced the effects of scoliosis earlier in her life, Ferris – a working illustrator/designer and single mother – found herself paralysed after a mosquito bite left her with West Nile virus. Having lost the use of her dominant right hand – and, thus, her ability to draw – she had in effect to learn again from scratch. The work that became Monsters was as much as anything a key part of her rehabilitation.
However, to get to the heart of the Monsters phenomenon, you just have to dive between the covers of the book. In those pages, you're instantly immersed in the late '60s Chicago of the book's protagonist, Karen Reyes – a horror-obsessed young girl living with her mother and bohemian artist brother Deeze.
The book's inciting incident is the apparent murder of Karen's intense, fragile neighbour, Anka Silverberg. As Karen tries to process the tragedy, she has something of an epiphany: "Right then I felt like there were SECRETS all around me. There needs to be a detective to figure out what is hidden." With a borrowed fedora and rolled-up trenchcoat, Karen takes on the role herself.
So the book ostensibly fits into a fairly familiar tradition, whereby a naïve young investigator takes on the adult world to solve a mystery and uncovers more than a few uncomfortable truths along the way.
However, with the first of its two volumes coming in at just short of 400 pages, Monsters contains multitudes. It doesn't take long for Anka's murder to be flagged as a McGuffin, and instead the story bursts out all over, like, um, a comic reviewer from a t-shirt that seemed to fit him just fine a couple of months ago.
What is Monsters really about, then? It's about the weight of truth, "like being roped to an anchor and tossed into deep water". It's about the incredible durability of the human spirit, and the way we use the power of art, myth and the imagination to survive "even the most terrbull things". It's about the compromises we have to make, and the expedience that might be thrust upon us in the most extreme of circumstances. And most of all it's about the ghosts that haunt us, from childhood to old age (if we're lucky enough to get that far).
Of course, as in any comic, a description of 'what happens' is only half the story. What really makes Monsters soar – even during some of its more discursive detours – is the tour de force achievement of Emil Ferris's artwork.
Casting aside the cinematic grammar that drives/constrains most comics, the book is presented as Karen's spiral-bound jotter pad, including her depiction of herself as a wolf-child (something that only slips once, to moving effect). Each image, from the sketchiest doodle to the most layered reproduction of a Renaissance masterpiece, is scratched out almost entirely in ball-point pen and felt-tip markers.
Even without the physical setbacks Ferris has overcome, this would be a staggering feat. Page after page strains under a dense structure of cross-hatching that builds up to something almost tangible. In a book filled with ghostly presences, there are none more haunting than the beautiful blue face of Anka Silverberg, looking out and skewering the reader with the gaze of eyes that have seen too much.
Those of you who have read Monsters will probably be tutting at the number of moments and themes I haven't revealed, but for those of you who haven't experienced it yet, I want you to let Emil/Karen take your hand and lead you into the depths of their book.
And with the second and concluding volume due for publication later in 2018, I think there's a fair chance that we'll all be meeting back here this time next year.
Emil Ferris (W/A) • Fantagraphics Books, $39.99