The second volume of Megg, Mogg and Owl strips by Simon Hanselmann (Megahex) is a strangely affecting flat-share sitcom that has a sharp edge of melancholy never far beneath the surface.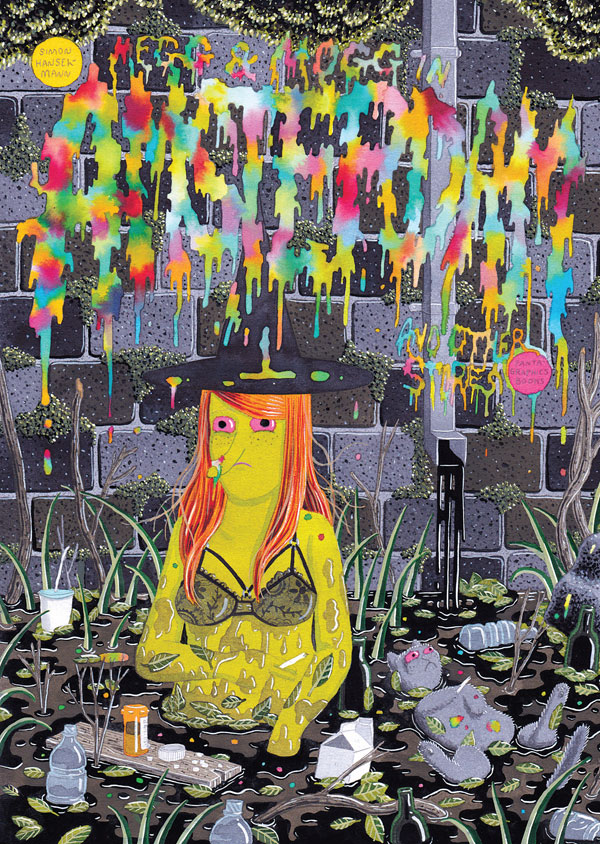 Even amid the rainbows and unicorns of the alt-comics world, Tasmanian cartoonist Simon Hanselmann (now based in Seattle) cuts a singular dash. For an example of his Now Legendary trantastic style, check out the time he married comics at SPX…
Fortunately, his work creates a similar impact. A prolific producer of pages, Hanselmann's main body of material – this is the second collection through Fantagraphics, following Megahex – adds a couple of Gs and holds up a warped mirror to the 'Meg and Mog' children's books of Helen Nicoll and Jan Pienkowski.
In what is essentially a bleak flat-share sitcom, the witch and her cat are now unlikely lovers, pushing their way through a squalid existence of depression and dependence. The flavour of their life is captured graphically on the book's cover, as they gaze with detached ennui from a rising tide of filth.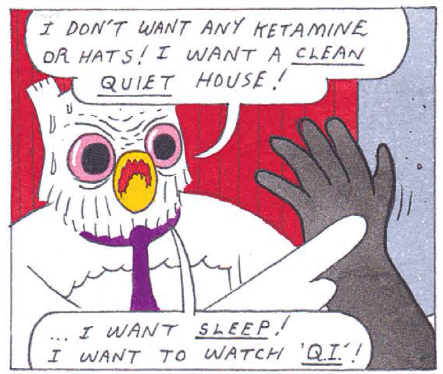 Sharing their flat – and more often than not the butt of their disdain and exploitation – is straight-man Owl, who works in telemarketing and doesn't want much more than the rest of us: a nice quiet evening in front of Antiques Roadshow and the occasional wank in the bath.
However, any good intentions the trio may harbour are normally laid waste by the intervention of their enabling drug-dealer frenemy Werewolf Jones – an agent of chaos who exerts a disastrous gravitational pull on those around him.
The book builds up to the title story and its aftermath, originally produced for Vice.com, but there's a variety of stuff here drawn from a number of sources (and periods, judging by the slightly jarring variety of styles in a couple of pieces).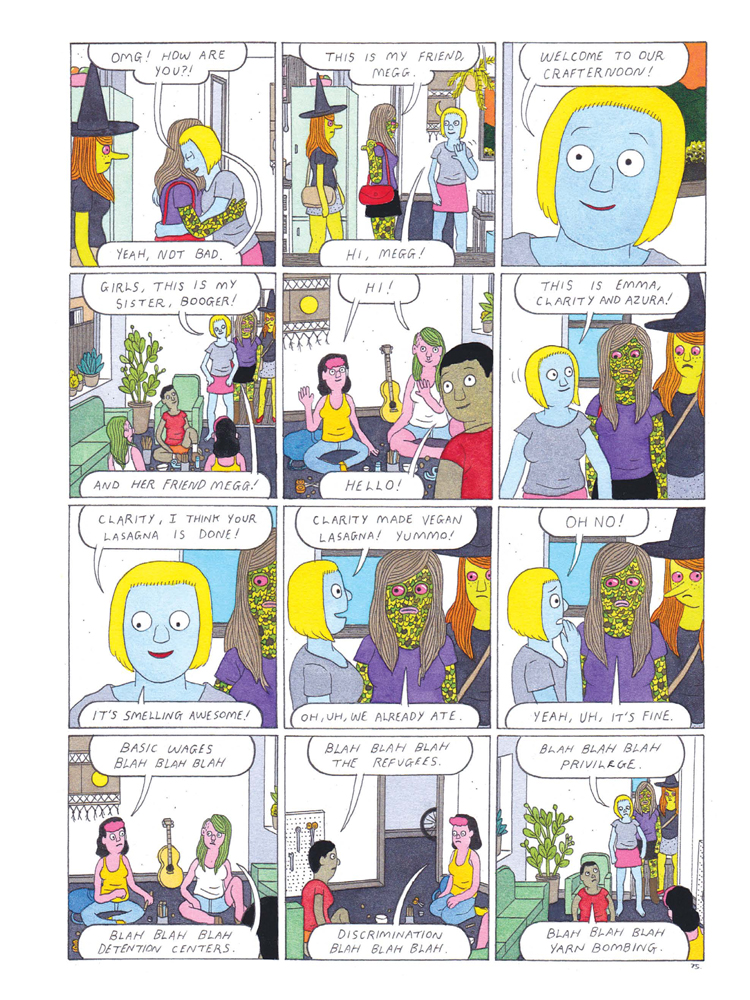 Along the way, we see painful misadventures on a camping trip, at a music festival and when Megg drops in on the "crafternoon" being held by the suburban sister of her friend Booger. Things come to a head when Megg and Mogg head to the Dutch capital for some quality couple time, starting with the realisation that they've forgotten their antidepressants…
Hanselmann's characterisation is so strong that it doesn't take long before you're looking past the obvious absurdity of the set-up and focusing instead on the sharply drawn relationships.
Sure, the cartoonist alludes to the awkward inter-species aspect of Megg and Mogg's relationship and Owl's avian nature, but the depth and familiarity of the characters bring them as vividly to life as any characters in comics. So when, in the title story, Mogg is riding round on a tiny cat-sized hire bike, it seems like the most natural thing in the world.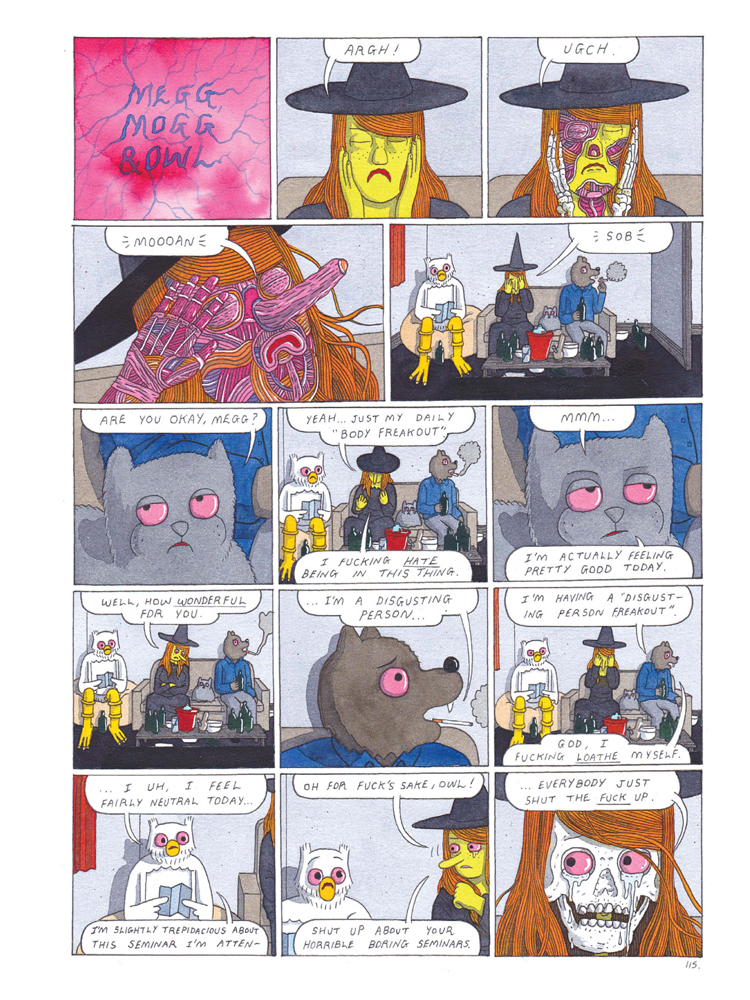 While you could lazily categorise a few of these strips as 'stoner comedy', there's a lot more going on, with sharp edges of melancholy never far beneath the surface. Megg's ongoing depression is played with power and sensitivity – never more so than in the sombre graphic depiction that closes the book, as she makes a decision about whether or not to resume her medication.
The book also captures skilfully that resigned "Why not?" feeling that comes in the fog of borderline dependency. The characters know they're likely to regret their next narcotic escapade, and probably aren't even going to enjoy it, but they can't think of a good enough reason not to do it anyway.
Hanselmann's art style looks simple enough, but on closer inspection you soon notice a hint of obsessive detail about it – particularly in the grim detritus that seems to accumulate swiftly around Megg and Mogg. And his use of very regular grid patters highlights his strong comic timing; one of his signature moves is a silent reaction shot of one of the characters, generally aghast or devastated, that gives the reader pause to reflect with them on the pain of what's going on. Elsewhere, in situations where words fail them, the characters are reduced to a silent ellipsis in a speech bubble.
In the way he mixes easy craft with sharp humour and unexpected depth, it's easy to see why Simon Hanselmann is very much a cartoonists' cartoonist. If you've never entered his world before, you're in for a (slightly bruising) treat.
Simon Hanselmann (W/A) • Fantagraphics Books, $19.99