Mathew Klickstein's ambitious project See You at San Diego from Fantagraphics Books is described as a "comprehensive chronicle of Comic-Con International and modern geekdom itself as told through countless intimate, hilarious, and often-thought provoking stories by nearly fifty of the most integral members of today's convention and fandom community."
Nominated for a 2022 Broken Frontier Award in the Best Book About Comics category it's a truly impressive achievement and a vital archival record for comics historians. I chatted with Mathew recently about the book, the logistics involved in such a mammoth undertaking, and some of the anecdotal highlights in its pages…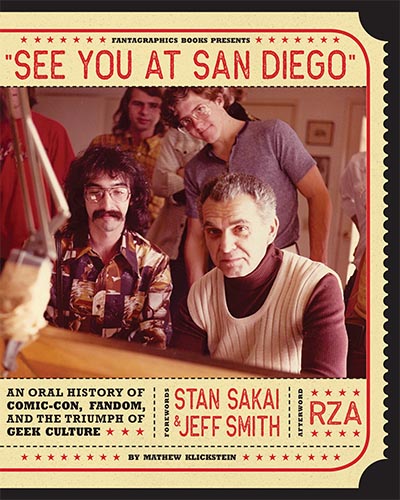 ANDY OLIVER: So let's start with the obvious question and ask you about the origins of the project, its pragmatic sidestep into audio release at the beginning of the pandemic, and its return to print last year?
MATHEW KLICKSTEIN: It's been quite a journey, these past three years.
I'd been working for a while with a literary agent of mine on developing some new ideas, and around January 2020, he agreed it would be worth my time to focus on an oral history of Comic-Con. We had unfortunately just missed the 50th Anniversary, but there hadn't really been a full chronicle of the Con and the impact it had on fandom (and vice versa) as told by the folks who made it all happen. We wanted to get that project done before more early Con folks were gone, so we moved forward aggressively.
I had already been longtime friends with Wendy All, one of the earliest Con committee members from back in the day, and she agreed I would be a perfect person to put together such a project. She helped connect me to a lot of the formative Con folks we'd need for the book, everyone was onboard… we were ready to go… and then by March 2020, it was Covid and lockdown.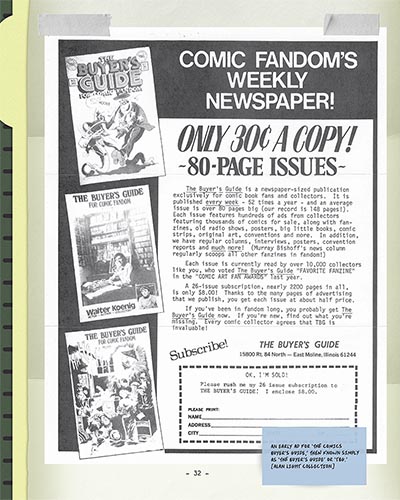 Long story short, the publishing world — around with everything else in global society — went topsy-turvy, we were suddenly left not knowing what to do, and as I was concerned it was essential to at least start getting as many interviews on record as possible before it might be too late, I connected with a longtime friend who'd worked his way up at SiriusXM and we decided to keep the project going for the time being over there as a six-part audio documentary podcast series ultimately called Comic-Con Begins (and available free on all audio platforms).
Comic-Con Begins was a success, and as I've always been a big fan of Fantagraphics, was greatly inspired by their own oral history We Told So You, and was fortunate enough to have two contributors to the pod — Stan Sakai and Ho Che Anderson — who had firm relationships with Gary Groth over there, we were able to connect with GG. He got onboard to do the book version fairly quickly, and we were off to the races for See You at San Diego.
AO: As huge and all pervasive as they are (or certainly were before 2020) there's something quite ephemeral about the convention experience. How vital do you believe it is for us to be recording first-hand accounts like this for posterity before it's too late?
KLICKSTEIN: The short version is: VERY important!
The longer, more Klickstein-esque version, is that I am a fervent proponent of the relatively new literary form of the "oral history." I am a huge admirer of the likes of Studs Terkel and the pioneering field recording work of the likes of Alan Lomax and Harry Smith. I love the slightly later formative oral histories such as those on Edie Sedgwick and Truman Capote by George Plimpton, and used to pore over the extremely free-form "oral history" of a sort of Andy Warhol's Factory crowd a la his team's intercutting of transcripts from recordings he made for the deceptively titled a, A Novel.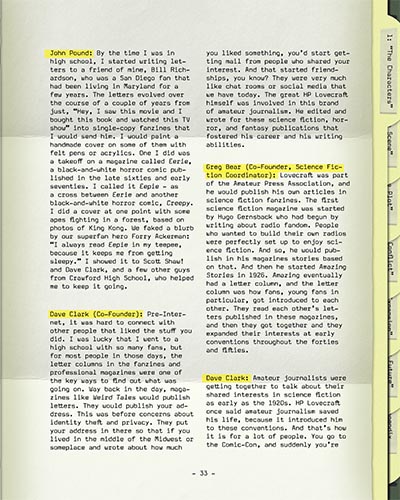 Later, there was Legs McNeil's Please Kill Me on foundational punk and Charles Ahearn's Yes Yes Y'All on foundational hip-hop. Today, we of course have such masters of the artform as James Andrew Miller (Saturday Night Live, ESPN, his recent oral histories on CAA and HBO…). My friend Mark Yarm did a fantastic one on grunge a few years back as well that I can highly recommend, Everybody Loves Our Town.
Such books are extremely valuable to our shared heritage, especially these days when there's such a relentless barrage of misinformation, disinformation, misinterpretation, and astounding partisan bias greatly disrupting the flow of what stories and facts from history come out, as well as how they come out — along with so much history itself being ignored, suppressed, outright censored, rearranged, and marginalized.
I firmly believe it's essential that we do what we can to acquire first-hand, primary sources of personal anecdotes and memories that are as critical to our cultural/societal understanding of crucial cultural institutions such as not just Comic-Con but of fandom/pop culture nostalgia and so-called "geek culture" before, yes, it's too late and the folks who were actually there are no longer with us to tell us what really happened.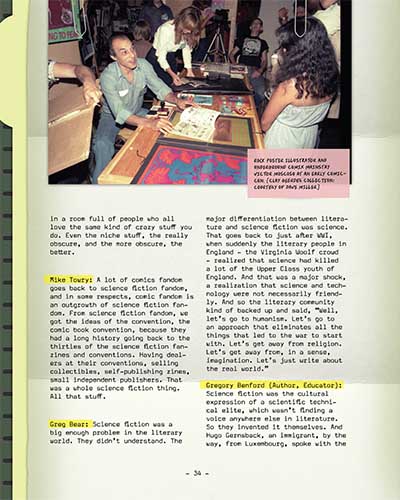 Once they're gone, they're gone. And then that's it. I felt a true urgency, especially at the height of Covid, to get what I could, for true fear of folks being gone sooner than we could get them for this significant new cultural resource.
We were already too late for some folks — publicist Charlie Lippincott who had just passed right before we started, and maternal mentor Mary Henderson who had been gone for a few years already, et al. Gene Henderson, Mary's husband, told us during production he wouldn't be around when we were finished, and sadly he was right. But, we did get him in there, and I'm so grateful we could. Of course, very sadly, we just lost science fiction maven and one of the original Con co-founders Greg Bear a few weeks ago. So, once again, we were so glad to get him in there to get his unadulterated story told as part of the archive.
I'm particularly proud too that even though Robert Crumb and Aline Crumb weren't really a part of the Con scene per se, they were definitely very involved and integral to the fandom community surrounding the Con and had many indirect connections to the Con itself, including as major inspiration for those involved then and now. We did have a number of pictures of the two of them from the early days in the book, and there's plenty of stories about them both in there. Through a mutual friend who would stay with the Crumbs when he would visit France, we were able to get them a copy of the book personally, and I know Aline was excited to see it, which — unfortunately — turned out to be very lucky we could get it to her for her to enjoy it before she too was gone.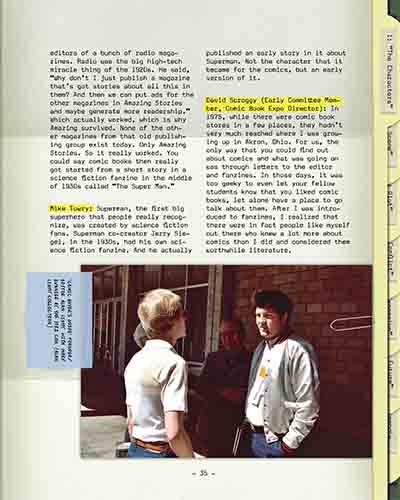 These people deserve to be recognized in such an exhaustive, encyclopedic resource and the continuum of history that will continue for time immemorial deserves to include such vital resources in its forward march toward the endless horizon of eternity.
AO: In terms of the practicalities of an endeavour like See You at San Diego what were the logistics involved in getting those testimonials? How did you approach the balance of "big-name" creators and those perhaps less celebrated but still absolutely pivotal figures in the story?
KLICKSTEIN: Very good question, and this was one of the most challenging aspects of the entire endeavor.
I was quite fortunate in that, as mentioned, we started with a longtime friend of mine who'd I'd met (though never in person until recently!) for interviews I conducted with her for a much earlier project on so-called "nerd culture" back in 2014. Wendy All really steered us in the right direction as far as who we needed to talk to, how to get in touch with them, and — most importantly — helped us immensely by explaining to the thirty or so people to whom she connected us who I was, my background in these kinds of projects in this past, and why her friends and colleagues from the Con scene should talk with me in the first place.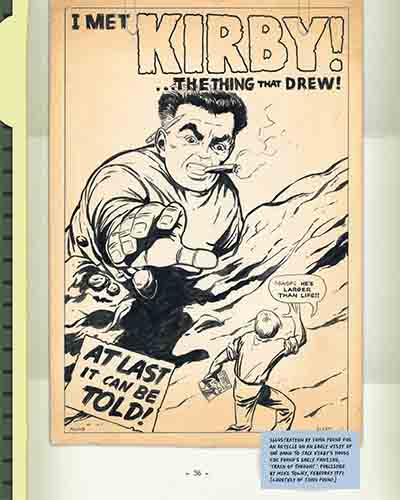 Once we had those thirty or so lined up, and particularly during the rather tumultuous time of getting everything in order during Covid — plus, as can be imagined, the personal/intimate connections that arose with many of them — we in a way "recruited" a number of these folks to help us as much as they could to ensure the project would be that ultimate resource we envisioned. Amongst other things, they began suggesting other people I should talk to or otherwise helped me connect with some of these folks and others too who later became absolutely essential in their own way to getting things done and done right.
Many of them to the project on as their own, which is exactly right because I very much see it as much theirs as mine. After all, it's their stories and their pictures and art, and it's the story in many cases of their lives and what they created. So, of course, I see this completely as a group effort and all the many, many contributors deserve such recognition and agency over the project — which is exactly how I felt throughout its completion.
This was also not my first rodeo. I'd produced plenty of other similar books and documentary projects and podcasts and the likes over the years, so I also greatly understood the marketing/business side of things. I knew that as crucial to the story as certain people were and are, we still needed a few "ringers" who would help us later with larger brand visibility and what is called "unaided awareness." Influencers. Folks whose name on the cover and back cover and online pages and SEO value would help us get the book out there in a way it otherwise may not have.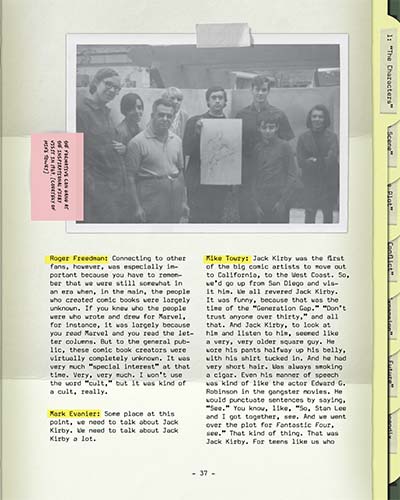 Luckily, through many of the folks involved in the early stages and through my own vast network over the years of such "celebrity"/"special guest" folk, I was able to pull in another ten or so such high-profile personalities — Kevin Smith, Neil Gaiman, Frank Miller, Felicia Day, the Russo Bros., Tim Seeley, Trina Robbins, Scott Aukerman, et al — who would not only have their own valuable stories to tell about their contributions to and understanding of the evolving world of fandom and the Con, but who — yes — would certainly help with market visibility later. And it did seem to help.
Plus, it also helped with rounding out the story in the later years of this always-evolving story of pop culture, comics, science fiction, and fantasy nostalgia. Having someone like Scott Shaw! tell us about the early days of sitting on the grassy knolls with his high school pals figuring out the early steps of making the Con is so important to the story … but it was great to also have folks like the Russo Bros. talk about what it was like to much, much later on go onto the stage in Hall H to announce their first Marvel movie to a crowd of thousands of screaming fanboys and fangirls during the start this most recent wave of fandom and Con legacy. I'm proud of the fact we could get such an eclectic cast of characters in the books — old, young, famous, infamous, lesser known, local, national, international, etc.
The group of people we got together for this needed to be as diverse as the Con and fandom itself, so that's exactly what we established in deciding to whom we'd talk. There's certainly other folks we could've gotten a few more we wanted to get, but … time was definitely a factor, and we felt the fifty+ folks we did get absolutely represented every possible niche and cross-section we'd want without having to wait another two or three years to get another fifty … and which would've also made the book maybe 1,000 pages instead of 500, which would've made it REALLY expensive to make and buy! No way!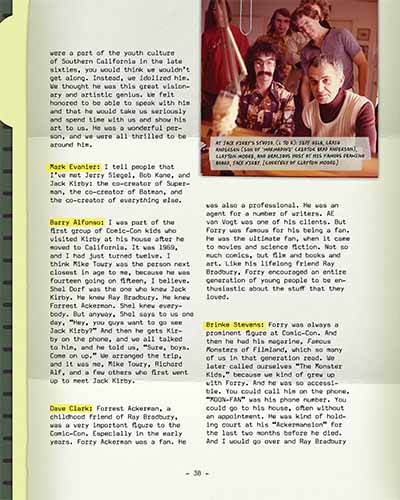 AO: The book has a very distinctive look in the way it's presented and formatted. What was the thinking behind those design decisions?
KLICKSTEIN: We're extremely proud of how the book turned out, and aside from one snide reviewer who spent most of his analysis complaining about the book being too long (which makes sense; he clearly didn't read it very closely and consequently filled his review with countless inaccuracies and errors), it seems everyone can agree it looks absolutely stunning. We've even had a few reviews that speak solely about the radiant design of the book, including in a few international publications that focus on art, design, architecture etc.
I'm giving that credit where it's deserved — our brilliant designer Jonathan Barli. I told him as soon as I saw his first schematics for how things would look that not only was I head-over-heels in love, but that I would never stop from name-dropping him for the amazing he work he did.
Jonathan wanted to get very creative with the design. This would be a very unique project, so it deserved a very unique look. We wanted it to really read like something vintage, something with that DIY almost punk spirit of a bunch of kids getting together back in the counterculture days and just putting together through passion and triage what they could to make the Con and modern fandom happen.
Jonathan had also worked on an incredible three-part visual encyclopedia of punk that unfortunately ended up not coming out due to some logistical problems in the end. But he had that as a visual cue to use, and we were able to pull some ideas he could show me from that into our book. Of course, being that I was so inspired by Fantagraphics' own oral history as mentioned, We Told You So, I could point to that for aesthetic reference too.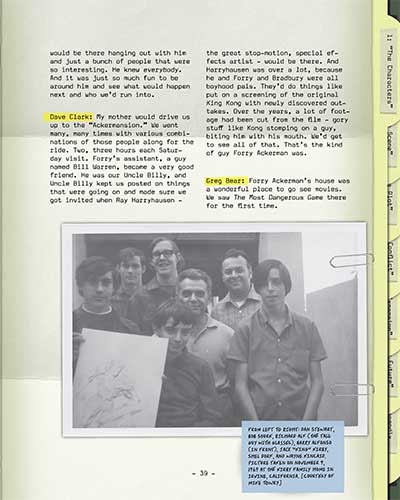 We had so much archival material — ACTUAL zines and fan mags and old science fiction and fantasy journals and the like — that we were able to once again pull from those resources ideas that we could incorporate into See You at San Diego, and I agree — as does just about everyone else aside from our aforementioned attention-deprived malcontent — that the design and look of the book is a major part of its value, and I hope it inspires future generations of oral historians and authors of such pop culture histories as well.
AO: In the course of compiling all those interviews were there any stories that came to light that surprised you? What were some of your favourite anecdotes from the research?
KLICKSTEIN: The stories about how the counterculture from the 1960s/70s really impacted the development of the Con and fandom, and how in turn the Con and fandom impacted the counterculture of the 1960s/70s were some of my favorite and most surprising anecdotes.
Wendy All and the Con itself had told a few times before the infamous tale of when acid guru and, according to President Nixon at the time, "the Most Dangerous Man in America" Dr. Timothy Leary came to the Con as a special guest (straight out of prison and with parole officer right there with him the whole time). But in our book, you really get the full story from a number of different sources who were there, to really fill out how the heck that even happened, why, and what it did to the Con scene then and forevermore to have someone like Timothy Leary there, especially during such a foundational time.
Or Andy Kaufman-esque shenanigans that messed with the conservative scene of smalltown suburban San Diego of the time, such as when Con co-founder Barry Alfonso and early science fiction coordinator Igor Goldkind, as rambunctious teenagers, fooled some of the area media into believing they were running an actual organization called Youth for Nixon and got on the air on local radio etc. to talk about why they felt, as young people, Nixon had gotten a "bum rap" and deserved their championing him and not their excoriation.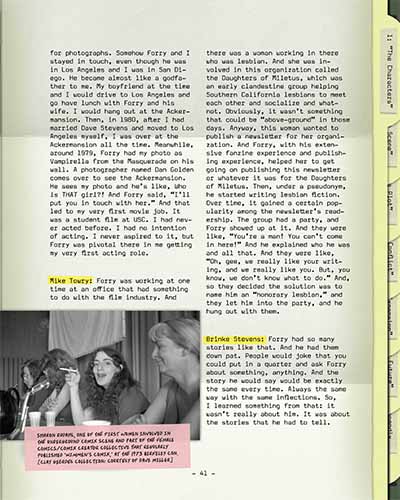 And then of course there's everything about George Clayton Johnson, which I'll just leave to the stories (and plenty of pictures from over the years) in the book itself.
These are all just not the kinds of stories I think a lot of people would expect to learn about from the world of "nerds and geeks" from the early days of comics, science fiction and fantasy fandom. But, there they are and a very, very important element to how it all became what it is today, to boot.
AO: See You at San Diego includes an absolute wealth of visual ephemera. How did you go about collating and sourcing all those fascinating artefacts?

KLICKSTEIN: Oy, that was a challenge unto itself!
Because we already had nearly everything we need interviews-wise from the podcast series (thank goodness!), the process of getting the book done and in a timely fashion was reworking the interviews we had for the extended/expanded version the book would be … and getting as many pictures and art references as possible from as many different sources as possible over as much time throughout the history of the Con and fandom as possible.
By the time we got ourselves to the book stage, as mentioned, most of the podcast contributors were incredibly engaged in assuring the book was the best it could be, so they gifted us tons of great stuff from their personal archives. We were also to connect through them to archives at colleges and the like around the country and even in some cases the world, such as the University of California – Riverside and San Diego State University.
We REALLY lucked out by being connected to Dave Miller, a photographer and close compatriot of one of the few real photojournalists on the scene back in the day, Clay Geerdes. Geerdes had already passed away, but Miller had access to the former's extreme bounty of mostly unseen photos from his many years at the Con and in the fandom scene. Miller had tried unsuccessfully to get the photos out there in other venues and projects, but it never really worked out until now.
We clearly met each other at the right time. It was what we Jews call "beshert"! Kismet, if you will. Of the 400+ pics/art we have in the book, I'd say nearly half come from Geerdes' collection as well as photos that were taken and collected by another massive helper in the process, Alan Light, the original founder and publisher of the Comics Buyer's Guide.
It was extremely stressful getting all of this together and handling all the emails and phone calls, and downloads, and scans, and chases for even one or two essential pictures. And they came from all over the place. The photo we got of a young Dave Scroggy (early program coordinator for the Con, amongst other things) with Dr. Leary and George Clayton Johnson at an early Con came from a box of miscellany he found when he moved to Scotland recently. Two great pics from a college archive HAD to be in the book, but the college wanted to charge $250 per pic, and we had no budget at all, so I had to explain to them why this was a matter of historical value, and luckily they agreed with me and let me have both pics for free.
We were doing it not only during the tail end of Covid/lockdown but also around the holidays too, so it was absolutely nuts. I should've had a team of ten people, a budget of $20,000 and two years to get it all in order. Instead, it was just me spearheading everything, no money whatsoever, and a few weeks instead of years. Wheeeeee!
But, of course, well worth it in the end.
AO: Has the experience of putting together See You an San Diego given you any new insights into the nature of fandom?
KLICKSTEIN: It's made me very hopeful for the future of  fandom.
Society is in great tumult right now, and at least in the States, we are more divided and polarized and angry and scared than ever. It's heartbreaking, frightening, and frustrating to have seen how bad things have gotten when it comes to connection and solidarity over the past five or ten years.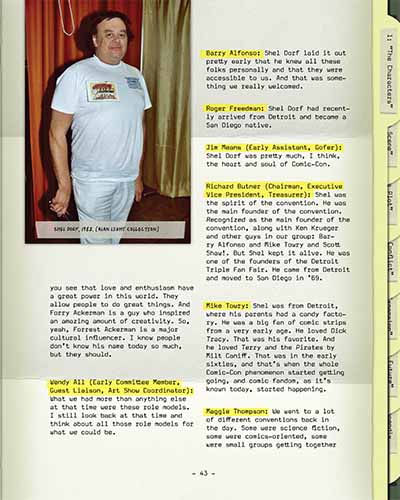 But, I really do believe fandom and institutions such as Comic-Con and other such "clubs" for folks with shared passions can be a big salvo to all of this madness. If we can't connect on most things these days, at least we can connect over our fannish passions, be they Batman or Star Wars or The Simpsons or Ray Bradbury or Lord of the Rings or whatever they may be.
And I think that's extremely important to the betterment of our world and culture, and I'm very proud that I could do my part by producing a book like See You at San Diego to track how it all happened and why it remains so important to our world at large. Now more than ever, perhaps.
AO: And, finally, while it may seem a bit early to be asking this after completing such a mammoth undertaking, what are you currently working on? Are there any projects for 2023 and beyond that you can tell us about?
KLICKSTEIN: Oh, I'm incapable of ever slowing down or stopping. This kind of thing is all I do and all I'm about.
I've in fact already had another book come out since the release of See You at San Diego. That one was a smaller "assignment" type of deal. A book called The Little Encyclopedia of Jewish Culture. It's a fairly tiny little collection of illustrated Jewish iconography and cultural shibboleths. Marx Bros, Three Stooges, the Borscht Belt, Jewish delis, Jewish philosophers and musicians and movies. Jewish rites and religious rituals. Jewish places around the world. It's available in stores and online now. I was even able to get in a little section about the interconnection of Judaism and comics. I snuck in a bit about SDCC founder Shel Dorf, in fact, and learned through the research process that the Thing from the Fantastic Four is Jewish! Who knew?!
One of the many people I became very friendly with through all of this is illustrator and artist Rick Geary. Rick created the first real "logo" of the Comic-Con (the so-called "toucan") and logos for large organizations like Recorded Books (the biggest audiobook publishers worldwide). He also creates these absolutely gorgeous graphic novels typically about turn-of-the-twentieth-century/Victorian Era characters from history.
I fell in love with hs artwork during this process, realized an old novella of mine from 2008 would be a perfect fit for him, he agreed after reading it, Gary Groth came onboard to put it out, and now after Rick is done (he should be soon), we'll have our own graphic novel out through Fantagraphics: Daisy Goes To The Moon. Be on the lookout for it. Rick's pencil sketches are already far better than most people's finished pages!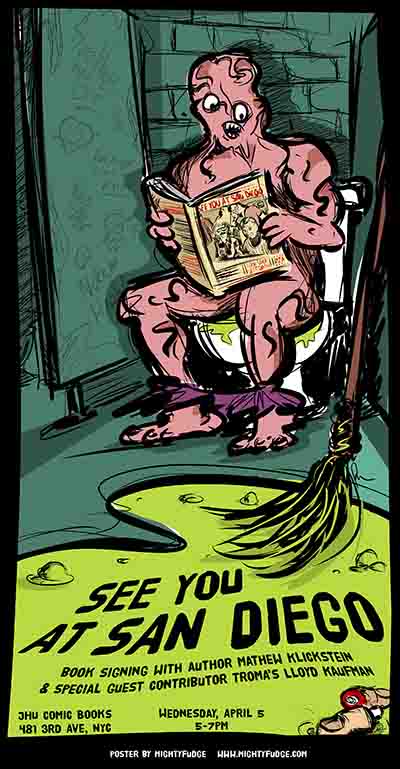 I'm noodling around on some possible projects with Scott Shaw!, too, and still have a few tour dates for the book tour I've been doing around the country and Canada. This includes some events in NYC, Jersey, and Baltimore already set up, with some special guests (including Troma's Lloyd Kaufman in Manhattan in April!). More information on that at my website: www.MathewKlickstein.com
I was invited to submit an essay into a scholarly collection about the intersection of superheroes and business acumen (with a few big name contributors such as Max Brooks), and that I believe will be out in the Fall. It's tentatively called With Great Power: Leadership, Character, and Conflict Beyond the Multiverse. Be on the lookout for that, as well.
A few other things on the burner, including — well — let's just say we already did the Con/fandom podcast series and the book (and audiobook version too, out through Blackstone and available everywhere)…
So, there's really only one more place to go, and hopefully we'll be going there soon. Once again, more information and updates on my website. Excelsior! 
Interview by Andy Oliver