It hardly needs saying that science fiction has always been a powerful medium for allegorical explorations of contemporary socio-political issues. Lane Milburn's graphic novel Lure, from Fantagraphics, is an excellent example of this, examining discussion points that feel like extrapolations of multiple news headlines from our post-millennium world. Climate change, inequality, colonialism, capitalist degradation of the arts, and more are touched on in a book that tackles these subjects with a quiet but unflinching power, communicating its points with subtle eloquence rather than pontification.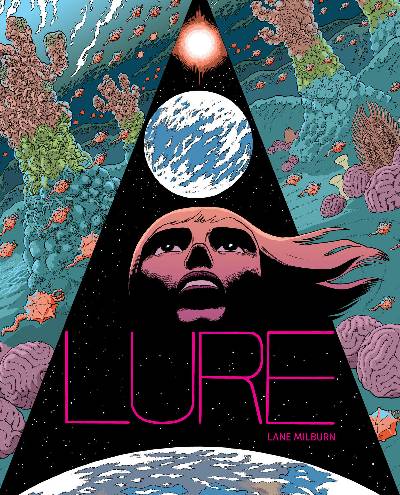 In a very near future, where hologram technology has developed at a rapid pace, the Earth is facing environmental crisis. Humanity, however, has begun to colonise an ocean planet called Lure which has become a luxury resort for those who can afford it. Jo Sparta is one of a small group of artists who is given the opportunity to be seconded to Lure to create a holographic art project that will be unveiled at a meeting of Earth's elite. But, as she adapts to this new environment, Jo and her colleagues begin to find their vision compromised by corporate demands and make a horrifying discovery about a conspiracy centring on Lure that will have devastating consequences for the population of Earth…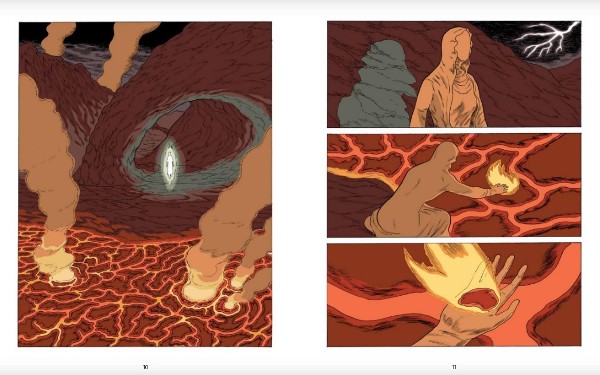 Milburn's note in the dedication section at the back of Lure mentions that he created the graphic novel over a five-year period between 2016 and 2021, a time when the themes of the book have become more relevant than ever. There is so much expressed as science fantasy parable to unpack here; the injustices of a world where the 1% wield undue power and influence over the rest of civilisation, where environmental collapse is deemed inevitable because addressing it would be inconvenient to the capitalist system, and where art becomes a weaponised tool for the establishment rather than a statement of individual creative intent.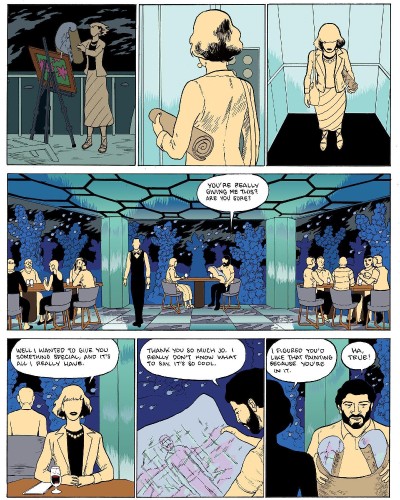 Much of the book's mood and tone is achieved by Milburn's use of colour with the fantastical alien elements of Lure itself seeming so resplendent thanks to a palette that is perhaps best described as mutedly psychedelic. Stripped back colour schemes in the interior character scenes act in stark contrast to this, perhaps underlining the more insidious and shadowy truths behind the human project on Lure, while frequent shifts into silent sequences bring the alien majesty of Lure to the forefront and emphasise the more enigmatic plot twists in dream sequences.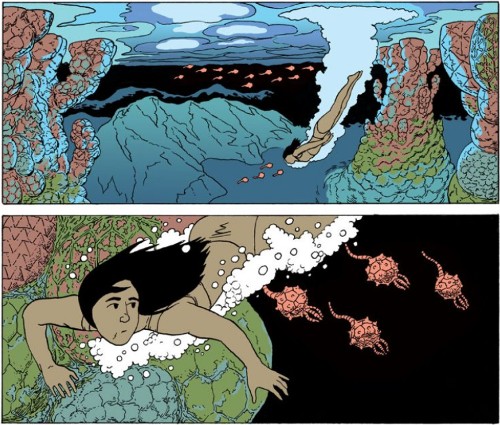 Underpinning the surface events is a plot thread that adds a more hopeful, spiritual layer to the story. But what marks out Lure as such a narrative success is the way in which it mirrors the inescapable realities of our contemporary world. Because, even in paradise, the inhabitants of Lure can't escape the constricting stranglehold of capitalism.
Lane Milburn (W/A) • Fantagraphics Books, $29.99
Available from Gosh! Comics here
Review by Andy Oliver