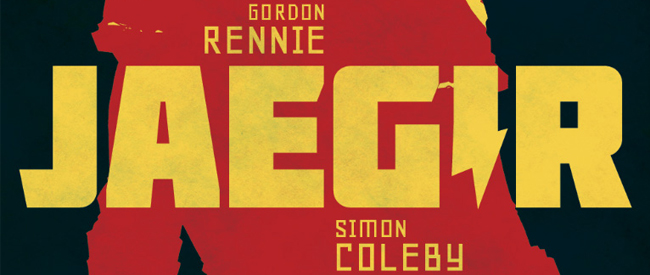 War, as the old saying goes, is hell. Never-ending intergalactic war takes the proverb to a much larger and more complex level. Just ask writer Gordon Rennie (2000 AD, Department of Monsterology).
Tasked with expanding the blank slate universe that is Rogue Trooper's Nu-Earth into new and more sophisticated avenues, Rennie examines our views towards real-world conflicts in this resonant and relevant exploration of Nordland's powerful ruling military caste.
In protagonist Atalia Jaegir, Rennie and artistic partner Simon Coleby present a much more candid and mature perspective on the perpetual war gripping the Rogue Trooper galaxy by unmasking the Genetic Infantryman's sworn enemies.
With the Nordland war machine often portrayed as little more than faceless stand-ins for Nazis or the Cold War-era Soviet Bloc, Jaegir (reviewed here) takes us behind the scenes for a much fairer depiction of their very human motivations. Delving into themes such as attrition, propaganda, and genetic experimentation, the series succeeds in levelling the playing field and encourages the audience to walk a mile or two in their boots.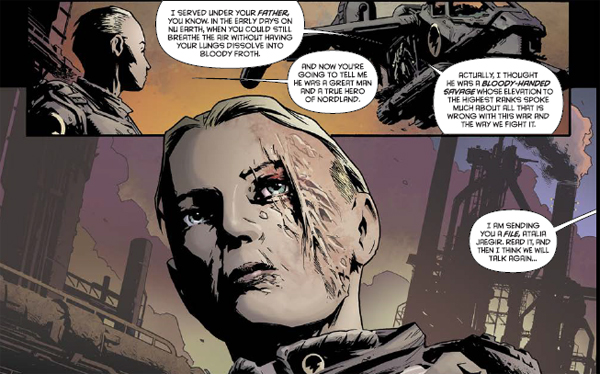 Gordon, the battlefields of Nu-Earth are familiar stomping grounds for you. What prompted this latest return to the world of Rogue Trooper?
Gordon Rennie: It's a story I've wanted to do for a while, prompted by thoughts about the use of propaganda and patriotism in wartime, how totalitarian states actually work, what it must be like to live in a society under the control of such a state, and because the bad guys are often more interesting. Especially if it turns out that they're not so bad, after all.
The Norts have been around forever but seemed such a blank canvas – no-one could actually realistically be that one-dimensionally evil – that I thought they seemed the perfect vehicle for a different kind of future war story.
Nu-Earth and its never-ending war may be new to many North American readers. What do we need to know about the conflict between Nordland and the Southers to gain a better understanding of Jaegir's world?
The background of the war has never really been sketched in in any real detail at all. In my previous Rogue Trooper work, I was even the first writer to properly name the two sides in the war: the Greater Nordland Republic and the Southern Cross Confederacy.
All you need to know is that there are these two implacable enemies fighting this giant war of attrition all across the galaxy, with apparently no end to it in sight. The Norts – Jaegir's side – seem to have strong Nazi Germanic or Soviet Russian elements to them, but that doesn't necessarily make the Southers the guys in the white hats.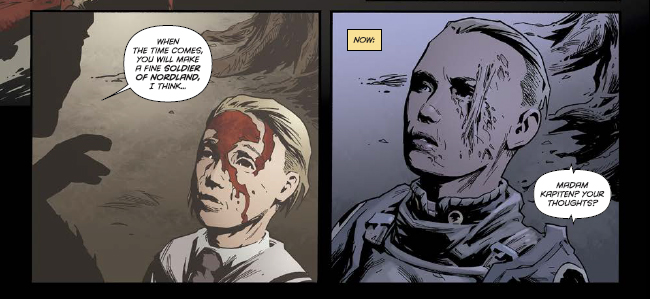 Jaegir very purposefully shows a different side of the Norts from what we've seen before. Are their motivations for the state of perpetual war on Nu-Earth any different from those of the Southers?
As far as they're concerned, they're in this as a fight for survival. They're technologically superior to the Southers, but the Southers have far more manpower [they must do, otherwise – according to all the evidence in the old Rogue Trooper stories – they would have lost the war long ago to the better equipped, better motivated and more ruthless Norts], so they're fighting to prevent themselves being completely overwhelmed by their enemy. That means, as far as they're concerned, the end justifies the means. Which is something Jaegir herself tries to fight against.
Like Rogue Trooper, one of the thematic conflicts of Jaegir is exploring the darkest corners of war, particularly what a nation is prepared to do to its own soldiers. How do the Norts cross this line in Jaegir?
Because they're outnumbered by their enemy, they were experimenting even before the war began with genetic alteration of their own population.
Nort society is very hierarchical, and there exists an aristocratic military leadership class, very similar to the Prussian Junkers or the Hungarian Magyars of the old German and Austro-Hungarian Empires. The Norts tried to turn these ancient warrior castes into a race of super-soldiers, but the attempt went badly wrong.
The Norts are bigger, stronger and more ruthless than their enemies, but the genetic manipulation also introduced a flaw into these bloodlines, which often erupts as a savage mutation that they call the Strigoi taint. This is the price they pay for sacrificing their own humanity in an attempt to achieve victory, and Jaegir is a Strigoi hunter, whose task it is to hunt down and destroy these creatures when they appear, and to try and contain the Nordland state's dirtiest secret.
The fact that she carries the taint herself, and that her father was the senior regime figure who oversaw this genetic alternation policy, only adds to her burden of guilt.

In many ways, Atalia Jaegir is Rogue Trooper's exact opposite: He's male, she's female; she's a Nort, he's a Souther; her colleagues are alive, his are sentient biochips extracted from fallen comrades. That being said, how are these two soldiers alike?
I don't think they're alike at all. Rogue is so-called because he's gone renegade from his side's command and is carrying out a personal vendetta of his own, but he's still doing what he was created to do: fight the war on Nu-Earth and kill Norts.
He's genetically programmed to kill Norts, and that's exactly what he's still doing. He doesn't really question what he's doing or the sanity of the war itself, except in the shallowest lip-service way, in between killing more one-dimensional Norts.
Atalia Jaegir very much questions the point of the war, her place in it and the cause she serves. She's patriotic – she wants to protect her people from their enemies, and I show that the Southers are equally a pretty ruthless bunch – but she more and more comes to believe that the real enemies are those who have led her people into this situation.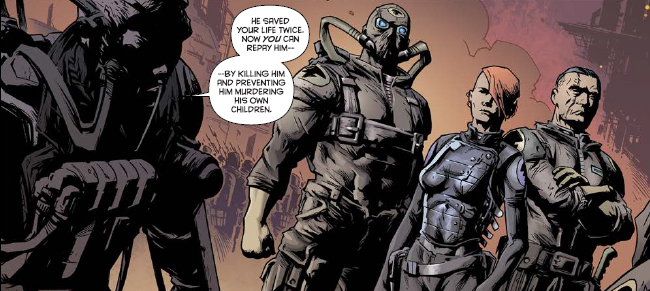 Are there plans to explore different corners of Nu-Earth in the future, outside of what we've already seen in Rogue Trooper and Jaegir?
Not from me – I've served my time in the Rogue Trooper trenches, and Jaegir keeps me busy enough in that universe, but there are plenty of places I want to take the character within that world.
She'll probably end up back on Nu-Earth at some point, but don't expect to see any blue-skinned Genetic Infantrymen popping up there, and other war-zone planets have been mentioned, so there are plenty of places out there for her to go on Strigoi hunts and war-crime investigations.
And the Nort homeworlds – societies completely dedicated to the war effort, covered in giant munitions factories and military training camps, and streets full of war propaganda and sinister and ever-vigilant homelands security agents – offer so much to explore as the background of this world.
'Strigoi' is the first we've seen of Atalia Jaegir. What are your plans for her future? Will her further adventures make it across the pond?
The second series, called 'Circe', is running in 2000 AD as I write this, and seems to be getting the same great reviews that the first series did. So, Tharg willing, it might be collected in US format too. I'm writing the third series now, so there's still plenty more Jaegir in the pipeline.