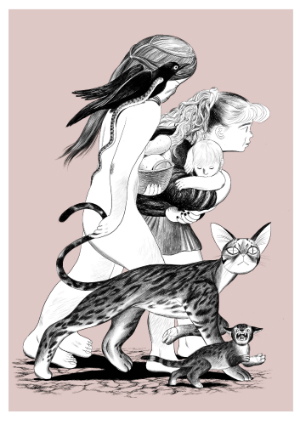 When a comics shop is older than a significant section of its clientele you know it must be doing something right! London's Gosh! Comics reached the grand old age of 30 this year and has been celebrating those three decades in style with a series of exclusive prints that reflect their history and ethos as a store.
After the popular first two entries in the series – 'Amor de Soi' by MAIS2 aka Alessandra Criseo (Memento Bento) and 'GoGo Soho' by Mike Allred (Madman, Silver Surfer) – Gosh! have announced that their third print will be 'Nancy and Tonya' by Jillian Tamaki (This One Summer, Supermutant Magic Academy, and a 2015 Broken Frontier Awards Best One-Shot nominee for Frontier #7).
You can read more about the print and Tamaki's work on the Gosh! blog here. The A3 digital print (limited to 150 copies) retails at £20 in-store or online, with the A2 Giclée version selling for £50 exclusively through their webstore. Each print will be marked and numbered on the back with a special Gosh! 30th Anniversary stamp.
You can visit the Gosh! online store here and follow them on Twitter here.
Previous prints in the series by MAIS2 and Mike Allred