PRIDE MONTH 2023! Our Inside Look feature at Broken Frontier provides creators with the opportunity to share exclusive commentaries on their comics projects with our readers, giving insights into the genesis, process and themes of their work. It's one of the oldest regular features at BF, first appearing on the site back in the mid-2000s and also one of our most well-received. Today, as part of our Pride Month 2023 celebrations, Emma Oosterhous and Ollie Hicks talk about their work on Grand Slam Romance, published this week.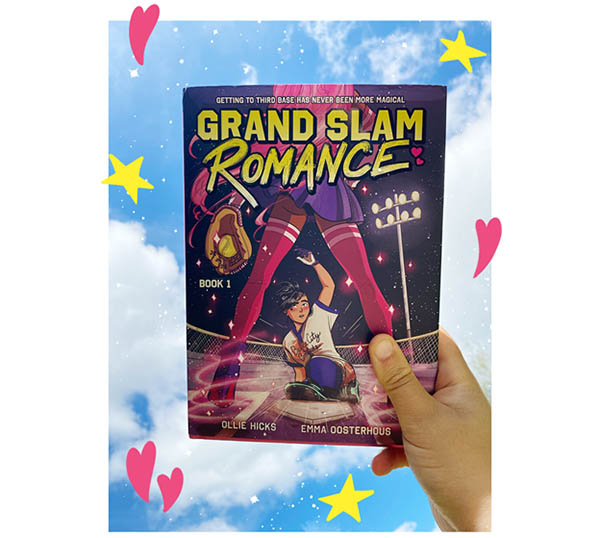 Grand Slam Romance!
Emma here! Grand Slam Romance Book 1 is our debut graphic novel, and it's the first in a 3-book series from Surely Books! The elevator pitch we give at cons is that it's about magical softball lesbians, but it honestly has so much more going on. On a basic level, it's a story about a hotshot hometown hero who is thrown off their game when their childhood best friend AKA the one who got away, explodes back into their life. Except now she's a fuckboy. And a magical girl! You kind of want to see if these two characters can re-find their connection, but along the way they're going to have to navigate mysterious exes, love messes, secret revenge-driven softball teams, unresolved teen angst, mild crimes, horse girls, hot makeouts, friendship troubles, formal softball soirées, shady institutions, explosive magical softball battles, and an ensemble cast of adorable queer jocks. We're gonna show you how it all started, introduce you to the characters, and reveal some of the process work that went into making this book.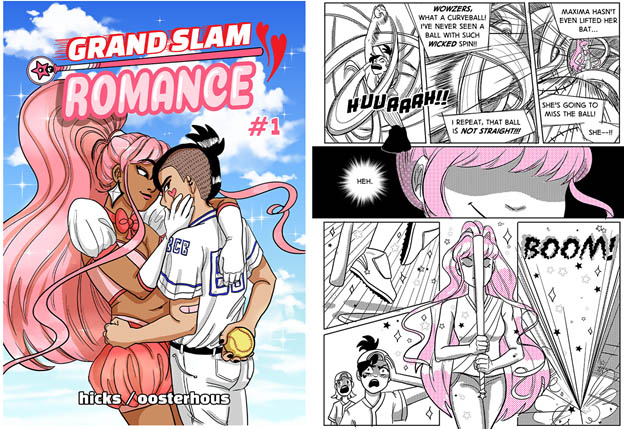 The Origin Story    
Grand Slam Romance wasn't always meant to be a graphic novel! The ORIGINAL Grand Slam was a 19-page black & white short comic we created in 2019, over 4 years ago now!  Mickey and Astra were pretty much the only characters and the world was very contained.  We were asked to pitch it as a graphic novel to Surely Books and had to vastly expand the world in a really short amount of time, which felt like an insurmountable task at first, but after a while the Grand Slam universe took on a life of its own and just exploded.
(Ollie jumping in for a sec–) Once we started expanding this story, it just kept getting bigger and bigger. There's a lot of genre-mashing in Grand Slam, but ultimately what roots it and shapes it are our characters. This book is very much a character study– we're introduced to three characters who are linked to each other in a bunch of ways that aren't always immediately obvious, and slowly, through softball games, secret trainings and hot'n'heavy make outs, we start to peel back the layers of these flawed, messy people and find out what makes them tick. It's a really rewarding book to write.
The Grand Slam scripts are actually pretty sparse by regular comics standards. There's minimal descriptions of the world, mostly I focus on making sure the emotional journeys are as clear as possible to Emma, and on punching up the dialogue and jokes. Emma also gets a lot of say; we shape the story outline together and then she's always reading it hot off the press and asking questions. It's this back and forth that really defines our work together.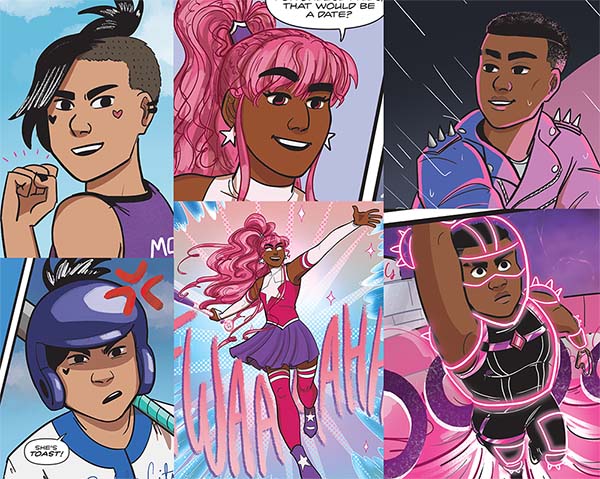 The Characters
(Okay back to Emma!) Our three key characters are Mickey, Astra, and Wolfgang. Mickey is our main character, and boy, do they have main character syndrome.  They're that cute baby butch jock that everybody's a little bit in love with. Their aesthetic is like… edgy ex-scene kid meets basic sporty flannel lesbian?? All of our main characters have a symbol that's associated with them, and Mickey's is a heart— they've got one tattooed on their face! (That was 18 year old Mickey being an edgelord, ha!) Their symbol is a heart because… well… this is a romance and they're going on a Love Journey! They've got a lot of love to give, even if they're being a bit of a dingus and making bad decisions in this book.
Astra is a 6 foot tall femme magical girl who's on a mission to demolish the babes of Belle City— both on the field and in the bedroom. Her magical girl outfit changed soooo many times in development because I can't commit to a design to save my life! Eventually I settled on something that has sporty elements like stripes, classic magical girl elements like the gloves and the pleated skirt and the very impractical shoes, and her signature symbol, which is a star.  "Astra" means star, and she is one.
Wolfgang is cool, mysterious, and butch. Both her magical girl outfit and her regular wardrobe are heavily inspired by leather culture & kink— leather jackets, leather boots, harnesses, gloves, spikes, spurs, collars, etc. She's also got a sexy holographic motorcycle helmet.  She wears that stuff like armor (and also because it's hot), but when she's feeling vulnerable— and I do this for Astra too— her wardrobe becomes softer, sportier, and cozier.  Wolfgang's symbol is a diamond, because diamonds are formed under pressure, and Wolf puts a lot of pressure on herself to be the best.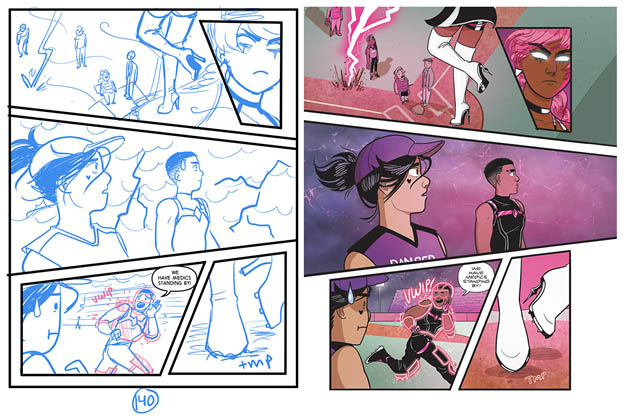 Thumbnails to Final Art   
Here's an example of a page going from thumbnails to final art.  I actually thumbnailed this book twice— once in a physical sketchbook, and then digitally after I'd made some layout changes— and basically inked it twice, since the pencils were so tight they were pretty much inks, just in a different color.  I also lettered it twice— once in the digital thumbnails, and then again in the final art, which I was doing in a different program so I had to letter it completely from scratch.  I think the reason I did so many unnecessary steps was because I had a hard time trusting myself to make the art look good. GSR1 was my first project of this magnitude, and it's like I was procrastinating finishing the art because I was scared it was going to look bad. I trust myself a bit more now, though, which is good because I literally don't have time to do everything twice for Book 2! Gotta go fast!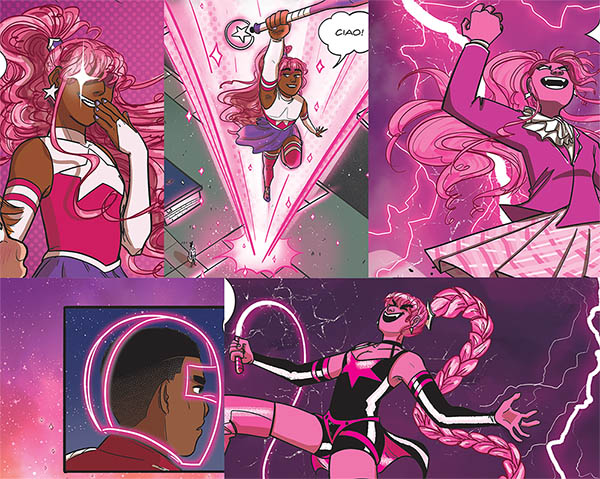 Coloring
So the GSR short comic was in black & white, and we originally pitched it to Surely as a B&W book.  But after working with our editors on it for a while, we decided the book would actually work better in full color, which was terrifying cause I'd almost never done a full color comic before! I really pushed myself to make the coloring look like it wasn't done by a dummy, and I sort of grounded myself with pinks and purples, which I think makes the book feel harmonious when you flip through it. And our designer used a special pink ink (Rhodamine) in the printing to really make those colors pop! The pinks & purples look SO GOOD in print, my jaw actually dropped when I saw them for the first time.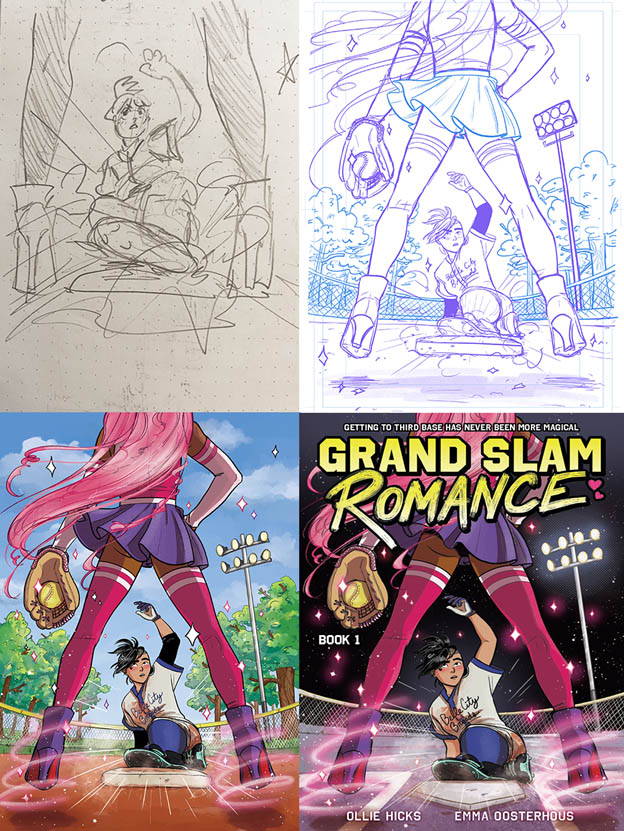 Cover
We started working on cover sketches in May 2021, right after I had finished my thumbnails.  We sent in some other sketches as well, but the image of Mickey sliding through Astra's legs was immediately our favorite, and luckily the team at Abrams also loved it, so that's what we went with!  Initially the cover was a daytime scene, but we ended up going with a nighttime scene to make the cover read more adult. We also got to show more of Astra's butt, lol. And this is the cover that's out in the world now! This book has been a huge labor of love, and it's changed and grown so much from the original short comic we did in 2019.  We couldn't be more proud of it and we hope you love it too!
Article by Emma Oosterhous and Ollie Hicks