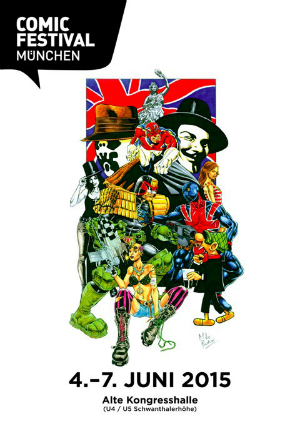 Comica Festival co-director Paul Gravett (1001 Comics You Must Read Before You Die, Comics Art, Comics Unmasked… to name just a few of his books) has been in touch to let us know about an exciting development regarding this year's Munich Comic Festival between June 4th and June 7th. Great Britain will be the Guest Country at this year's event and a whole host of UK practitioners including Mark Buckingham, Rob Davis, Rufus Dayglo, Jock, Dave McKean, Mike Perkins Frank Quitely, Declan Shalvey, Posy Simmonds, and Mary and Bryan Talbot will be joining Gravett on the guest list.
An exhibition of original artwork from British creators will also be on show as well one showcasing 'The Beatles in Comics' at the Valentin-Karlstadt-Musäum from the 7th May until the 9th June. Other exhibitions will include Will Eisner at the Jewish Museum, Paco Roca (Wrinkles) and Jordi Lafebre presenting their artwork in person at the Instituto Cervantes, and Tom Bunk – who will be receiving the Peng! Award – will show his work in the Amerikahaus.
Attendees can also expect to see a comic publishers' book fair under one roof, drawing workshops , presentations, lectures, a cosplay contest, and prominent comics creators will be available for autographs. German and international artists guesting at the show include Don Rosa, Paco Roca, Julie Birmant and Clément Oubrerie, Reinhard Kleist, François Walthér, Denis Kitchen and Barbara Yelin.
The poster above was designed by Mike Perkins and the full festival line-up can be seen here.