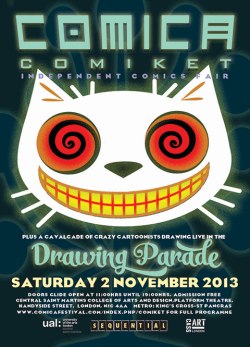 Comica Festival, that essential strand of autumn comics-related talks, exhibitions and events in London, begins today with the opening of the Reframe: Perspectives on Europe through Comics from Algeria, Turkey and the UK exhibition at the Free Word Centre. Of course, to all intents and purposes, Comica is now a year wide celebration of the achievements of the medium, and 2013 has already seen the likes of Jaime Hernandez, Rutu Modan, Brian Bolland and Frazer Irving in talks at various venues across the capital. There's always something rather special though, in a "What's Santa brought me this year?" kind of way, about the publication of the October/November main programme of each year's festival and this year's listings certainly do not disappoint.
Running from October 23rd to November 16th Comica's guest interviewees this year include such esteemed names as Joe Sacco, Eddie Campbell, Dave McKean, Oscar Zarate and Ilya, while panel discussions focus on subjects including What is a Superhero? (Si Spurrier, Kieron Gillen, Will Brooker and Richard Reynolds), Comics Art: The 21 st Century Medium (Gareth Brookes, Daniel Merlin Goodbrey, Katie Green, John Miers and Woodrow Phoenix), and Fight the Power!: A Visual History of Protest (Benjamin Dickson, Hunt Emerson, John Spelling and Sean Michael Wilson).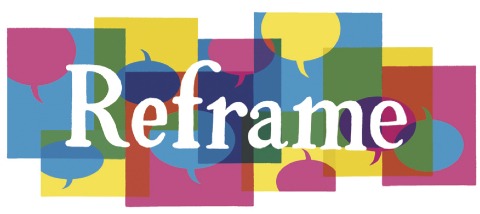 Aside from the aforementioned Reframe exhibition there's also the chance to check out some of the current talent on the comics scene in Poland in Poles Apart: New Polish Comics & Graphic Novels at Central Saint Martins, and the finalists of this year's Cape/Observer/Comica Graphic Short Story competition will be on display in Foyles. For those looking to engage with the form on a more academic level then Birkbeck College also plays host to the fourth Transitions Comica Symposium with a packed series of panels advancing research into comics. Followers of our regular 'Small Pressganged' column at Broken Frontier will know how enamoured we are of the Comica Comiket independent comics fair (see past reports here and here) and for fans of the British small press scene Comiket on November 2 will, no doubt, be an essential date in the diary.

Those who have attended events at Comica in the past know that what the "Team Comica" of Paul Gravett, Megan Donnolley and Peter Stanbury excel at is in providing a festival that promotes not just those established practitioners of the art but also gives a spotlight to the work of exciting creators that you may not have encountered quite yet. It's the perfect opportunity to simultaneously celebrate old favourites and discover brand new ones. For a fuller list of dates, times, venues, booking details, and further events not mentioned in this brief round-up, check out the official Comica Festival site here for over three weeks of unmissable comics-related experiences designed to entertain, enlighten, elucidate and engage!