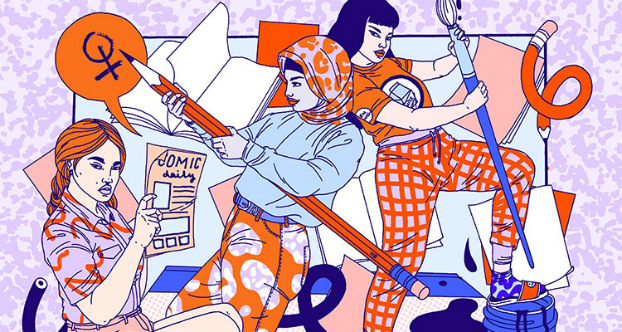 The first Comiket independent comics fair since 2014 comes to the House of Illustration and London's Central Saint Martins college on Saturday May 14th as part of an extensive Comica Weekender marking the last weekend of the Comix Creatrix exhibition (art above by Laura Callaghan).
As has become traditional for this long-running (and free!) event over the years, it sees a mix of up-and-coming small press creators and bigger publishing houses in attendance.
That eclectic line-up boasts the likes of Avery Hill Publishing, Sammy Borras, SelfMadeHero, Sarah and Rebecca Burgess, Myriad Editions, Laura J L B, Roger Langridge, Richy K. Chandler, Alex Hahn, Cryoclaire, Douglas Noble, Emma Donnelly and many others.
Broken Frontier will be there as well with a table selling not just the recently launched Broken Frontier Small Press Yearbook but also comics from both our 2015 and 2016 generations of the BF 'Six Small Press Creators to Watch', including the work of Rozi Hathaway, Kim Clements, Emma Raby, Danny Noble, Rebecca Bagley and more.
The full press release with further details is below. The return of Comiket also underlines that UK festival season is well and truly upon us again! With DIY Cultures, ELCAF, CECAF and Small Press Day all on the horizon it's going to be a very busy couple of months for London-based lovers of indie comics…
COMICA WEEKENDER CAPS COMIX CREATRIX EXHIBITION AT THE HOUSE OF ILLUSTRATION IN KING's CROSS
14 and 15 May 2016
As the cherries on the cake, Comica.London presents two special events over the final weekend of the exhibition Comix Creatrix: 100 Women Making Comics.
Enjoy these events organised by House of Illustration in association with Comica.London, the not-for-profit comics event and promotion company.
COMICA COMIKET Spring 2016
The Independent Comics Market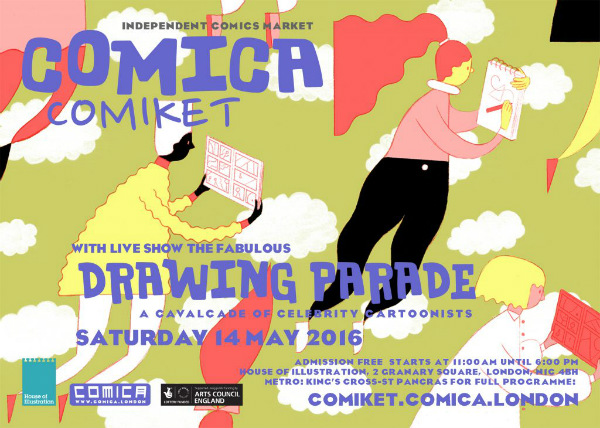 Illustration Eleni Kalorkoti
Takes off on Saturday, 14 May 2016, beneath the West Handyside Canopy, adjacent to the House Of Illustration and Central Saint Martins, from 11:00am until 6:00pm. Admission FREE
Talented New Comics Creators and Publishers
Meet independent comics creators and publishers from the UK, Europe and North America in person and browse and buy their latest productions direct. Many authors will be happy to sketch as well as sign your personalised copies.
All the exhibitors are available for interview and are showing their work in individualised Spotlights here:
http://comiket.comica.london/exhibitors/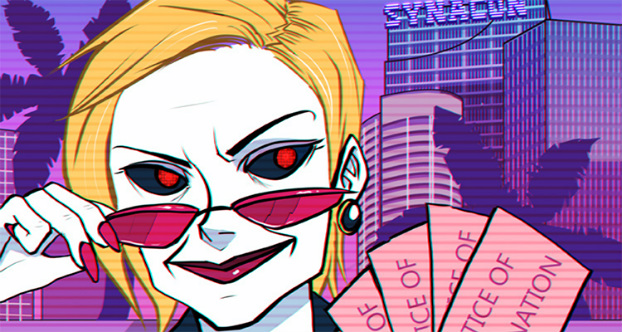 Comiket exhibitor Cryoclaire, whose Drugs & Wires comic we reviewed here
The Fabulous Drawing Parade
And throughout the day, marvel at the Dazzling Live Drawing by a roster of talented creators and projected on the big screen in The Fabulous Drawing Parade.
Celebrity Cartoonists include:
Rachael Ball (The Inflatable Woman)
Naniie Bim (Red Sonja)
Alexis Deacon (Geis)
Roger Langridge (Fred the Clown, Muppets)
Owen D. Pomery (Between The Billboards)
Paul B. Rainey (There's No Time Like The Present)
Alexander Tucker (World of the Forcefield)
http://comiket.comica.london/drawing-parade/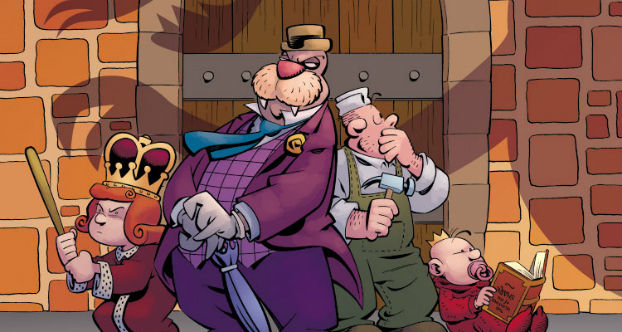 Roger Langridge is just one of the stars of the Drawing Parade
COMIX CREATRIX MISTRESS-CLASS
Final Day Event
Sunday 15 May 2016
3pm – 5pm at House of Illustration, South Gallery. Admission FREE with ticket to Comix Creatrix exhibition
'How do you make comics?'
To mark the final afternoon of Comix Creatrix, Alison Sampson ('Genesis', 'Winnebago Graveyard') and two other artists from the exhibition will give exclusive access to their thinking and creative processes, discussing and disclosing step-by-step how they make their comics. All three offer rare in-depth insights for professionals and public alike.
Followed by signings in the bookshop.
Free admission to talk subject to capacity.
The chance to discover newer talents has always been a staple of Comiket. Work from Laura J L B (left) and Emma Donnelly (right) above
About the Comix Creatrix Exhibition
Comix Creatrix: 100 Women Making Comics has turned out to be the most popular exhibition ever staged at House of Illustration, King's Cross, London, sparking national and international media coverage by highlighting the vital contributions of women to the history and current richness of comics in the UK and worldwide.
http://www.houseofillustration.org.uk/whats-on/current-future-events/comix-creatrix-100-women-making-comics/
Don't miss your last opportunity to see this acclaimed exhibition of women cartoonists before it closes on Sunday 15 May 2016.
For regular updates on all things small press follow Andy Oliver on Twitter here.