Comica Festival is back!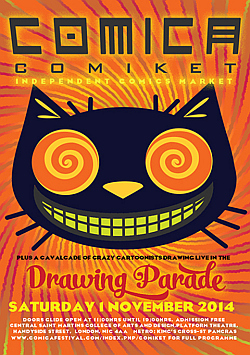 As bold exclamations go those four words are, in a sense, a little misleading because the truth of the matter is that Comica never really goes away anymore. What was once an eagerly anticipated programme of events in London across a few weeks every autumn has now evolved into a year-long appreciation of the form courtesy of the Comica Festival team. In fact it's just over a month since we last ran a report on Comica for the weekend of events in August at the British Library that included the twice-yearly indie comics fair Comiket, and a weekend of Comica Conversations with guests like Bryan Lee O'Malley, Pat Mills, Emmanuel Guibert, Alys Jones, Ian Williams, Jade Sarson and the CBLDF's Charles Brownstein.
Traditionally, though, October/November has long been the festival's signature period of programming, and this year is no exception with an astonishing line-up of creative talent giving a true representation of the wonderful diversity of this form we all love between October 20th and November 19th. The headlines events of the festival are an exhibition of the work of "Mistress of Creepy Manga" Junko Mizuno at Covent Garden's Atomica Gallery and a follow-up Comica Conversation between the artist and Jason Atomic at Foyles. A real coup, as well, for the Comica team in this First World War centenary year is the addition of Jacques Tardi to the line-up – the seminal artist will be interviewed about his work by Charley's War creator Pat Mills.
Other conversation events will see Danny Dorling interview acclaimed graphic journalist Darryl Cunningham about his eagerly awaited book on the 2008 financial crash from Myriad, Supercrash: How to Hijack a Global Economy. The Encyclopedia of Early Earth's Isabel Greenberg will also be talking to Emily Carroll about her collection Through the Woods while Nye Wright will be hosting a panel on the rise of digital comics. And Broken Frontier will be gatecrashing the party for the panel on cult comics that will feature Ilya, Carol Swain, Rob Davis and Paul Rainey! Add to this the three regular staples of Comica –Transitions, the academic symposium on comics studies at Birkbeck College, the exhibition of the Observer/Cape/Comica Graphic Short Story Prize entries, and the Comiket fair – and you have a formidable month of comics-related goodness.
Whether it's been a once-in-a-lifetime chance to see an industry legend in person or being introduced to the work of an international comics artist you may have been previously unfamiliar with, the Comica Festival team have provided us with some astonishing opportunities over the last few years to celebrate the breadth and depth of this amazing medium. Over the next few weeks at Broken Frontier we will be running a number of related articles on the guests and projects involved in this year's festival. From seeing Art Spiegelman, Spain Rodriguez and Gilbert Shelton on the same stage through to last year's blisteringly good conversation between Pat Mills and Joe Sacco, Comica has provided me personally with a whole host of wonderful comics memories. If you've never attended before then this year's line-up provides the unmissable prospect of creating a few of your own…
For full details on Comica Festival 2014 including booking details check out the official site here.