Doctor Who's 50th anniversary is celebrated in Sophie's World at Orbital, London's Cartoon Museum invites us to the Age of Glamour and the autumn Comica Comiket date is announced. Details of the first essential London comics-related events for autumn that should be pencilled into your diaries…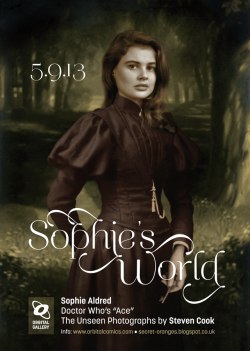 Come November a certain ever-changing Time Lord will have been a part of the national consciousness for an astonishing five decades. Orbital Comics is playing its part in the Doctor Who 50th anniversary celebrations with 'Sophie's World', an exhibition of former 2000 AD art director Steve Cook's previously unseen photographs of actress Sophie Aldred (the Seventh Doctor's companion Ace in the popular BBC series). The recently discovered images date back to Steve's time working on what was, in the late 1980s, Marvel UK's Doctor Who Monthly.
I popped into Orbital over the weekend to take a look and was immediately struck by the diversity of what was on show. Diehard Who fans looking for new pics from stories from that era will not be disappointed but there are also snaps of Sophie relaxing between shooting, portrait shots and, if you're a fan of Steve's eerie Project Alternity series on his website then there are a number of pictures in the exhibition with that same haunting, slightly unsettling atmosphere to them. The exhibition runs until September 30th in Orbital's gallery space. There's more information on the Orbital site here and on Steve Cook's blog here. And you can listen to Ben Eshmade interviewing Sophie about the exhibition and her time on Doctor Who here.
With the explosion of festivals, talks, fairs and conventions in London over the last few years I fear we sometimes overlook the fantastic work of the Cartoon Museum in showcasing all aspects of sequential art with both their static exhibition and their regular line-up of special exhibitions. A couple of years back, as part of Broken Frontier's 'Brits on Top' celebration of British comics, I was lucky enough to speak to curator Anita O'Brien about the museum's role and collections in an interview published here. From September 11th through to December 24th the latest show is entitled 'The Age of Glamour: R.S. Sherriffs' Stars of Stage and Screen'. I'll let the official press release do the talking now but just judging by the sample images below I'm sure you'll agree this one looks an absolute must.
'Conception of the Remote Austerity of Garbo' (1935) and Charles Laughton as Henry VIII (1933)
"Featuring Charlie Chaplin, Greta Garbo, Clara Bow, Douglas Fairbanks, John Gilbert, Gloria Swanson, Buster Keaton, Merle Oberon, Shirley Temple, Cary Grant, Charles Laughton, Laurence Olivier, John Gielgud, Edith Evans, Peggy Ashcroft, Vivien Leigh, Ivor Novello, Stanley Holloway, Jessie Matthews and Gracie Fields.
The 1920s and '30s were the Golden Age of Hollywood and a vibrant time for London's West End. Chronicling the era was R. S. Sherriffs, who drew dramatic stage and film caricatures for magazines such as Radio Times, London Calling and, especially, The Sketch. The Age of Glamour ranges from large star portraits of Greta Garbo and Charles Laughton to ensemble drawings featuring Laurence Olivier and Peggy Ashcroft in Romeo and Juliet and musical numbers from No! No! Nanette. Vivien Leigh appears in the play which provided her first big break. Sherriffs' elegant flowing line, tending at times towards sculptural abstraction, and highly stylised use of texture and pattern conjure up the glamour of the era.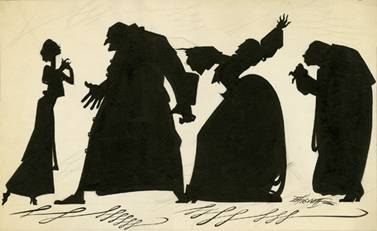 Vivien Leigh (left) in The Mask of Virtue (1935)
Drawn from the Cartoon Museum's Sherriffs' collection of over 900 works, this is the first time these pictures have been displayed since they were drawn in the late 1920s and the 1930s. The collection was donated to the museum by his daughter Alexandra.
Robert Stewart Sherriffs was born in Arbroath, Scotland on 13 February 1906. The son of a flax merchant, Sherriffs studied at Edinburgh College of Art before coming to London in 1927. His break came later that year when a drawing of John Barrymore as 'Don Juan' was published in The Bystander, where it caught the eye of the writer Beverly Nichols and led to his producing celebrity profiles for the society magazine The Sketch. From 1930 until the outbreak of the war he produced weekly film and theatre caricatures to accompany reviews, as well as full-page star portraits of the leading ladies and men of the day.
Clara Bow in Call her Savage (1933), Ivor Novello meets Shakespeare, (1933) and Harold Turner as Satan (1939)
During the Second World War Sherriffs joined the Tank Regiment but later worked as a war artist, providing drawings for education and aircraft recognition booklets.  After the war he found a new outlet for his talents when he took over as film caricaturist at Punch from 1948 until his death from cancer on 26 December 1960."
For more on the Cartoon Museum visit their website here where you'll also find details about opening hours.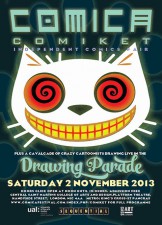 And, finally, the date of the autumn Comica Festival Comiket has just been announced. This is, without a doubt, my joint favourite comics-related event of the year (and if you're wondering what it competes with for that accolade then it's the spring incarnation of Comiket!). I've mentioned Comiket a couple of times in reports at BF here and here but it really is an amazing opportunity to unearth the gems of the U.K. small press/self-publishing comics scene as well as our many wonderful homegrown graphic novel publishers. Pop along to Central Saint Martins near King's Cross this November 2nd to see what I mean and to support the wonderful world of self-publishing as regularly showcased in our 'Small Pressganged' column at Broken Frontier. For more details check out the Comica Festival website.