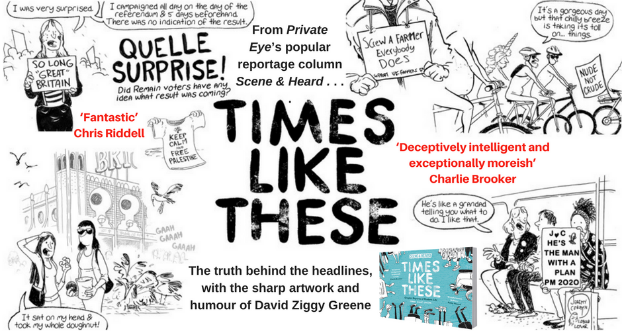 Launching this Friday May 11th at London's Orbital Comics Times Like These is the second collection of cartoonist (and my esteemed colleague on the Small Press Day organising team) David Ziggy Greene's Scene & Heard graphic reportage from the pages of satirical magazine Private Eye. Following on from a first self-published volume back in 2014 this new compilation of topical strips is published by September Publishing.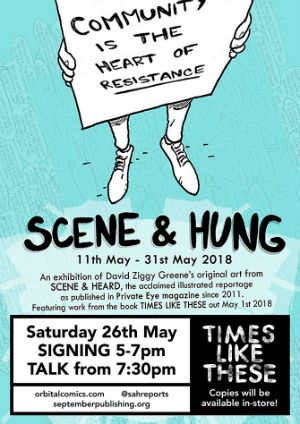 In these packed, intricately detailed strips Greene investigates an issue from the UK headlines, speaks to members of the public either directly involved or sitting on the peripheries of the subject matter, and then presents their views on the page as a kind of comics vox pop.
I've said of Scene & Heard here at Broken Frontier that "to condense each complex subject into a handful of soundbites that are so inherently revealing about the diversity of public opinion on any given matter is a tribute to Greene's perceptive approach to this undertaking."
While a new print collection is a welcome development in itself, there's also a major bonus for Greene fans in the form of a tie-in exhibition of original Scene & Heard art in Orbital's ever excellent gallery space. It runs from tomorrow May 11th to May 31st and includes a signing and talk on Saturday May 26th.
More details on the Orbital site here.