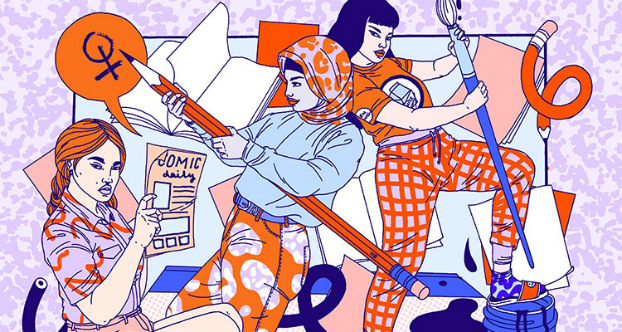 It's been a long while since our last roving round-up of what the great and the good of the small press scene have been up to, both within and outside the world of comics. With the British festival season having kicked off at Comica Comiket last weekend, and the relentless build-up to the Autumn "Big Two" events now underway, it seems an ideal time to revisit our spotlight compilation of some of the launches, happenings and announcements from the current UK small press scene…
Broken Frontier Small Press Yearbook at Comica Comiket at the House of Illustration
After the hugely successful launch night at Gosh! Comics in April, Broken Frontier went on the road last weekend to take our first Small Press Yearbook out to the masses. BF Editor-in-Chief Andy Oliver and Yearbook contributor Rozi Hathaway (The Red Road) were on hand on Saturday at the Comica Comiket independent comics fair at Granary Square marking the final weekend of the House of Illustration's Comix Creatrix exhibition (Laura Callaghan's exhibition art above).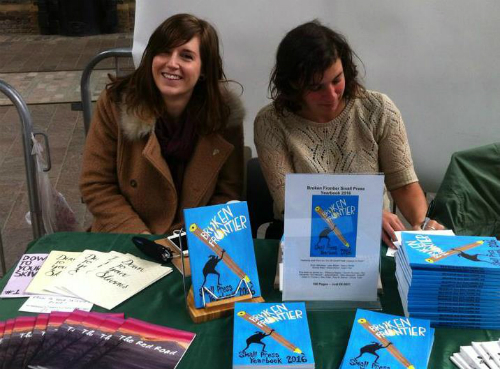 Setting up at Comiket – Rozi Hathaway (left) and Danny Noble (right) signing Yearbooks for the arriving punters
Rozi also took part in the traditional Comiket Drawing Parade giving the audience a taster of her upcoming self-published Njálla comic. Other participants included Rachael Ball, Alexis Deacon, Roger Langridge, Paul B. Rainey, Owen D. Pomery, Nicola Lane, Jessica Martin and Alexander Tucker.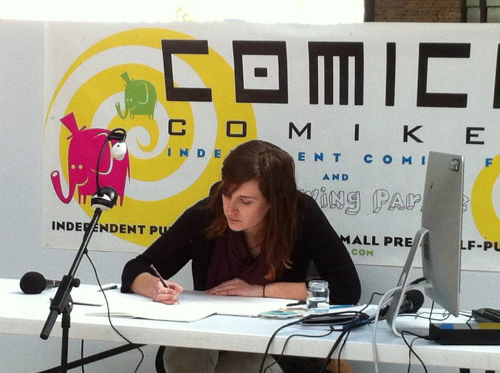 Rozi Hathaway weaves her magic on the Drawing Parade
The first Comiket since 2014 was notable for attracting punters outside of the usual regular faces on the small press circuit. A vital achievement if we are to continue to expand interest in the medium. Fingers crossed that we'll see a return to a twice-yearly schedule for this fair in the very near future.
The Broken Frontier Small Press Yearbook can be ordered online here.
BF 'Six to Watch' Creators at DIY Cultures Fair
Comiket has come and gone. Next up DIY Cultures! The annual venue for all things zines, small press comics and alternative publishing returns to East London's Rich Mix on Sunday 29th May.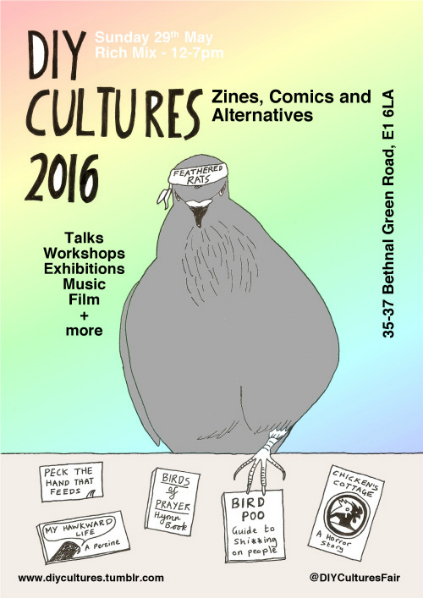 While comics are just one part of this event's ethos you can meet a number of familiar names from 'Small Pressganged' on the day, including two of our 2016 'Six Small Press Creators to Watch' Kim Clements and Brigid Deacon as well as BF faves Avery Hill Publishing, Centrala, Dirty Rotten Comics, Gareth Brookes, Katriona Chapman, Mike Medaglia, Elizabeth Querstret, Tiny Pencil/Amber Hsu and Wallis Eates.
It's practically a 'Who's Who' of Broken Frontier small press coverage! You can find out more about DIY Cultures here.
Small Press Day is Coming!
We're less than two months away from Small Press Day – a national celebration of self and micropublishing across UK comics shops and beyond. Things are shaping up for a very exciting event giving the small press scene an added focus on July 9th.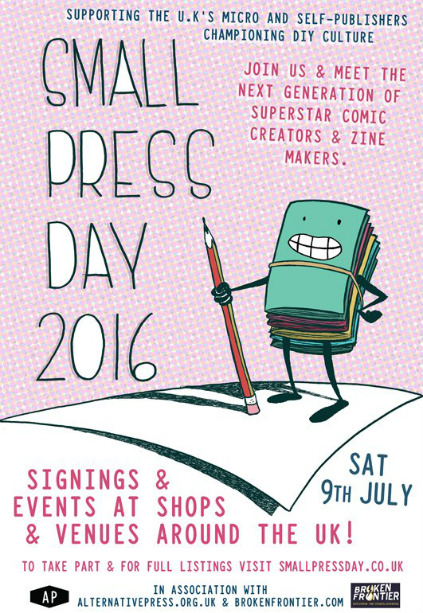 There are some stunning line-ups of creator signings planned up and down the country – including an appearance of selected Broken Frontier 'Six to Watch' artists at Orbital Comics – and we'll be covering them in depth in the lead-up to July. If your local store still hasn't signed up then send them in the direction of the Small Press Day team. The Twitter account is here.
Rozi Hathaway's Njálla Launches June 4th in Northampton
First generation Broken Frontier 'Six UK Small Press Creators to Watch' star Rozi Hathaway recently Kickstarted her new self-published comic Njálla. It was no surprise to me, or indeed I'm sure to anyone who has been following her burgeoning career over the last year, that the book reached its target in just a few short hours on its first day. It subsequently went on to raise more than three times its initial goal.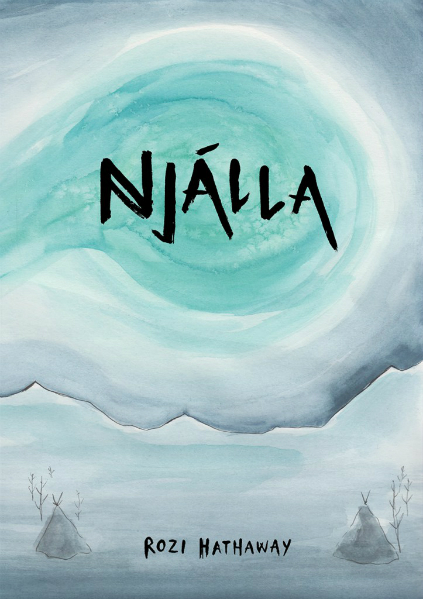 Njálla takes its inspiration from the myths and legends of the Sámi people, indigenous to northern Europe's Arctic Circle. Having been fortunate enough to have seen an advance copy I can assure you it's one of the must-own UK small press books of 2016 so far. The official launch for the comic is at Northampton's NN Café on June 4th. You can join the Facebook event group here for more details.
Submissions Open for Dirty Rotten Comics #8
Dirty Rotten Comics is the inclusive anthology that first opened my eyes to the work of two of this year's Broken Frontier 'Six Small Press Creators to Watch' – Jey Levang and Emily Rose Lambert – and one that I've sent a number of creators in the direction of over the course of the last year or so (including Kim Clements, Rozi Hathaway and Danny Noble).

Throwaway Press have issued their latest call for 1-4 page story submissions for DRC #8. Whether you're an aspiring small presser or an established voice on the scene this always essential group effort is a fabulous showcase for your work. Take a look at some of our past Dirty Rotten Comics coverage here.
Kickstarters to Watch!
It will come as little surprise that of all the dozens upon dozens of crowdfunding coverage requests we get every month, only a very small number can be covered here. Some projects do particularly stick out though. And as crowdfunding is essentially another platform for self-publishing here's two from my inbox that particularly caught my eye…
Black Mumba
A collaborative project from a number of names in the Indian comics world, Black Mumba sees writer Ram V teaming up with creators Devmalya Pramanik, Kishore Mohan, ROSH and Aditya Bidikar to produce a hardcover graphic novel that has already got positive pull quotes from the likes of John Arcudi, Ivan Brandon, Alex Paknadel and Caspar Wijngaard.
The intriguing basic premise is as follows and you can back the Kickstarter here.
Black Mumba is a collection of short stories set in the city of Mumbai, India. The stories are all told through the eyes of a weathered police inspector in a familiar 40s crime noir aesthetic. But in Black Mumba, there are no criminals to catch or villains to foil. The city of Mumbai itself is the quarry – the bleak, weird and yet hopeful nature of life on its streets is at the heart of this collection.
The Wastelands
Gemma Sheldrake aka Petitcreme's fantasy webcomic The Wastelands is also looking to come to print in a new three-volume set. It has an ambitious target of £5,000 but it's already 20% funded and, as we know here at Broken Frontier from our own BF Anthology adventure on Kickstarter last year, never say never when it comes to that crowdfunding goal. You can hear about the series from Sheldrake herself in the KS video below.
Here too is the premise for The Wastelands and you can back the Kickstarter here.
The Wastelands is about a world where gods, seen as giant creatures, all suddenly vanish or are found dead. It follows the people as they try to uncover what caused this catastrophe on top of dealing with large volumes of demons and a poisonous sludge that corrupts their world into a wasteland.
The story follows three people; Rahu, a nomad that believes one good has cursed him and travels the empty lands. Kyror; Prince of the last land protected by the Goddess creator Tho-Og and Amy; a girl from our world who has unexpectedly arrived in this strange land and is desperate to find a way home.
Together, Kyror and Amy try to find what really happened to the gods while travelling across the world to get Amy home and Rahu explores the long dead abandoned temples for any answers.
Zoom Rockman @ The Queens Exhibition
It's not often I get to use the words "veteran teen self-publisher" in a BF piece but there's no denying their correct application in relation to 15-year-old artist Zoom Rockman. Zoom has been self-publishing for longer than this column has been running and in June, as part of the Crouch End Festival, his art (including his 'Skanky Pigeon' strips for The Beano) will be seen at a special exhibition that runs for over a week. More details here.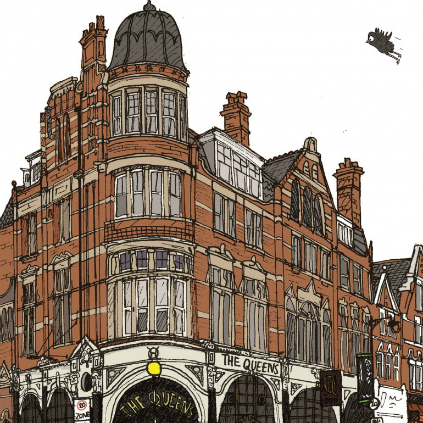 Sponsor Danny Noble's 'No Sleep 'Til Brighton' Walk
And finally… any excuse/opportunity to feature new art by our 'Six to Watch' and Gosh/Broken Frontier Drink and Draw Artist-in-Residence Danny Noble in this column is one I'll always grab with open arms, however peripheral to comics it may seem.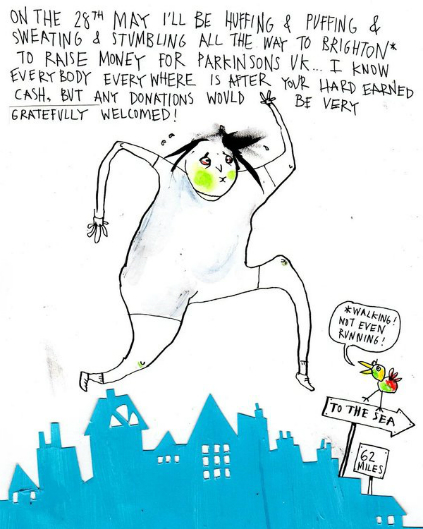 Danny and team have been training for some months in preparation for a mammoth charity walk next week on May 28th for the Parkinson's UK charity. Anyone who donates £20.00 or more gets the bonus of an original Danny Noble doodle… which is surely worth twice that much anyway!
You can sponsor their valiant efforts here. 
For regular updates on all things small press follow Andy Oliver on Twitter here.