Pink, black and white are the colours chosen by Hannah Blumenreich for Full Court Crush; pink fitting the theme of budding romance within the comics narrative. Despite consisting of twelve pages in total, it packs a punch in terms of the quality of storytelling at play.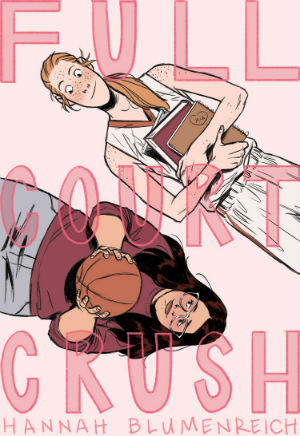 The story features Marcy a basketball player who Althea, known for her good grades, agrees to tutor after a failed math test. The story is very sweet, expressing the awkwardness of being a teenager with a crush. In Blumenreich's work I appreciate the way in which she draws expressions – every goofy over-emotional moment is accounted for.  The characters' emotions are prominent to the storytelling with each individual expression key to the comics overall humorous tone. The lettering also adds to these extreme emotions becoming bolder and balloon types changing dependent on the emotional output of the scene.
The title of the comic Full Court Crush references Marcy's sport- a few scenes taking place in the court itself.  The sense of energy and community within these large crowd scenes is palpable. The crowd aspect is also used to isolate characters as well as bring them together. Whilst the focus of the story is on Althea and Marcy the use of crowd scenes and a small amount of dialogue between side-characters creates the idea of a more vibrant world in which the two are situated.
By expressing her characters' emotion in such an intense way Blumenreich as well as creating humour from intense emotions can also create a sense of embarrassment and anxiety. The way the characters are designed emphasises aspects of their personalities, which are drawn out by the story; Marcy as tall and lanky with her hair-tied and freckles, Althea with dark hair, glasses and a shorter frame.
The pacing within Full Court Crush is also impressive. Generally, pages end in ways which force you to keep making your way through the comic – emphasising the narrative's twists and turns. Often several panels are used to accentuate especially important emotions, giving particular moments more weight drawing them out to fit the storyline. The comic really highlights how small moments can have a larger overall impact in terms of emotional yield.
This comic will put a smile on your face with its plot full of feeling; you cannot help but empathise with the characters and their story. Seeing the characters' inner-emotions play out on their faces is what creates such a connection with the reader; we relate to them through emotion rather than particular quirks of personality. Full Court Crush is an utter joy to read.
Hannah Blumenreich (W/A), Shivana Sookdeo (L) • Self-published, $15.00 print/$5.00 digital
Review by Holly Raidl