We've posted about this in the past at Broken Frontier and it's one of the saddest things we've covered over the last several years. Alex Norris has been entertaining us since 2016 with their wildly popular Webcomic Name webcomic (or, as you may think of it, the "oh no" comics). It's an absolute gem of a strip with wildly inventive new takes on the same running joke and one of those unforgettable comics phenomena that come along so very rarely.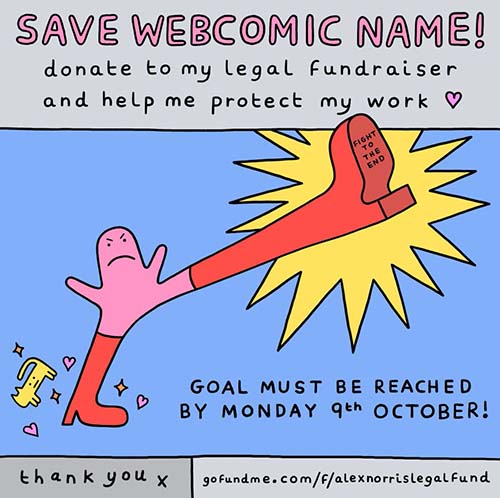 Since 2019 Alex has been fighting to protect their ownership of Webcomic Name. You can read more on the GoFundMe page but in Alex's words:
I have been fighting this case since 2019. It arose out of an agreement to make a boardgame based on my webcomic in 2017 but the publishing company has used this as an opportunity to take all of my intellectual property, and has even claimed ownership of Webcomic Name as a whole. I can't go into more detail here, but the details of the case are publicly available to read online.
I created Webcomic Name in 2016, originally as a parody of relatable webcomics. For the past 6 years, the format has been the same: three panels long, featuring a silly pink blob, and ending every time with the punchline "oh no". Over time, it has increasingly become a commentary on issues close to my heart: social justice, gender and sexuality, internet culture, and what it means to be an artist on the internet.
I love making this webcomic, and I am so thrilled it has been amazingly popular with the internet and beyond. I am proud to have found something my readers love reading as much as I love making!

Alex is now needing extra funding for the rest of the legal battle with a deadline set for the next target of October 9th.
Visit the GoFundMe page here
and please help out if you can!