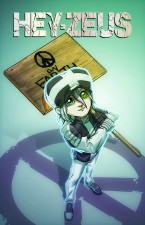 Press Release
According to Stephan Lapin "Popular modern comic typically solve problems through violence. Whether it be pummeling criminals in back alleys or fighting supervillains to the death these characters always resort to force." To his credit, Lapin wants to change all of that with his very unique Kickstarter project, Hey-Zeus . This intriguing story is begins with Murdock McGee, a down-on-his-luck columnist who is being threatened by a leg-breaker who has been hired by the top crime lord to squeeze out the money out of Murdock which he borrowed from them. However, before Murdock receives any serious injuries from his aggressor, his life is saved by a small albino child who runs in and takes a bullet for him.
Although the child initially appears to be dead, Murdock's young hero suddenly returns to life in with an extraordinary light show which rejuvenates the boy. Instead of being frightened, Murdock's interest is piqued, and he attempts to find out more about his young savior. The gawky writer soon learns that the lad's name is Hey-Zeus – that's "Hey" for "Hello" and "Zeus" as in The Greek God. Hey-Zeus then persuades Murdock into helping fight the world's tribulations through pacifism while renewing his faith in the brine.
This is the beginning of a four-issue comicbook mini-series by Lapin and Eddie Nunez. Their goal is to use Kickstarter to complete Hey-Zeus and to produce a 26-page book which they are then going to pitch to Image comics. They are relying on the support of Kickstarter fans to turn Hey-Zeus the reality they all so very much want it to be. Truthfully, it appears that they already have a good start as their Kickstarter project was already endorsed by Top Cow's Matt Hawkins.
Lapin is a survivor of two heart transplants as well as a student of NHIA. he spend most of his time practicing the craft of sequential art as well as writing scripts for stories that he would love to tell. Nunez had been working with Wildstorm/DC Comics producing videogames and comicbooks. Most of Nunez's time at Wildstorm was spent working on DC Universe Online and Green Lantern videogames doing concept and cut scene artwork. Some of Nunez's comicbook credits include working on Lois Lane and the Resistance, Deadpool, Ami-comi, and Fanboys vs Zombies. They are aided and abetted in their noble endeavor by Eleonora Bruni, a comic artist and colorist from Italy as well as former student of the International School of Comics.
Also assisting in the project is Martín A. Pérez (AKA MaGnUs), who hails from Montevideo, Uruguay, and is a writer and radio host/producer. MaGnUs has published in print and online, writes articles and columns about role-playing games, comics and sci-fi, and hosts a radio show about nerdy stuff (Perdidos En El Eter. Currently, he's writing and lettering comic books (published three anthologies, among other projects), and writing narrative and flavor text for videogames.
With a goal of 8,000 and only eight more days to go the odds may be against them. If you would like to see this book happen then you can help the two comic creators by pledging to there kickstarter here; http://www.kickstarter.com/projects/1641791007/hey-zeus-comic