Scottish artist Steven Ingram has been building up a substantial comics presence in recent years, including Left, a graphic novel about a cult survivor facing up to the past, and MurMur, an ongoing series collecting his shorter pieces. He was nominated for SICBA (Scottish Independent Comic Book Alliance) Awards in 2016 and 2017, and his pedigree meant that Holly strolled past its funding target on Kickstarter earlier in the year.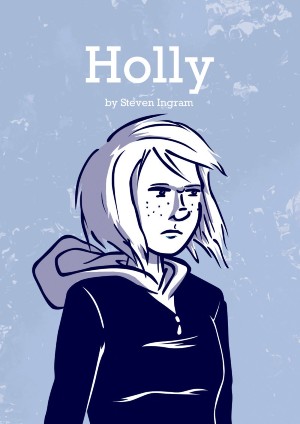 The eponymous protagonist of this 142-page graphic novel is one Holly Black, a 16-year-old inhabitant of the remote (fictional) Scottish island of Gleag ('the Lang Isle'). When we meet her, she's engaged in an adolescent act of angry futility, hurling a stone at the sea – the barrier that's keeping her trapped on "this stupid rock".
With her exams coming up, Holly is at a turning point in her life. She wants to leave school – and the island – but she doesn't know what to do next. Disengaged from her lessons, Holly draws the attention of her English teacher, who tries to give her focus by lending her a copy of Catcher in the Rye (a choice that's slightly on the nose but mercifully isn't laboured, as Holly soon discards the volume). 
At home, she has a loving but strained relationship with her mum, who is essentially a single parent; her dad's duties at the local military base keep him away from home for prolonged periods. She has a deep friendship with Charlie, the son of a local farmer, forged over illicit cans of beer in the hayshed. And, tucked away under her bed, her dream of escape is embodied in an envelope of saved cash and a copy of the timetable for the mainland ferry.
Holly is present in almost every scene of the book, meaning that it hangs largely on a convincing depiction of her character. Like every 16-year-old, she has a tiresome sense of self-importance and drama (albeit probably no worse than most). Smoking "ironically", she rails against "the godamn fucking naturalness" of her existence. However, through her everyday encounters we see the comforts of familiarity as well as the constraints, and Holly's vulnerability as well as her performative self-assurance.  
The book rolls along through an eight-panel grid that highlights one of Ingram's strengths: his confident use of pacing. Scenes and encounters are given room to breathe and develop, while the panel turnover keeps the narrative beats coming, even during scenes in which – objectively – not much is happening. The book's creator is clearly confident working on this scale (Left was 240 pages long), building in additional episodes that may seem a little tangential but add to the vivid picture of island life. 
His clean graphic style also reinforces the atmosphere of the piece, capturing the quietude and slow pace of life on the island that both entice Holly and push her away. Ingram doesn't overload his panels, maintaining an easy narrative flow that is enhanced by his understated use of colour. As the book progresses, he also uses the conventions of cartooning well to capture the adolescent awkwardness of attraction and inexperienced intimacy.  
Holly makes her choice between staying and leaving during a solo camping expedition, immersed in the natural environment of the island. This in turn leads to a difficult encounter and (another) significant decision. The book concludes with no didactic message or even a clear indication of what the future might hold for Holly – because who ever knows what life has in store for us, especially at 16. Indeed, this quiet but confident book depicts its world and protagonist with such quality that a sequel would be very welcome. 
Steven Ingram (W/A) • Blurred Line Comics, £15
For more on the work of Steven Ingram visit his site here and his online store here. You can also follow him on Twitter and on Instagram.
Review by Tom Murphy