Press Release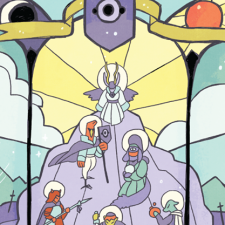 There are many fantasy epics, but few with a cast of characters that share a common name. While Tolkien differentiated the titles for his baker's dozen of dwarves in 'The Hobbit," the creators of " House of Orr" were drawing on gaming
experiences of giving their avatars similar names to identify friendly players.
"It started as something of a joke that all of our character names would start with 'Orr,' and then became a point of pride," said cocreator
Richard Zayas.
Names like "Orrfen," "Orryk," and "Orrbain" became so much a part of the gaming group's identity that when three of the troupe founded the online virtual tabletop Roll20, they formed as "The Orr Group, LLC." With Roll20's success as a roleplaying platform, the Orr Group found themselves wanting to tell more direct stories in conjunction with their growing audience. They brought in artist Victoria Grace Elliott of "balderdash!" to illustrate their concept of "House of Orr." The resulting webcomic revolves around a guild of fantastical adventurers concerned about the way their world is being governed.
The diverse cast of the comic has been a rousing success with readers, leading to over 50,000 readers in the first year. The creators credit their unique release method for their expanding readership, presenting five page chunks as opposed to the singlepage updates employed by many webbased comics. Additionally, the creators  regularly poll readers to influence the creation of the story.
"If we're going to a dance, asking readers for their favorite moves on the dancefloor are is a fun way to share the world, while letting us steer the larger plot points ourselves," said cocreator Riley Dutton. That larger plot will see the Orrs tested, but resolved.
"It's a story about camaraderie," said writer Nolan T. Jones. "I've often said the most fantastical element of this story is the extent to which the Orrs appreciate each other."
"House of Orr" updates every other Friday with five new pages. It was cocreated by Dutton, Jones, and Zayas, and is regularly written and lettered by Jones with linework and coloring by Victoria Grace Elliott. It can be read for free at houseoforr.com.