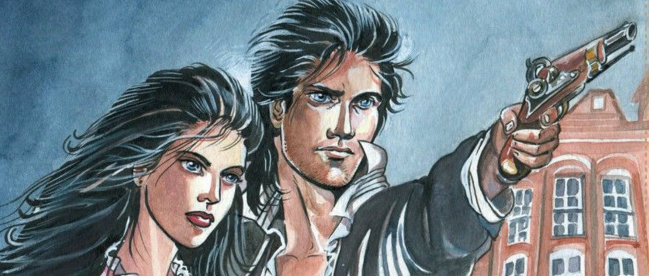 Eagle Award-winning writer Andrew Winter teams up with Italian illustrator Manuela Bassu Lebrino for a fast-paced, action-filled romp set against a doomsday backdrop of paranoia and conspiracy in Victorian England.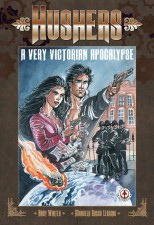 It's 1848, and unbeknownst to the general population, a world-crushing asteroid named Astraea is about to end virtually all life on the planet. This is the knowledge that burdens young Sarah Buckman, who – while mourning her sister's mysterious death – uncovers secret files revealing the monarchy's plan to survive the impending cataclysm.
Andrew Winter first broke onto the UK comics scene with his Eagle Award-winning superhero send-up Hero Killers, in collaboration with Declan Shalvey (Moon Knight). In his latest creator-owned graphic novel, Winter and artist Manuela Lebrino take readers on a thrilling, sci-fi-tinged journey following Sarah on her quest for answers to the questions surrounding her sister's death.
Winter and Lebrino build an intriguing, fully realized fictional England, defined (and confined) by its strict Victorian class hierarchy and ruled over by a corrupt, self-interested nobility solely concerned with its own survival. This is a world where the familiar takes on a peculiar, skewed quality, colored by the planet-killer Astraea's rendezvous with Earth.
As the countdown to the end progresses, Sarah, her French lover, and his anarchist cell (the Lambeth Rats) become ever more desperate to blow the whistle on the British government's plans to abandon millions of its citizens to certain doom. Racing against the clock, Sarah and Jacques careen across the rooftops of London relentlessly pursued by the Hushers – a clandestine paramilitary force of identical operatives in service to the Crown.
Winter escalates the action steadily as the plot unfolds, keeping up a swift pace that lends the book a welcome breathless quality. Rapid-fire transitions reinforce the feeling of perpetual forward motion and provide tantalizing glimpses of Winter's warped alternate Earth. His approach to world-building is organic and highly efficient, doling out information and backstory on an as-needed basis, allowing the world of Hushers enough room to breathe freely, without the weight of expositional baggage.
Lebrino's artwork lends the book's fictional setting a wonderfully lurid, European flare that reminded me of a half-remembered stack of Old World comics from the 1970s. There's a picture-book quality to her hand-painted illustrations that adds depth and atmosphere to her rich, textured backgrounds.
Her use of closed panels and a dark, murky color palette infuses the book with an appropriately tense, claustrophobic air. This was my first encounter with Lebrino's work, and I was impressed with not only the detail and thought put into her illustrations but also with the clarity of her clean visual storytelling.
If I had one, admittedly minor complaint about Hushers, it was that it felt a little stiff-legged and uneven in the early stages. Winter's dialogue had a bit of a forced ring to it, while Lebrino's handling of the early action sequences came off more static than kinetic. However, both issues were addressed as the story unfolded and writer and artist grew more comfortable with their cast and setting.
Otherwise, Hushers is a fun, rousing diversion full of inventive world-building and lush illustrations. Its unique voice and visual tone far outweigh a bit of early stumbling and make it a more than worthwhile read.
Andrew Winter (W), Manuela Bassu Lebrino (A) • Markosia, $17.99/£13.99