Press Release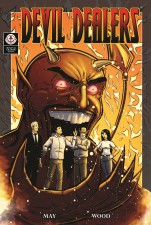 Writer Ross May and artist Brett Wood, along with UK publisher Markosia Enterprises Ltd. are pleased to announce the publication of DEVIL DEALERS, a 129 page graphic novel.
It is the exciting story of individuals who have gambled with the Devil and won, gaining unique treasures and abilities. Together they search for the legendary notebook of Faust, which contains secrets to the afterlife.
This story is available digitally on Comixology, in print at quickcomics.com and finer bookstores.
Ross May of Saskatchewan, Canada has written for famous properties including the Teenage Mutant Ninja Turtles and The Real Ghostbusters.
Brett Wood of Ohio, USA illustrates comics including his original comedic super hero, the Silver Bullet, also published by Markosia.
Markosia Enterprises Ltd. was founded in 2005 and publishes a diverse line of comics, from The Young Sherlock Holmes Adventures to Hero 9 to 5 and more.
DEVIL DEALERS
Release Date: Spring 2014. Now!
ISBN: 978-1-909276-15-4
Print Retail Price: $17.99 USD, $19.99 CAD