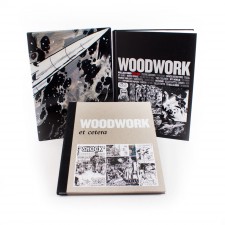 Press Release
IDW Limited announced the release of Woodwork: The Complete Work of Wallace Wood (1927-1981) in a deluxe, limited-edition format. The book features an exclusive cover and slipcase, a hardcover portfolio containing eight lithograph prints and a signed and numbered photograph taken by Wallace Wood's longtime friend and personal photographer Gilbert Ortiz. There's a little touch of Wood inside each book, as they have been individually hand-stamped by Wood's own Snorky stamp, loaned to IDW Limited by the Wood estate specifically for this release. (http://idwlimited.com/series/artbooks.html)
"Wallace Wood is an absolute icon, he's one of the greatest talents in comic history," says senior editor of special projects, Scott Dunbier. "This had to be a very special book to do justice to the subject. Editor/designer Frédéric Manzano has done an absolutely marvelous job."
Limited to just 150 copies, this IDW Limited Black Label edition collects decades of work and hundreds of beautifully captured pieces of Wood's art. From his days at EC to his self-published work to T.H.U.N.D.E.R. Agents, this is an insider's view of the complete career of Wallace Wood. Housed in a custom slipcase and accompanied by a portfolio full of lithographs on high-quality 300-gsm paper, this book has been painstakingly designed to be the perfect showpiece for discerning collectors.
"EC was a magical place, and their head wizard was Wallace Wood," said Jerry Bennington, IDW Limited director. "Whether drawing on his own, or inking someone's work, Wood's art was always distinct and ambitious. He was an amazing artist, and a character worth studying."
Available now from IDW Limited.com (http://idwlimited.com/series/artbooks.html), this deluxe hardcover is a piece of comic history.