Given that it bridges the 1950s both pre and post formation of the Comics Code Authority, in terms of its historical relevance The EC Archives: Incredible Science Fiction is a curious beast. The first obvious note here is in what this volume collects – the last three issues of Weird Science-Fantasy (#27-29) and the first four of Incredible Science Fiction (#30-33) which retained its predecessor's numbering. This is, of course, a volume of classic EC Comics work from around seven decades ago that presents material from the end of the EC New Trend branding through to the New Direction era. The latter being a reaction to the moral panic that gave birth to the strictures of the Comics Code, and the self-censoring nonsense that would blight the industry and stifle creativity for years to come.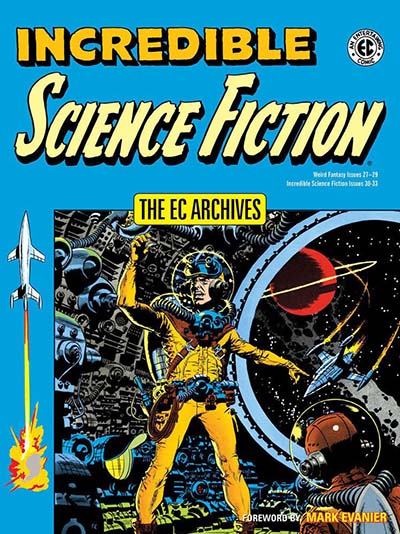 Mark Evanier's introduction gives us not just a fascinating anecdote about the great Wally Wood's dislike of his EC sci-fi work but also insights into the provenance of the unforgettable Frank Frazetta's cover to Weird Science-Fantasy #29 and the story behind why the final story 'Eye for an Eye', illustrated by Angelo Torres was missing from Incredible Science Fiction #33 in 1956 (though included herein). Spoiler warning: the Comics Code Authority… again.
Unlike the more obviously targeted EC horror comics series, the sci-fi books didn't necessarily rely on the same kind of over-the-top, gory, shock twists to make their points. That's not to say they couldn't similarly upset all the right people with socially relevant narratives but, as Evanier points out in that foreword, ultimately their surprisingly sophisticated short storytelling was probably way ahead of its time.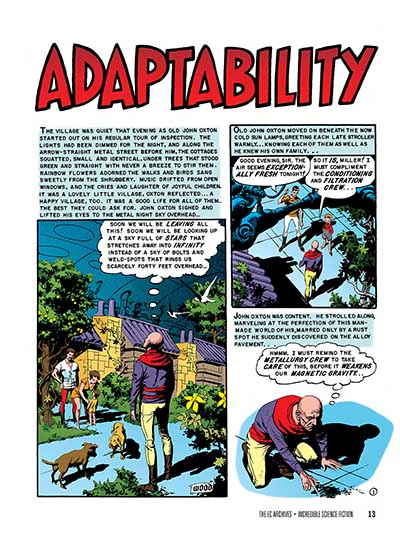 While the digital recolouring perhaps won't be to every purist's tastes (though personally I found it sympathetic to the source) the visuals in these issues are simply stunning, especially where the work of the science-fiction comics master Al Williamson is concerned. Those who may be familiar with the Warren Comics adaptations of Eando Binder's Adam Link stories in Eerie will no doubt be interested in the earlier comics interpretations of those tales of a robot trying to find his place in a human world, adapted by Otto Binder and Al Feldstein here. In three separate offerings Joe Orlando's art beautifully brings out the inherent tragedy and the metallic humanity encapsulated in its robotic protagonist.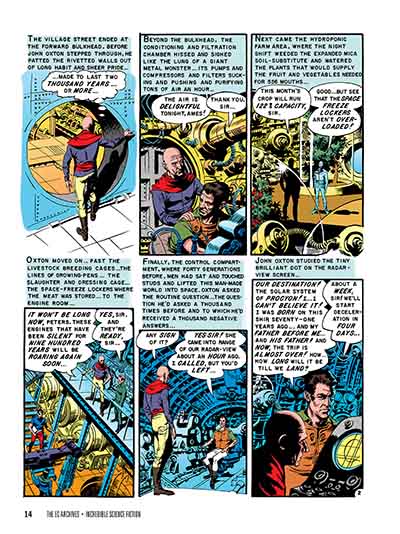 How does one pick out stand-out pieces in a collection of 28 almost uniformally excellent examples of classic comics? Wally Wood may have been critical of his contributions to EC's science fiction line but his art on 'Adaptability' (written by Otto Binder) which follows a space ark as it finally finds a new world to inhabit after 40 generations of travelling through space, contrasts the claustrophobia of their ship-bound society and the tragedy of their eventual fate with a quiet but dignified empathy. Similarly, the second person narration of 'Round Trip' (written by Bill Gaines and Al Feldstein) hammers home the sadness of the life of one Henry Wilkens whose never-to-be-fulfilled dream of colonising space ends on a poignantly realised twist finale. Jack Kamen's art here roots the pedestrian in the otherworldly with a powerful understatement.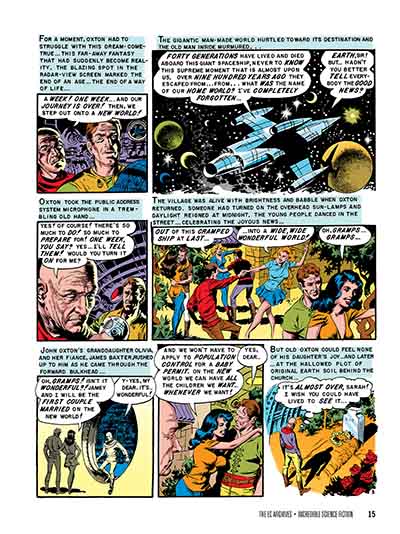 There's much here that can be taken as social commentary on subjects like over-industrialisation, intolerance, and environmental destruction. In the Incredible Science Fiction issues Jack Oleck's atypical time-travel story 'Time to Leave', illustrated by Roy Krenkel and Al Williamson, avoids the usual temporal paradox clichés to provide a parable on living a risk-filled life to its fullest rather than enduring a safe but sterile and soulless one. And the aforementioned Jack Oleck-written 'Eye for an Eye', set in a fantastic post-apocalyptic world realised with harsh imagination by Angelo Torres, is a visual essay on bigotry and othering dressed in the metaphorical garb of science fantasy.
These paperback versions of the EC Archives (like the recently announced Creepy and Eerie ones) are a great move from Dark Horse, allowing greater accessibility to what for the majority would have been prohibitively priced hardbacks. For the uninitiated Incredible Science Fiction is a good starting point for exploring further, even if chronologically it's at the tail-end of EC's publishing output.
Otto Binder, Bill Gaines, Al Feldstein, Carl Wessler, Jack Oleck, Bill Gaines, Fred Von Bernewitz (W), Wally Wood, Reed Crandell, Jack Kamen, Joe Orlando, Al Feldstein, Al Williamson, Roy Krenkel, Angelo Torres, Frank Frazetta, Jack Davis, Bernie KrigStein (A), Marie Severin (C) • Dark Horse Comics, $19.99
Review by Andy Oliver