While Gangster yarns may be dying out in the world of cinema (see The Irishman), Dark Horse's Machine Gun Wizards continues the age-old comics tradition of mashing up the crime genre with some iteration of fantasy. In this case, we get wise guys with the plain ol' weird.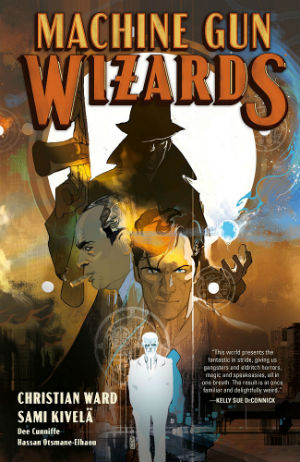 Magic and Prohibition-era crime collide in Christian Ward and Sami Kivelä's four-issue miniseries Machine Gun Wizards, pitting Eliot Ness and the Untouchables against Al Capone and the trench-coat-clad sorceress Candice as Chicago cracks down on speakeasies selling the prohibited "lick" — a liquor that grants magical powers, the source of which is a mystery. Before long, Ness and the Untouchables discover a grand conspiracy and get caught in a war that threatens to destroy Chicago and beyond.
Religion, belonging and public mistrust of the police slip into this tale as themes, but Ward and company eschew some overreaching stab at topical relevance here. These themes serve more as situational context for idiosyncratic characters, unique world-building and a twist-filled plot to deliver a fun, kinetic book that doesn't take itself too seriously. However, the craftsmanship on display is some of the best to come out of the crimes sub-genre in awhile; by mashing its pulpy origins and the occult, Ward has created a familiar world that cleverly avoids most tropes and clichés of the crime genre.
Here, the Untouchables are competent, but without the superhero gloss that pop culture has afforded them. Our introduction to them comes from one snarky journalist who highlights their flaws and quirks, and why they could tempt the law to consume lick. They have secrets to hide and are way in over their heads against this particular brand of crime. Ness plays the straight man to his team's quirky specificity. Each character has a distinctive voice, with the hilarious alcoholic Donny standing out in particular. Much of the book's humour — which is a tonal undercurrent — stems from their group dynamics, making the book's quieter moments as entertaining as the action. Ensemble books constrain the potential for deep character arcs, but Ward manages to inject some personal stakes and shocking reversals in the third and four issue that make us invested in these characters.
The book truly shines in the art department. Sami Kivelä, letterer Hassan Otsmane-Elhaou, and Ward and Cunniffe's colours capture the book's tone perfectly and deliver some unique designs that feel organic to this peculiar world rather than an archetypal one with clear cultural influences (there are no orcs or Egyptian deities).
Kivelä's pencils are expressive and dynamic, with that faint touch of '60s-esque character design lending itself to the book's playful nature. Every page feels inspired, from thematic panel layouts for big reveals through to environment design like the Max Ernst-esque staircase of 'The Curtain Room'. Ward's colours complements the art, with a wide, saturated palette that often incorporates the monochromatic expressionism of noir during dramatically heightened beats. Ostmane-Elhaou's lettering is equally expressive and plays a major role in conveying the action's kinetic energy.
Although the series would've benefited from a fifth issue to decompress its final act, Ward has more stories planned for Ness and the machine gun wizards. That's great news because the series leaves us with tantalizing bits of mystery and backstory that deserve exploration. Machine Gun Wizards is a thrill ride set in a wonderfully bizarre universe with enough hardboiled sleuthing and fantasy-fuelled set-pieces to appeal to readers of both genres.
Christian Ward (W), Sami Kivelä (A), Dee Cunniffe (C), Hassan Otsmane-Elhaou (L) • Dark Horse Comics
The Machine Gun Wizards trade paperback will be published in March
Review by Moe Abbas