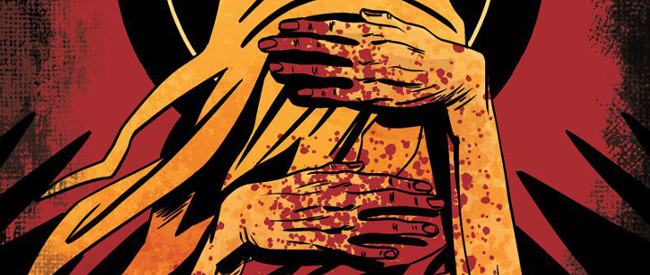 Writer/artist I.N.J. Culbard talked with us recently about his career, the art of adaptation and the inspiration behind his first original graphic novel, Celeste.
I.N.J Culbard is contributing to the Broken Frontier Anthology, created to celebrate the magic of creator-owned comics. Check our Kickstarter campaign and please share it with your friends on social media using #BFanthology. You can find Ian on Twitter @injculbard.
Whether in his weird fiction adaptations of H.P. Lovecraft and Robert Chambers or his original work Celeste, I.N.J. Culbard is a master at bringing readers into his dream-worlds.
However, there's also a visceral, organic feel to his art (just check out his work on the Sherlock Holmes adaptations penned by frequent collaborator Ian Edginton).
Culbard's work has earned both readers' and critics' praise, including noms for both Best Artist – Independent/Creator-Owned and Best Limited Series (with Ian Edginton, for Brass Sun) in the 2014 Broken Frontier Awards.
You come from an impressive background in animation. What inspired you to make the leap to the comics medium?
I'd actually always wanted to do comics. I kind of fell into animation because I come from an education system that didn't support comics. Discouraged it even.
Animation was an additional element to an illustration course I managed to find myself on so I did that, because storyboarding would be as close as I could get to doing comics. And it's not like I didn't enjoy animation – I did and I learned a lot from it – but the desire to draw comics just never went away, and a good deal of comics even informed my animation.
And then my son was born and I thought "now could be possibly the worst time ever to change careers", so I did.
Your career so far has included astounding adaptations of H.P. Lovecraft. What is your process like when it comes to visualizing the words of this much-revered author?
The process has always been to strip the book right back to its essence and start again, and the key is that they work as books in their own right whilst adhering to the principles of staying faithful to the source material as determined by the medium to which you are adapting your story.
I've really enjoyed the Lovecraft books because I've been able to interpret them my own way, especially those stories where there's very little dialogue and I've been able to create my own and give characters a greater sense of depth than they have in the original novels. In At the Mountains of Madness, for example, almost all the dialogue and the dynamics between the characters is made up, playing on threads left by Lovecraft.  And that's fun.
You're writing within the strictest of perimeters, but I like those sorts of restrictions. Movies do that sort of thing all the time, and I wanted to take similar liberties, and there's a good deal of HPL that allows for that.  That's probably why, by the end of 2016, I will have done six of them in all.
What can you tell us about your work for the Broken Frontier anthology?
Last Dance at Omega Point is a story that takes place in our time and in the very very distant future, at the edge of the known universe. It centers on a lone and ancient star mariner traversing the cosmos, on a mission to reach the edge of the known universe, called Omega Point.
Last year saw the release of your first original graphic novel, Celeste (SelfMadeHero). What were some of your inspirations behind this project? What were your favorite parts about the experience of writing and drawing your own story?
The inspiration behind Celeste was an incident on a train back in the late '90s. The train was packed and for some weird reason I collapsed, and in that brief moment of collapse I hallucinated, and for the briefest moment, before I hit the floor, the train was suddenly empty but for one passenger, a man dressed in like an WW1 officer.
I remember the color distinctly; his puttees wrapped around his shins, his shiny shoes and slicked-back hair and the sound was all different, like the echoey screech of wheels on the line, and flashes of light, and the next thing I know I'm sitting on a bench on the platform and I have the cold sweat you feel having passed out. Someone had helped me off the train.
It was odd. And I don't quite know what was wrong with me and have never found out. All I know is it started as a pain in my gut. I've since had hernias so it could well have been a strangulating hernia that by chance righted itself, I don't really know. But the momentary vision stuck with me and I thought "what would it be like if London were suddenly, in the blink of an eye, completely empty". So that was the start of that.
Having managed to sneak a lot of my own writing within the pages of my Lovecraft books, I had the opportunity to do the "difficult third album" first, and took it, so I think Celeste was a good deal more unconventional than anything I would normally be comfortable with.
I'd spent so much time interpreting books, I wanted to do a book open to interpretation, but not something too abstract. Something that relied as much on the economy of visual exposition as the words themselves. A lot of my manga influences poured into it. The book itself, is, very simply, about the mind, the body, and the soul, as three stories that play out against each other. They're set in entirely different parts of the world. Different genres.
What other current and upcoming projects are on your drawing board?
I've just finished an adaptation of Robert W. Chambers' The King in Yellow, which will be out at the end of May. Dan Abnett and I are starting work on a second series of Wild's End for BOOM! and preparing a number of other projects to work on together. Dark Ages, which was a four-part mini-series for Dark Horse last year has been collected and will be out this April.
There's more Brass Sun with Ian Edginton, too, and I'm writing more things for myself to draw that'll hopefully see light of day next year, as well as adapting two more Lovecraft books for SelfMadeHero, due out in 2016: The Shadow Over Innsmouth (spring), and The Dreams in the Witch House (Autumn).