In my capacity representing Broken Frontier I've attended many book launches over the years in venues including shops, museums, bars, galleries and at festivals. But last night was something of a first for me when I had the opportunity to visit the House of Commons for the launch of New Internationalist's new graphic novel The Many Not the Few (published in association with the GFTU), a book which explores the evolution of the Labour Movement through sequential art.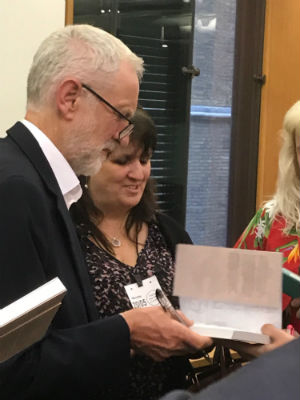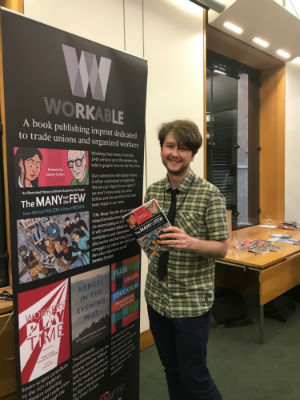 Jeremy Corbyn signing copies of The Many Not the Few last night (left) and Artist Robert Brown (right)
Written by Sean Michael Wilson (Fight the Power!, Goodbye God?) and illustrated by Robert Brown (whose Killjoy series we've been reviewing here at Broken Frontier since 2012) The Many Not the Few also has a foreword by Labour Party leader Jeremy Corbyn (already the star of SelfMadeHero's The Corbyn Comic Book). Hosted at a meeting of the General Federation of Trade Unions, the speakers at last night's launch included Corbyn himself who talked about the power this graphic novel would have in changing the lives of people who didn't even know of its existence yet.
Jeremy Corbyn enjoying the magic of comics!
You can't really look for a better placed promotional soundbite than that for this art form we're all so passionate about! As we all know, comics have an incredible ability as a medium to communicate, educate and inform and this book, subtitled An Illustrated History of Britain Shaped by the People, looks to bring the history of the labour movement from the 14th century to today to whole new audiences. You can order it online via the link here and look for a full review from us at Broken Frontier in the not too distant future…