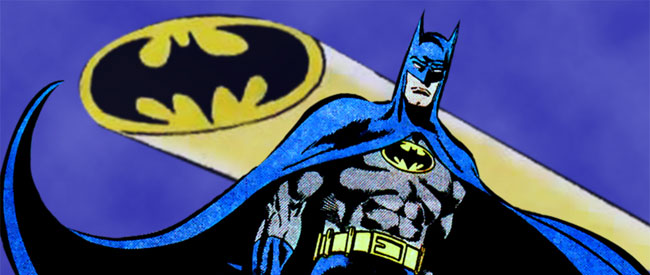 In a guest post, writer and film-maker John T Trigonis pays tribute to his favourite Bat-artist, the late Jim Aparo, recalling some of his finest and most character-defining work.
I can still remember the first Batman comic I ever bought at the small bodega near my old apartment in Weehawken, New Jersey. It was 1989. I had recently discovered Marvel Tales #210, featuring the amazing Spider-Man. Before that, my only exposure to the Dark Knight had been the not-so-dark 1960s BatmanTV series.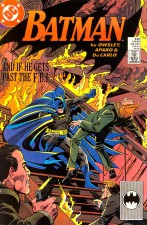 The cover of this particular issue fascinated me: the blue/gray-suited protagonist had just backhanded an FBI agent in the mouth, while two others were desperately reaching for their guns after a similar encounter with our hero's fists of justice. Not that Batman #432 was anything special – or even memorable – aside from the fact that it was to be my very first Batman book.
And although Mark Bright and Steve Mitchell illustrated the cover, it was the interior panels that introduced me to the iconic stylings of Jim Aparo. From the instant our hero looms large, searching the deep shadows of a quiet office in those opening pages, to an intense escape from a flame-tossed building and the issue's strangely touching culmination, Aparo's non-pareil pencils captivated from the start and drew me back again and again up until his death in July 2005.
Given that Batman #432 was my introduction to this legend's body of work, it occupies a special place in my heart, like the giant penny or the dinosaur in the Batcave. Throughout his time drawing Batman, Detective Comics, and The Brave and the Bold, Jim Aparo gave us some of the most unforgettable moments and stories in not only Batman but also DC Comics history.
What comic book fan can forget the first time we see Batman carrying the battered, bloodied body of Jason Todd's Boy Wonder? Bane breaking the Bat during 'Knightfall'? The first time we see Tim Drake don the original Boy Wonder costume?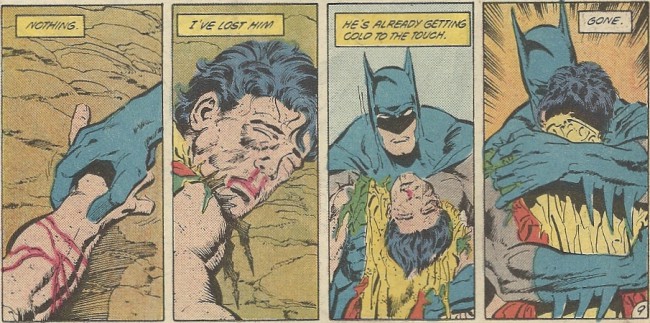 Of course, an artist is only as good as the writer with whom he or she bravely and boldly teams up, and it was during these years that Aparo worked with a wide range of top dogs in the industry, from Len Wein and Jim Starlin to Doug Moench and beyond.
I thought I'd highlight a few series and single issues in which his renditions had a real impact on my personal perception of the Dark Knight.
The Untold Legend of the Batman #1-3: The first ever Bat-miniseries to delve into Bruce Wayne's history. In the story, which I read as a Tor paperback reprint in glorious black and white, what really stands out is that Bruce Wayne was the first to wear a Boy Wonder costume. What's more, he's given the name 'Robin' by Harvey Harris – a detective whom Bruce studied under and helped out on a couple cases. 'Untold legend'? Absolutely!
The Brave and the Bold #182: Like many others, I'm not a fan of what DC has done with the New 52, and I've got serious concerns over the 'Band-Aid' that's coming soon. However, 'Interlude on Earth-Two' features a team-up between Batman and Earth-Two's Boy Wonder that rocks every universe I may possible exist in. It's refreshing to see Aparo's take on a different looking Robin, not to mention the yellow and red costume of Batwoman, too.
Batman #416: 'White Gold and Truth' outlines one of the most tense confrontations between Batman and his original protégé turned shadow of the Bat, Dick Grayson, now sporting the mantle of Nightwing. At the climax of a very heated discussion, Bruce finally admits to Dick that he was lonely, and that his loneliness served as part of the reason he brought in Jason Todd to replace Dick as Boy Wonder.
Batman #428: This goes without saying, but if there's one trade paperback that should be in ever Bat-fan's collection, it's A Death in the Family by Starlin, Aparo, and DeCarlo. However, it's part three that is the story's crux: the death of Jason Todd, murdered by the Joker (though killed off in part by the readership). Plus, I always get an extra kick out of seeing Batman whack Superman near the close of the issue.
Batman #442: Tim Drake dons the original guise of the Boy Wonder in the final installment of this Batman/New Titans crossover. Rereading the entire miniseries after reading 'Prodigal Son' and 'Robin: Year One', I understand a history between Nightwing and Two-Face that I didn't know existed on first read back in 1989. So when a very green Robin goes up against a villain the original Boy Wonder was afraid to face, an anxiety builds up that there really won't be another Boy Wonder for much longer.
Batman #497: Not many comics made the ten o'clock news back in the early '90s, and what began with 'The Death of Superman' making national headlines continued with the breaking of the Batman by the then new baddie in town, Bane. We all know that Batman is a mere mortal without any superpowers and with his own set of flaws, but we never realize how human he is until we see him hunched over in a way a human body should never be hunched, Bane's knee crashing up into (and practically through) his back. 'Broken, and done.'
Aside from these issues of Bat-awesomeness, my all-time favorite thing that Aparo has ever done was create the greatest superhero team of all time: The Outsiders.
While I was going through an extensive New Titans reading phase, I got to #37 and saw that it crossed over into a series I hadn't heard of, so I picked up Batman and the Outsiders #6, and I was immediately hooked – especially when I saw that Aparo had not only done the artwork but also co-created the rogue superteam with writer Mike W. Barr.
I backtracked after that little crossover and started fishing through the longboxes at various comic shops in New York City for each individual issue, and I eventually got them all. I'll never forget the first time I saw the cover to Batman and the Outsiders #1, with Batman telling the Justice to essentially screw off in favor of a team that co-starred two of my other favorite underrated superheroes, Black Lightning and Metamorpho.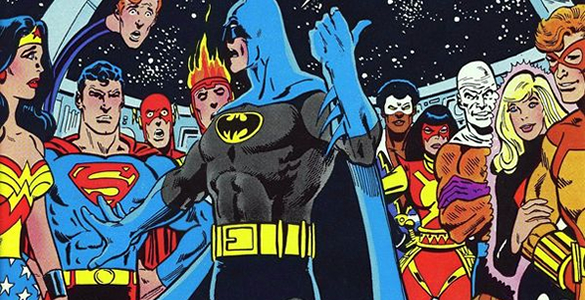 When I was younger, I rarely took notice of the creative team listed on the front cover and first few pages of an issue to find out who drew each one, so it took a while before I learned to appreciate the varying renditions of Batman from the other top artists of the time, like Norm Breyfogle, Paul Neary, and even Todd McFarlane.
In my young mind, there was only one man who should draw Batman. Even when I'd draw my own pictures of Batman as a fledgling artist, I was merely mimicking the Jim Aparo style I loved best. And even though it was Jim Lee's version of the Dark Knight during the 'Hush' storyline that drew me back to collecting comics, when someone mentions "Batman" today, I don't think of 'Death of the Family' but rather 'A Death in the Family'.
I can't say enough how much I thoroughly enjoy the second volume of Batman stories that Scott Snyder and Greg Capullo have been churning out since DC's New 52 launch, but Capullo's style lacks the simplicity that Aparo had mastered early on in his career, drawing Aquaman. It's a simplicity that seems to have left comics for good, I'm afraid.
Perhaps it's the postmodern era's preference for Kevlar over spandex, or underwear worn on the inside (where it belongs). To me, though, that simplicity in Aparo's Dynamic Duo, as well as the Outsiders, makes this legendary artist one who, when read years later, can conjure up not only excitement but also nostalgia, while Capullo and the other Batman artists of today will ever only be able to induce excitement from the initial read.
And I can't help but wonder what Snyder's 'Court of Owls' might have looked like had Aparo been alive to draw an issue or two. Perhaps I'll find a copy on a parallel Earth somewhere, I suppose.