A creative dream team of Geoff Johns, John Romita Jr. and Klaus Janson launch a bold new chapter in the life of Superman.
One of the reasons I love Paul Dini's work on the Batman titles so much is that not only does he write a terrific Batman, but he also never forgets to challenge Bruce Wayne. Any writer taking on Superman should have a similar mindset: your characterization of Superman is only as good as your attention to Clark Kent.
Fortunately Geoff Johns understands that, and the writer apparently has life-changing plans for the mild-mannered reporter from Smallville.
The action starts immediately and doesn't disappoint. Two scientists are forced to send away their only son prior to their lab's imminent destruction – and lest you think it's a retelling of Jor-El and Lara's final moments, this isn't Kal-El's origin story. Johns is introducing a new character, Ulysses, who believes himself to be the last son of Earth.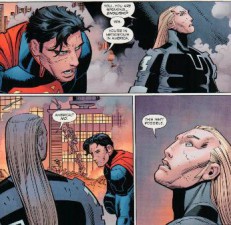 The new creative team is treated to quite the introduction to the Man of Steel, via a beautiful two-page spread where he is punching out Titano, the giant mechanical gorilla. John Romita Jr. makes his DC debut with this title, and his interpretation of the story's fast pace is flawless.
From the high-speed action sequences (where he reminds us that Superman really does move faster than a speeding bullet) to the heartfelt dialogue-heavy scenes between Perry White and Jimmy Olsen, and later between Perry and Clark, J.R. Jr. pushes the characters forward in an energetic but familiar fashion.
I like Perry White, and I've missed the function that the Daily Planet played in Clark's life beyond its role as an information conduit. It will be interesting to see where Johns takes this storyline. Meanwhile, something new and awful is attacking Metropolis, and it's definitely a job for Superman.
Romita Jr. and Janson have a solid history of working together and it shows. Add the colors of Laura Martin, and you have an all-star line-up working in synch. Martin's colors add depth and perspective to the panels, from the simple look of Clark's apartment to the complex fight scenes.
It's no secret that this title has been lagging behind Action Comics in sales, but I think that's about to change. Johns has a nifty story brewing, and the dream team behind him is already firing on all cylinders.
One note, however, John: Superman is a ruggedly handsome guy. Can you put more emphasis on the handsome and a bit less on the rugged? Thanks.
Geoff Johns (W), John Romita Jr. (P), Klaus Janson (I), Laura Martin (C) • DC Comics, $3.99, June 25, 2014