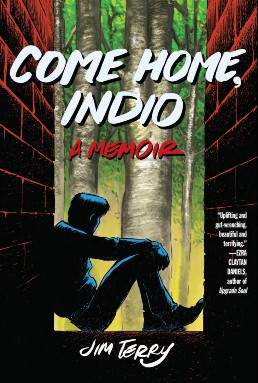 Jim Terry never understood why his parents drank. "They never seemed happier when drunk", Terry reflects in his autobiography Come Home, Indio, "just sad or angry. And mean". Alcohol only seem to strain the already taut relationship between each other and their children, making them distant or volatile. Terry swore to never drink. But then one night in the woods he gets peer-pressured into taking a can of beer. Immediately, all of Terry's issues – his meekness and parents and half-Native American ancestry – seemed to dissolve away, the drink providing him a numbing comfort. He'd been so concerned with 'finding his place' (feeling an outsider from his mother's Ho-Chunk tribe and regular 'white America') but alcohol made him "float outside" himself. Despite a brief respite, when in college Terry falls back into heavy-drinking and spirals out of control, alcohol both poisoning his relationships and self-worth but also seeming like the medicine to such problems. Terry had always hated the raw pathetic vulnerability of his mother drunkenly singing along to 'Desperado' by The Eagles, but as a young adult finds himself doing the exact same thing to 'Empty Glass' by The Who. Although he justifies that at least they are a better band.
Come Home, Indio is not entirely about alcoholism, as like in Terry's life it steadily sneaks up before dominating the narrative. Instead this evocative and moving memoir stretches from Terry's parents meeting up until the present day, encompassing the many facets of his life-story. Yet the writing manages to keep the narrative focused by eloquently flowing through his upbringing, viscerally recreating these past memories while maintaining a clear-eyed perspective. Terry's parents especially are shown in their full complexity; how his mother and step-father could be encouraging but also absent, how his father could be stubborn but also caring. There are many moments when Terry recalls unpleasant memories, but also reflects on his parents' side of the story, the difficulties they were experiencing he couldn't appreciate at the time. It grants sympathy for his younger self but also retrospective understanding. Come Home, Indio conveys a rich life-experience, articulating the confusion of Terry's mixed-race heritage (Native America and Caucasian colonists literally warring enemies) and turbulent self-isolation, without romanticising the struggle (as he confesses to doing at the time). Terry deftly moves between recounting his past head-space and a self-reflective analysis, making this an impeccably mature and thoughtful autobiography.
Come Home, Indio is almost so immersive that certain omissions can feel like a bigger betrayal than they actually are. For an autobiography as thorough and candid as this, that Terry casually mentions he was married during his self-destructive alcoholism seems like a crack. However clearly Terry has kept such details private out of respect for those individuals, so it's hard to blame him for focusing entirely on his own failings. Come Home, Indio is literally dominated by Terry's voice through the prose-heavy format, with his narration being central to nearly every page. The artwork securely accompanies such prose-heavy storytelling, but Come Home, Indio does not exactly reinvent graphic storytelling, with one 'Chapter' about the Dakota Access Pipeline protests switching to entirely full-pages of text with single illustrations on the side.
But these are minor critiques, as Come Home, Indio does not need to be some image-centric stylistic experiment when the voice and storytelling is this authentic and effective. Plus, Terry's artwork is incredibly expressive and articulate, showing both his internal mindset and very raw outbursts of anger or despair. One sequence of Terry's 'brownouts' has the panelling start to blur and creepy haunting figures intermittently emerge from the inky blackness, showing the depths of Come Home, Indio's sequential storytelling when it needs it. Terry is shown as a fan of Will Eisner – indeed it is by reading New York: The Big City that partially inspires him to quit drinking – and that influence of gut-wrenched expressionism and emotion-infused brushstrokes is on display in this autobiography.
Come Home, Indio is about many things – cultural heritage, hereditary alcoholism, adult imposter-syndrome – but it channels through these difficult topics with graceful insight, eventually reaching a place of community and hope. It might be sentimental at times but it is sincere and authentic. Jim Terry has crafted something intimate but non-judgemental, focusing and organising his complicated past by putting it in words and pictures. Come Home, Indio is an extraordinary commemoration to the relationships and heritage (cultural and more immediate) which are lost in life, and a testament to reconciling and coming back to them.
Jim Terry (W/A) • Street Noise Books, $16.99
Review by Bruno Savill de Jong