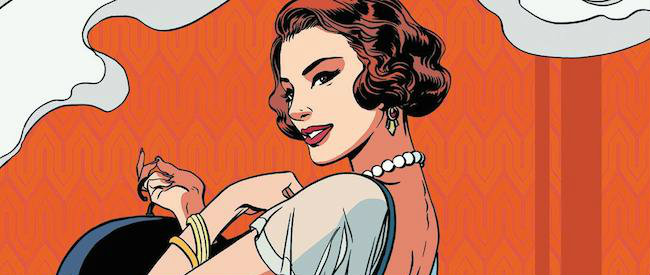 Jonathan Case has made a name for himself in recent years as one of the more versatile creators working in comics. Although known for critically-acclaimed creator-owned work in Dear Creature and The Creep, his run on DC Comics' Batman '66 with buddy Jeff Parker (Agents of Atlas) has also been turning heads, as both creators a wonderful balance between Sixties camp and stylish sophistication.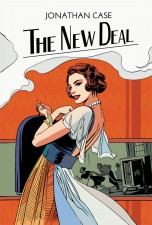 On the Eisner Award-winning Green River Killer: A True Detective Story, Case teamed up with writer Jeff Jensen to explore the gruesome murders perpetrated by serial killer Gary Leon Ridgway during the 1980s and 1990s, when he murdered at least 71 women in Washington state. Case would later co-author Jensen's first prose novel, Before Tomorrowland, a prequel setting up the Dreamworks movie Tomorrowland, starring George Clooney.
In his latest creator-owned graphic novel from Dark Horse Originals, The New Deal, Case switches gears and delves into the glittering lights and delicate social milieu of 1936 New York City, with a fun, engaging, and lushly illustrated heist tale set behind the scenes at the world-famous Waldorf Astoria hotel.
I first interviewed Case a couple of years ago about his work on The Creep, so it was a pleasure to reconnect with him via email and pick his brain about his latest creative offering.
BROKEN FRONTIER: Tell us a bit about The New Deal. The plot uses its setting of 1930s New York City (and the Waldorf Astoria in particular) very well. Did you always have a fascination with this period?
JONATHAN CASE: I do gravitate toward old things. Old movies, old books. Old Scotch. I like the more physical connection you get between characters in the pre-digital age. I'm interested in technology and science, but I feel saturated by it day to day. Period stuff can be refreshing.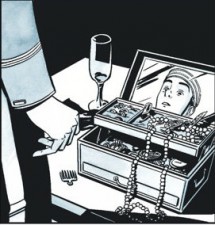 The title of the book is loaded with meaning. On one hand it refers directly to the situation Frank and Theresa find themselves in; on the other hand it also references FDR's bold economic plan for the country. What does the title mean to you?
I mostly relate it to the changes the characters go through. They're all pushing against these suffocating boundaries in small and big ways. The first scene where Frank and Theresa are alone together, they share a cigarette.
It's a simple physical act in a scene that's not primarily about their friendship, but that action says a lot about them (or I hope it does). A white guy and a black girl sharing a cigarette in 1936 probably wasn't something you'd see in a movie, let's put it that way.
Virtually all of the book's action happens within the walls of the storied Waldorf Astoria. What drew you to this particular hotel for the setting of The New Deal?
It was a symbol of unparalleled luxury, and it went live in the middle of the Depression. It took hundreds, thousands of staff to run that hotel (and still does), blue-collar people probably desperate to hold onto good jobs. It seemed like a perfect backdrop to enter the heads of these background players, these two people on the periphery of all that glamour.
Despite dealing with some pretty heavy social issues native to the time period, such as the poor treatment of African-Americans and women, you manage to keep the tone of your story pretty light. How important to this book's success was a balanced approach to the subject matter? How far do you think we've come on these issues, given the state of current affairs today?
In a way, reading and researching the '30s gives you a sense that a few people were driving hard towards these ideals of unity, equality and what have you, but still, the seats of power were firmly established, and even those with good intentions (rich white people with pangs of conscience) tended to mold and exploit minority movements into their own image.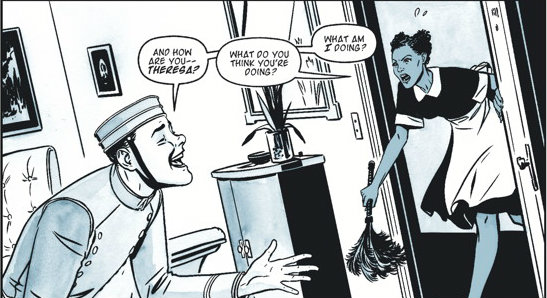 Orson Welles may have directed an all-black cast in Macbeth and provided them a certain opportunity, but it's still a 20-year-old white kid with government financial backing running the show.
I'm not belittling his production – I'd give anything to see it – but I think if we're talking about big-time progress, the stuff-of-dreams progress, partnerships have to be forged where that power dynamic reverses. Where the people with money and resources choose to serve and be directed by those they're trying to empower.
I think that's hard to pull off, but I've seen it work. I know it happens. So yes, I think we've made some progress, but we have a long way to go in realizing these 80- and 90-year-old dreams.
Historical works of fiction run the risk of becoming weighed down by the very history they strive to depict, and can sometimes make for a hard sell to readers. How conscious of this were you during the creative process?
A little. This is not a history book, certainly, and I do try to sell it on the character level. It's a story about unlikely friends – their greed, grace, and fabulous hats.
Nina Booth and Theresa Harris are extremely strong female characters. In fact, in many ways, I would suggest they are emotionally stronger and less naïve than most of their male counterparts. To whom did you turn to for inspiration when developing these two dynamic ladies?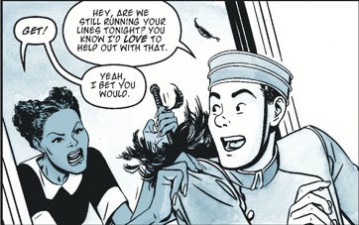 I just want to spend time with enjoyable characters. My wife's an enjoyable character. I don't know. Theresa and Nina are both part of me, and I've always related to women more easily than men. I grew up with a lot of terrific women around me.
I hope they come through a little in my characters. Theresa is also modeled after a real woman, a super-talented black actor of that era who was typecast in maid roles. So… I put her in another maid role! Sorry, Theresa.
Historical works of graphic fiction, by their very nature, demand hours of research, not just in terms of the plot and dialogue but in terms of achieving an accurate visual representation of the period in question. Where did you turn to for your reference and what was the most surprising thing you learned during your research into this era?
I used Google a lot, both in terms of rustling up old photos and using Street View to piece things together and fill in the old New York City gaps. I also pored over tons of old magazine and Sears catalogue photos. Those Sears catalogues are gold.
I was silly to think setting my story somewhere real would make my life drawing backgrounds somehow easier. That was the big surprise, and it shouldn't have been: it turns out the Waldorf's been remodeled a few times since 1936.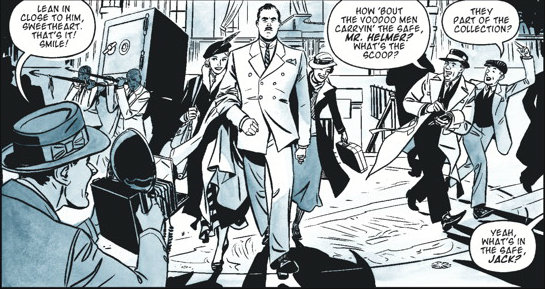 Now that The New Deal has hit shelves, what projects are you most excited to see published next?
I just finished up the last chapter of Batman '66 for DC, so that's bittersweet. I love Jeff Parker, my retro blood brother. Drawing his stories is always a joy. I also have a Superman issue that should be fun.
Then I'm back to my next personal book – something that's been in development a long time, for children, and I'm hugely excited about that. Won't be out for a while yet, but I'll let you know!
The New Deal (Dark Horse Comics, $16.99) is available at fine comic shops everywhere right now and hits booksellers on October 6.