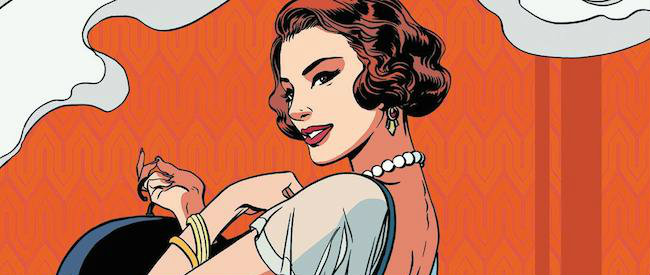 Light-hearted but infused with an insistent social conscience, Jonathan Case's stunning journey behind the scenes of the fabled Waldorf Astoria hotel in 1936 New York City reveals a sordid underbelly of racial and gender disparity, yet remains first and foremost a rousing yarn of good ol' fashioned American resourcefulness and gumption.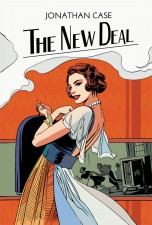 I've always loved an underdog – heroes whose heart and resourcefulness drive them to triumph over seemingly insurmountable odds. Their stories are powerful reminders that no matter how insignificant or ill-equipped we might feel in the face of an unexpected challenge, we have the tools and the heart to win back the day.
In his latest creator-owned graphic novel, Jonathan Case (Green River Killer, Batman '66) chronicles the misadventures of two struggling underdogs scrambling to make ends meet as humble employees at the world-famous Waldorf Astoria in Depression-era New York City. When an alluring and mysterious guest arrives, her presence turns the glamorous hotel on its ear and heralds drastic change for the two friends.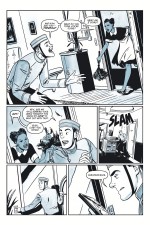 Frank is a bellhop in debt up to his eyeballs with one of the hotel's esteemed celebrity patrons. Theresa is an aspiring black actress and chambermaid struggling to make a name for herself in a town that refuses to see past her skin color. Together they become embroiled in the hunt for a particularly discerning bandit targeting the hotel's elite clientele.
Both are fortunate to have stable employment during a time when joblessness was rampant, but neither one is afraid to gamble on themselves when the chips are well and truly down on the table. Underdogs, through and through.
Case does an admirable job in developing Frank and Theresa, weaving a plausible relationship between the two of them founded not only on their mutual employment at the Waldorf Astoria but also their quest to achieve something more in life than cleaning up after their insanely rich, gloriously ignorant guests.
Theresa, in particular is an intriguing protagonist. A little wiser in the ways of the world than Frank, thanks to a lifetime of gender and racial discrimination, it is her fierce intelligence and relentless determination that secures their ultimate triumph. Even if it's Frank's charming brand of entrepreneurial cunning that sets them on their unlikely course, it's Theresa's drive and leadership that sees them clear of a perfect storm of unfortunate and unexpected pitfalls.
Although always conscious of the delicate and disparate nature of the socio-economic mores depicted in The New Deal, Case never lets social commentary overwhelm his plot. It's this finely tuned balance between a faithful representation of the period and the extraordinary circumstances in which two ordinary people find themselves that allows Case's book to be so successful on many levels.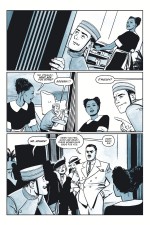 It's a quality also found in his stunning artwork, where the balance between verisimilitude and style infuses the book with a sleek, polished period feel that is both emotionally expressive and painstakingly historically accurate. Truly, this is some of Case's best work to date and stands as one of the most visually pleasing books of the year.
Each panel acts as a window to an earlier time, when America was really just starting to fall in love with its celebrities, showcasing a wonderful array of fashion, architecture, and gaudy excess that's difficult to comprehend in light of the stone-dead economy of the time. As case noted in our recent interview, the fact that a place like the Waldorf Astoria could actually exist during the Depression, let alone thrive, is mind-boggling.
That's what makes the storied hotel such a fascinating setting. And yet it isn't the Waldorf's luxurious rooms or decadent amenities that make the place so remarkable. It's the efforts of the thousands of unassuming people – underdogs, one and all – that truly make the place magical.
Jonathan Case (W/A) • Dark Horse Comics, $16.99