With the obvious exclusion of Johnny Alpha when characters in 2000 AD die they usually tend to stay dead. This week's Prog sees the end of the road for Judge Hershey, one of the longest-running supporting characters in Judge Dredd history. More in the press release below.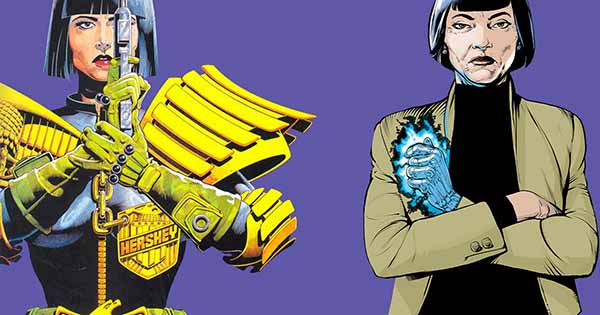 Art by Cliff Robinson (left) & Simon Fraser (right)
A major death hits the pages of 2000 AD in Prog 2349, as the final chapter of Hershey by Rob Williams, Simon Fraser and Simon Bowland concludes with the death of Former Chief Judge Barbara Hershey.
Created by John Wagner and Brian Bolland in 1980, Hershey has been a mainstay of Judge Dredd's world ever since – a street Judge who attained the city's highest position, a friend and foe to Dredd, and someone whose lifetime of service is ending with a tale of revenge and retribution.
Having previously faked her death, Hershey was seriously ill from an incurable virus as she attempted to deal with an alien outbreak that could destroy her beloved city. Her past and uncertain future fused together in the third and final book of Rob Williams, Simon Fraser and Simon Bowland's 'Hershey', as seen in the concluding chapter of their run in Prog 2349 – out today.
Only a few people knew that Hershey was still alive, but her death will have a lasting impact both on and off the pages of 2000 AD.
In 2000 AD Prog 2351, out on the 27th September, Judge Dredd will begin his new mission: to find out who infected the Former Chief Judge and bring them to justice…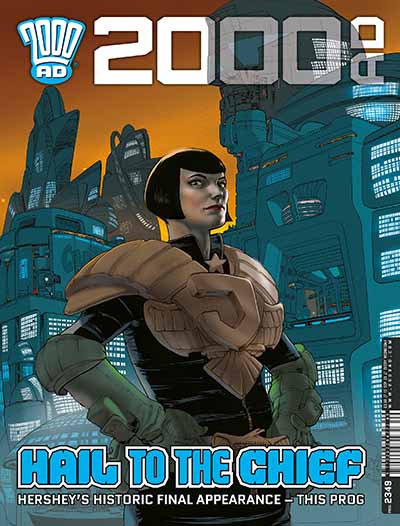 Prog 2349 Cover Art by Simon Fraser