After years of a puzzling lack of Ken Reid reprint volumes we've been spoilt for collections over the last few years with the Treasury of British Comics giving us both a Faceache volume and last year's Ken Reid's Creepy Creations, and Irmantas Povilaika publishing the two-part The Power Pack of Ken Reid compilations.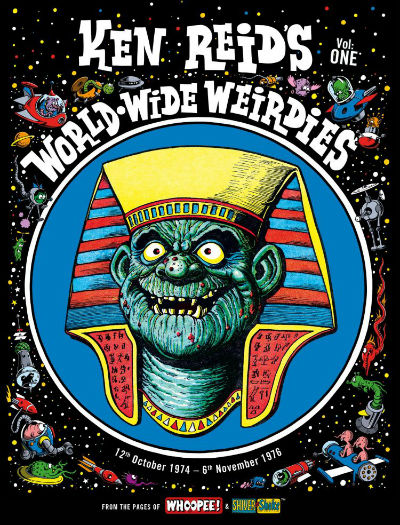 For the uninitiated, Ken Reid was one of the true geniuses of the classic era of British weekly comics, with his magnificently grotesque creations and elastic, intricately detailed cartooning entertaining generations of UK kids with its morbid but oddly reassuring wit. Reid's career encompassed both of the "Big Two" of Brit comics with him co-creating Roger the Dodger at DC Thomson in the 1950s, and being noted for features like Frankie Stein in the '60s and the aforementioned Faceache at IPC in the '70s.
But allied with his sequential art were his equally popular one-page illustration series including Wanted, Creepy Creations and the World-Wide Weirdies. The latter ran from the mid to the late 1970s in humour anthology Whoopee! and was one of the few colour entries in the weekly. Rebellion's Treasury of British Comics series has brought this compilation together in a lovingly crafted hardcover volume that will no doubt both delight Reid aficionados and bring these one-page classics to a whole new audience of readers.
A very personal introduction to the book from Reid's son gives some neat insights into the great man's working process and imagination. And what an imagination it is! The one hundred or so entries in this first volume range from spooky takes on well-known landmarks to bizarre international characters and situations that seem like escapees from the most intense fever dream.
You'll pore over these pages in amazement at Reid's wickedly eccentric imagination. Sometimes the locales and residents he introduces us to across the globe are silly like the Trifle Tower and the Sahara Dessert. Sometimes they're disconcerting as with the Vampire State Building, Westmonster Abbey and the Isle of Fright. And on other occasions they're simply goofy like the Jinx Sphinx. But all of them represent the deliciously macabre cartooning skills of one of the greatest artists to ever work in British comics and encompass everything from the provincial to the stellar.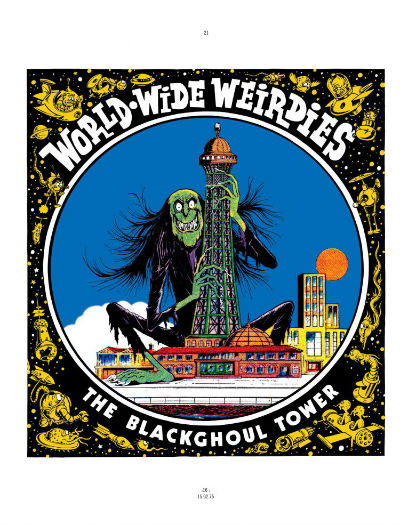 This is a book you will lose yourself in, endlessly revisiting its bad puns and idiosyncratic re-imaginings. The Treasury of British Comics line have been experimenting with formats a little of late. But it's their hardcover collections that remain the cream of the crop over books like the economical but eye-squinting digest presentation of the recent Best of Steel Commando. Ken Reid's World-Wide Weirdies was nominated for a Broken Frontier Award for 'Best Collection of Classic Material' for 2019 and, while all the Treasury books are a welcome delight, this was surely the key release in their range last year. An absolute must-own!
Ken Reid (W/A) • Rebellion/Treasury of British Comics, £19.99
Review by Andy Oliver