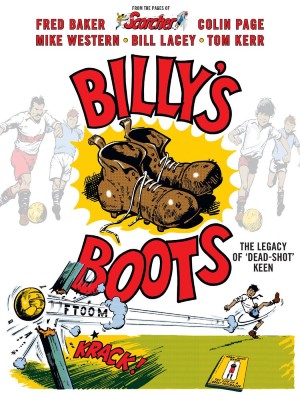 TREASURY OF BRITISH COMICS WEEK! First appearing in the pages of British football anthology Scorcher in 1970, Billy's Boots was a serialised strip that would find a home in a number of popular weekly comics over its two-decade history, including Tiger, Eagle, Roy of the Rovers and Vulcan. Starring 12-year-old schoolboy Billy Dane, its premise added an unlikely fantastic twist to the standards of sports stories of the time.
Billy loved football but was unfortunately one of the worst players in his school. However, when clearing out his grandmother's attic he came across a battered old pair of footie boots that once belonged to 'Dead-Shot' Keen, a legendary player of yesteryear who had also been part of the England international team. When Billy put them on he discovered he could suddenly play in the style of Dead-Shot, with the boots having a seemingly supernatural power to improve his skills and guide his actions on the football pitch…
It's very easy from a 2021 viewpoint of course to look on Billy's Boots and question whether Billy's lucky find gave him an unfair advantage over his peers that perhaps shouldn't warrant our sympathetic connection with the character. But the heart of the strip is less about performance enhancement and more about wish-fulfilment; about a classic underdog character, orphaned and disadvantaged, using the one small break he gets to make something of himself. This first volume from Rebellion's Treasury of British Comics imprint – subtitled 'The Legacy of Dead-Shot Keen' – reprints the first couple of years' worth of two-page colour strips in a handsome hardback edition.
Writer Fred Baker ably mixes the soap opera elements (Billy's problems at school with other pupils and teachers, his worries for his gran who he lives with) with the sporting action (both the school teams and other clubs Billy goes on to represent). Those coming in to the strip afresh will need to accept that it was structured for weekly, incremental delivery – a constant rhythm of resolving the previous week's cliffhanger, moving the action onwards, and then setting up that week's cliffhanger. And, of course, collected in one place the repetitive elements that young readers will not have noticed over two years stand out all the more noticeably. Billy's "magic" boots are regularly in jeopardy (something that would be a feature of the comic throughout its history), frequently needing to be rescued after being lost, thrown away, damaged and so on.
But Billy's exploits are always engaging, largely because the central character is such an amiable soul, and the mysterious nature of the boots (a book on Dead-Shot Keen's career also often acts as a kind of prophetic tome, foreshadowing events in Billy's life) adds an extra layer of intrigue to the narrative. A number of artists illustrated the stories in this first volume including Colin Page, Mike Western, Bill Lacey and Tom Kerr. All of whom root the strip in a classic realism while ensuring the footballing scenes have a kinetic energy that catches the flow of the game despite the tightly-panelled pages.
Billy's Boots never reached the popularity of Roy of the Rovers in terms of wider recognition but it remains one of the most fondly remembered stories of its era; its multiple relocations as comics came and went attesting to that. This first volume from the Treasury of British Comics is pure escapist, feelgood fun. Something that we could all benefit from right now!
Fred Baker (W). Mike Western, Colin Page, Tom Kerr & Bill Lacey (A) • Rebellion/Treasury of British Comics, £19.99
Review by Andy Oliver