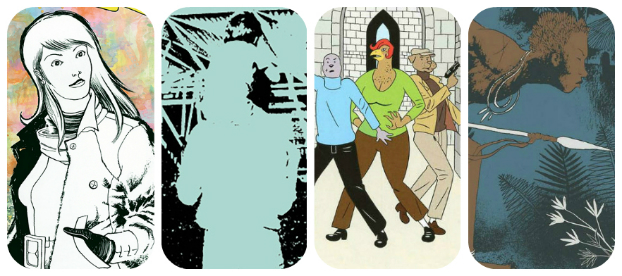 It's Wednesday, and you know what that means: a fresh load of comics and graphic novels! With so many publications hitting your local comics store, comics events or digital storefront, the BF team are here to lead you through the woods with our weekly staff picks. Satisfaction guaranteed!
Comic of the Week
Faceache Vol. 1: The First 100 Scrunges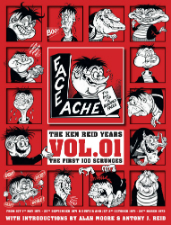 Of all the classic repackagings that the Rebellion acquisition of vintage IPC properties allows for – and there are many eagerly awaited possibilities – surely it's a collection of the darkly imaginative brilliance of Ken Reid that most enthusiasts would have been rooting for? And they won't be disappointed this week when the first 100 strips featuring the elastic-faced schoolboy Faceache and his humorously macabre misadventures hits the shelves.
Reid is one of the absolute giants of UK comics history and it's long overdue for his work to be recognised by a new generation of readers. Bringing together stories from the weeklies Jet and Buster from 1971 to 1973 this isn't just one of the most important comics compilation albums of 2017 – it's one of the most important books of the year full stop.
Ken Reid was a peerless genius. If you've never encountered his comics before you are in for one hell of a treat!
Ken Reid (W/A) • Rebellion, £14.99/$22.99
– Andy Oliver
The Green Hand and Other Stories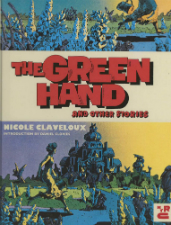 Nicole Claveloux is cited as "an unforgettable, unjustly neglected master of French comics", best known for her Heinz (Yellow Submarine) Edelmannesque illustrations, although arguably with better draughtsmanship and colour sense. Her graphic short stories, collected here for the first time in English and originally published in the 1970s, look to be moodier though no less strange than her poppy psychedelic work.
If the promise of short-tempered vegetables and murderous grandmothers is not enough to send you looking for this book, the ringing endorsement of Daniel Clowes' introduction might do it. Whimsy and horror are on offer here, but in exactly what combination you'll have to buy it to find out.
Nicole Claveloux (W/A), Donald Nicholson Smith (W) • New York Review Comics, $24.05
– Jenny Robins
I Am Not Okay with This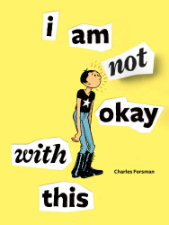 After the critical acclaim surrounding the recent television adaptation of his dark drama The End of the F***ing World, Charles Forsman is inarguably one of the indie comics movers and shakers of the moment. For Forsman, of course, that's simply business as usual – he's been an alt comics international phenomenon for so long now that it's impossible to imagine the scene without his constantly boundary-pushing narratives.
I Am Not Okay with This sees Fantagraphics collect his minicomics tale of 15-year-old Sydney bringing together teenage angst, PTSD, sexual confusion, classically retro visuals and telekinesis in one unmissable story.
Charles Forsman (W/A) • Fantagraphics Books, $14.99
– Andy Oliver
Zegas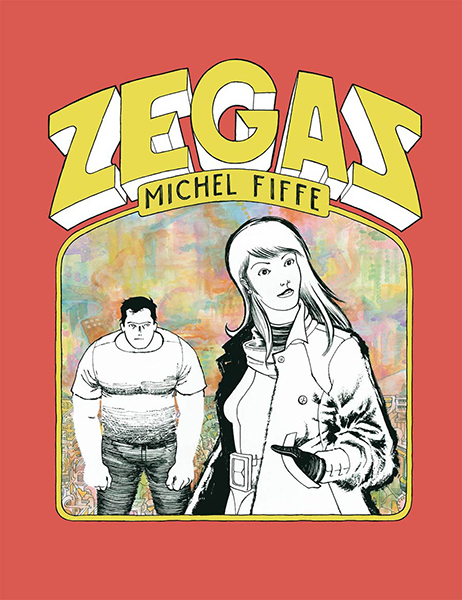 Before launching his cult-hit series, Copra, which turned superhero comics on their head, artist Michel Fiffe self-published a 2-issue magazine-sized anthology called Zegas. I believe the first issue had a print run of only 300 copies, so you can image how quickly that sold out.
But now, thanks to Fantagraphics, you can now get your hands on the complete collection of stories in one volume. The Zegas siblings are recently orphaned, set adrift in a surreal, futuristic city. Upbeat Emily dreams of becoming a fashion designer while her moody brother, Boston, seeks to overcome his social anxiety.
Beautifully rendered in pen with pops of explosive color, this one-man anthology is filled with universal truths of life, sex and survival. Don't miss out on one of the most unique comic reading experiences you'll ever have.
Michel Fiffe (W/A) • Fantagraphics, $19.99
– Tyler Chin-Tanner
Spy Seal #4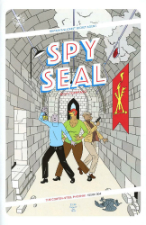 Rich Tommaso's latest Image series comes to the end of its first arc — but hopefully not its entire run — with this concluding part of 'The Corten-Steel Phoenix'. Rookie MI6 agent Malcolm Warner, who just happens to be an anthropomorphic seal, is closing in on The Phoenix, a covert criminal organisation whose trail he was tipped off on by secrets encoded in expensive art and antiques. Teamed with Kes, who just so happens to be an anthropomorphic seal, he's tracked them down to a snowy mountain town that seems mainly populated by disgruntled ex-spies…
Shifting gears from the Clowes-goes-pulp style of his previous books, the terrific Dark Corridor and painterly She-Wolf, Tommaso has quickly established a vivid world that's one part Hergé and le Carré to equal parts Stan Sakai and Jason. Wry, thrilling and on just the right side of all-ages, Spy Seal has been a diverting ride through espionage tropes with a uniquely imaginative cast and cartooning.
Rich Tommaso (W/A) • Image Comics, $3.99
– Tom Baker
Minor Leagues #4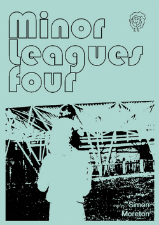 The last issue of Simon Moreton's experimental zine series was undoubtedly one of the best small press comics of the year with Moreton, as ever, using both his signature stripped back visuals and his expressive, measured prose to elicit a powerful emotional connection with his readership as only he can. You can read a full review here.
While we're always loathe to simply print publisher blurbs in 'Staff Picks', Moreton's description of Minor Leagues #4 sums it up better than we ever could. Expect short stories about "Life after death, looking backwards and forwards. Comics and stories about livin', including: gigging with Atomic Kitten, countryside exploration, getting lost in a bog, growing pains, working, being."
The value of Moreton's often unassuming contribution to UK self-publishing over the last few years cannot be over-emphasised. Make sure to order a copy from the online store link below.
Simon Moreton (W/A) • Lydstep Lettuce, Available on a "Pay what you can afford basis" here
– Andy Oliver
Hard Case Crime: Quarry's War #1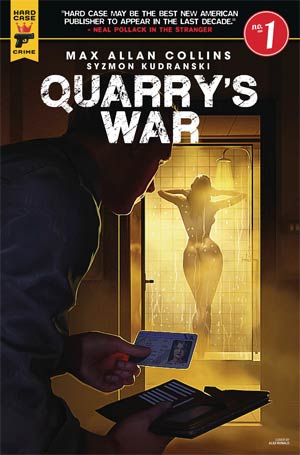 After launching several successful comics series, Hard Case Crime and Titan Comics are teaming up this week to launch a blockbuster character onto comic shop shelves. Quarry, the former military sniper turned assassin for hire, specializes in unravelling the complicated circumstances behind the murders he is hired to carry out. Possessing Jack Reacher's investigative skills and Harry Bosch's determination, Quarry is irresistible modern noir.
Writer Max Allan Collins (Road to Perdition, Batman, Dick Tracy, Ms. Tree), is a longtime favorite of Hard Case Crime fans. His thoughtful world-building (or world-breaking as the case may be) delivers readers directly into the duplicitous lives of his questionable characters and makes you care whether or not they survive their misdeeds. And there will be misdeeds aplenty—Collins certainly isn't writing about Eagle Scouts.
Illustrated by Szymon Kudranski (Batman: Streets of Gotham, Spider-Man, Spawn), you can expect Quarry's War to have a smooth pace and excellent use of setting.
The first issue arrives this week and will be a must-have for noir fans.
Max Allan Collins (W), Szymon Kudranski (A) • Titan Comics, $3.99
– Karen O'Brien
Run for It: Stories of Slaves Who Fought for Their Freedom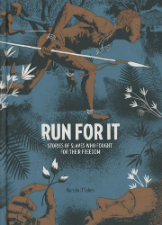 It's been not so much a constant stream of top-notch product from Fantagraphics in 2017 as much as a veritable deluge of eclectic quality uses of the form. And they're not winding down quietly as the year comes to an end either, with more must-buy books scheduled throughout this past month.
Run for It is an account of Brazil's "hidden history of slavery" and was nominated for multiple awards in its home country. Telling the stories of slaves who rebelled against their oppressors through their eyes it brings Marcelo D'Salete's lauded work to an international audience.
Marcelo D'Salete (W/A) • Fantagraphics Books, $24.99
– Andy Oliver
Silver Surfer Vol. 5: Power Greater Than Cosmic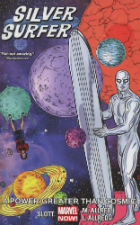 Somewhat overshadowed by its creators' "bigger" titles — writer Dan Slott remains the man in charge of Spider-Man's old Parker luck, and the husband-and-wife art team of Michael and Laura Allred are now making hay from the Jack Kirby homage Bug! from DC's Young Animal — Silver Surfer has been a consistently delightful, self-contained, old-school cosmic superhero book of the sort that are somewhat rare nowadays, if you don't count Bug!.
Cut loose from the crushing continuity of the friendly neighbourhood wallcrawler, Slott proved a lighter touch as he paired the old herald of Galactus with earthling Dawn. Giving Norin Radd his first romantic subplot which ran through the pair's adventures out in the outer limits of the Kirby/Starlin-esque cosmos proved an inspired choice for the design and character sensibilities of the Allreds, and they go out on a high in this final collected volume: with a (space) casino heist, conspiring with a sentient disease, and a return of the giant purple fork-headed planet eater.
Dan Slott (W), Michael and Laura Allred (A) • Marvel Comics, $16.99
– Tom Baker