Kiss Me, Satan packs a creative punch, but starts off with more potential than substance.
The werewolf mafia runs the organized crime community in New Orleans. Witches regularly find themselves at odds with the lycanthropes. An occasional vampire here or there isn't unheard of. And a fallen angel named Barnabus Black is trying to (re-)earn his wings, all while dodging the Devil's recovery squads, sent to bring him back to Hell. Welcome to the world of Kiss Me, Satan, the latest addition to Dark Horse Comics' horror line-up.
The trouble all starts when Barnabus is assigned as the bodyguard to a coven of witches in Louisiana. The witches in question recently ran afoul of Cassian, a high-profile member of the werewolf mafia. When a witch seer named Verona informs Cassian that his firstborn son does not bear the mark of a werewolf, a situation likely destined to earn him expulsion from the local pack, Cassian decides to shoot the messenger. Or tear the messenger to pieces, as the case may be.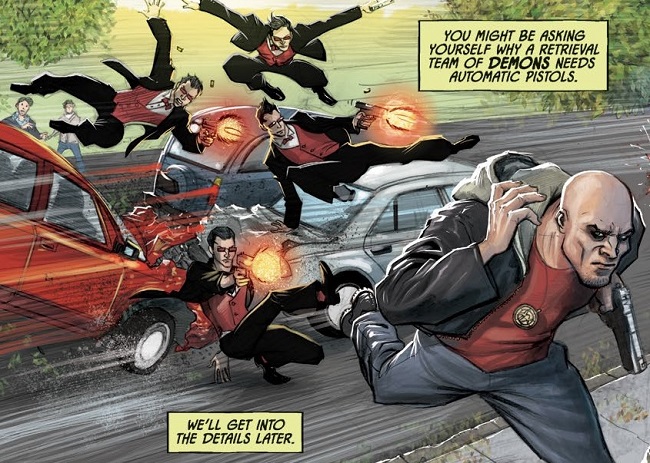 As far as subject matter goes, Kiss Me, Satan doesn't offer a whole lot that hasn't been seen in independent comics before. The melding of a crime story, "family" elements and all, with the supernatural, in the form of werewolves, witches, and (mentioned but not seen) vampires, has been done quite a few times by now. While this isn't enough to make the book seem unoriginal exactly — after all, plenty of other genre mash-ups have been done to death without losing popularity — it does cause the story to drag in a few places, and occasionally one does wonder what exactly sets Kiss Me, Satan apart from other comics with a similar premise.
There's no denying that the creators of the book possess a whole lot of talent. Juan Ferreyra's art is dynamic, lending a feeling of motion to nearly every panel. The dialogue is free-flowing and occasionally witty, helping to even out a sometimes uneven pace in the second half.
Overall, the biggest question you can ask about this comic is "Is it original?" And the answer to that one is hard to pin down. There is the promise here of story elements that could bring a unique flair to the book, most notably Baranabus' quest for redemption, but when the first issue ends, the greater part of what we are left with is still just promise. The story of Barnabus Black will continue, and fans of urban fantasy and horror stories along similar lines will want to follow it, but for the time being, Kiss Me, Satan hasn't done much to make clear just what it brings to the table.
Victor Gischler (W), Juan Ferreyra (A), Nate Piekos (L) • Dark Horse Comics, $3.99, September 18, 2013.