Spawned from the darkly mischievous mindscape of Fraser Geesin – comics creator (The Cleaner), comics podcaster (SILENCE!) and stand-up comedian – Komisk sees the Brighton-based artist joined by a small entourage of self-publishing chums in a small press offering that brings the world of the Swedish ready-to-assemble furniture purveyor IKEA to the comics page in multiple comics and illustration offerings. It's perhaps one of the more niche premises for an anthology that we've covered over the years – and sorry there are no meatballs included – but we positively embrace the esoteric here at BF and this deliciously funny collection of stories also has a rich vein of social commentary running through it.
Cover and interior art by Fraser Geesin
Inspired by Geesin's original perusal of various IKEA construction guides and subsequent re-imagining of them as Scandinavian comics, Komisk combines the talents of Paul Jon Milne, Tom Mortimer, Gareth A. Hopkins, David Allison and Kathryn Briggs. It's a curiously effective mix of traditional sequential art and repurposed diagrammatic instructions and, as one might imagine from a project spearheaded by Geesin, much of the humour is both very bleak and also very, very funny.
The longest story 'The Incredible Everyday' (above) by Geesin himself begins as an apparent dissection of the insipid monotony of middle class aspirations but quickly descends into the stuff of anecdotal nightmare as an account of a shopping trip to IKEA veers into bizarre fantasy. Geesin's visuals ensure that the tediously mundane and the rampantly surreal crash headfirst into each other in a tale that is, perhaps, always looking towards its final punchline destination. But what a cracking punchline it is…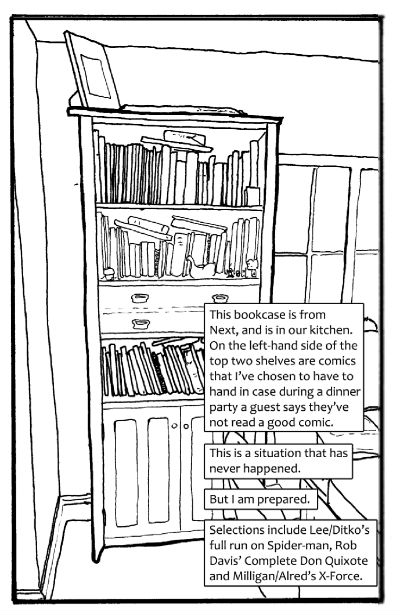 Paul Jon Milne contributes 'Stacked Dads' with his claustrophobic, almost organic style being a perfect fit for an IKEA-set story of toxic masculinity. Gareth A. Hopkins – whose abstract comics have been such a revelation over the last couple of years – provides something a little different to his usual oeuvre in 'Five Pieces of Furniture' with a one-page meditation on domestic furniture and the ephemeral redundancy of modern living. Particularly enjoyable is the dry wit of his thoughts on comics and dinner parties (above).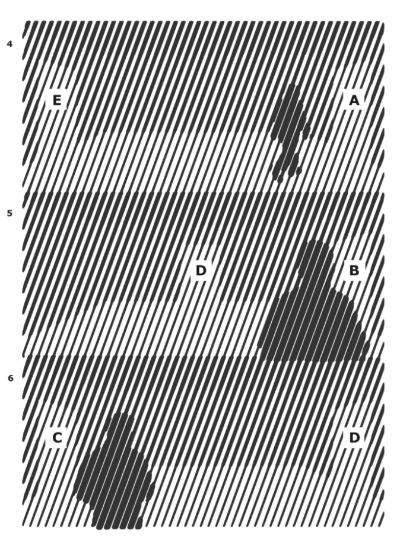 Tom Mortimer can always be relied on for an idiosyncratically alternative perspective and his re-interpretation of the IKEA experience as a near inescapable RPG scenario in 'Halen' (above) does not disappoint. David Allison and Kathryn Briggs, meanwhile, conflate IKEA and a near vision of Hell in 'Jörmungandr', neatly merging Norse mythology and furniture retail in a twisting spatio-temporal paradox. Indeed, Allison's own 'Spegelvärden' (below) wherein flatpack tutorial and netherworldly transition meet is a deliciously straight-faced parody.
Irreverent and witty, this strange package of unlikely comics treats will perhaps have a more focused appeal in terms of its subject matter but lurking just beneath the japery there are also some interesting observations on visual language and its interpretation. On a more superficial level, though, Komisk feels like a group of chums having a jolly good time and thoroughly enjoying themselves with a mirthful glee that is positively infectious. A fitting comic to wrap up with for this week at Broken Frontier as we go into the weekend…
Komisk can be bought from Fraser Geesin's online store here.
For regular updates on all things small press follow Andy Oliver on Twitter here.
Review by Andy Oliver