Following up on last year's collection of Geesin goodies, Journey to the Surface of the Earth #2 is another compilation of vastly different comics strips and styles. Its mix of the eclectic, the self-deprecating and the utterly offbeat is , you will be unsurprised to hear, typical Fraser Geesin. In fact all of those terms perfectly sum up the always welcome work of the artist who gave us the bleak humour of one of my all-time favourite autobiographical offerings The Cleaner: Man of Destiny. This is the man behind IKEA-themed comic Kiosk after all, so the unpredictable and the unlikely are something of his stock in trade.
As you may have seen from the video above Geesin's dark wit is very much in evidence from the very beginning with a one-page study of coffee shop production that employs the grossest scatalogical comedy in its playfully constructed page. The main feature of this issue, though, is a satirical strip featuring tough cop character Jack Card aka Wild Card, complete with the obligatory eccentric affectation that all such detectives must have – in this case a penchant for English crumpets. Employing the melodramatic drama of a lost age of genre comics it avoids the trap of descending into obvious trite parody with a knowing self-awareness and a casual subversion of the very material it satirises.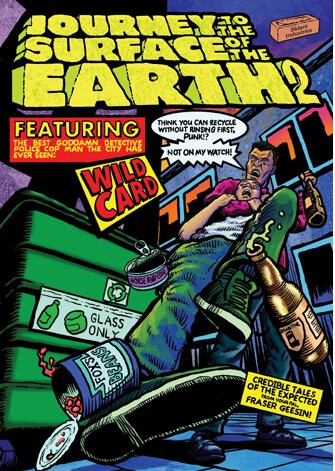 Journey to the Surface of the Earth #2 contains a number of "collaborations" between Geesin and his toddler son Ren. The 'Cow and Horse' one-page photo strips derive from time they spent together and give on-page narrative structure to toy time play as the titular duo embark on adventures involving toy dinosaurs, Lego and trains. To try and be profound about something so wonderfully ephemeral is perhaps to miss the point. But there's something rather endearing about the way these pages let us return to an uncomplicated child's eye view of the world, making sense of our surroundings by constructing ephemeral narratives around them, and the moment of existential angst that acts as coda to the strips is very amusing in its worldweary resignation. Also there's farmyard animals fighting tyrannosaurs and you can never have too much of that.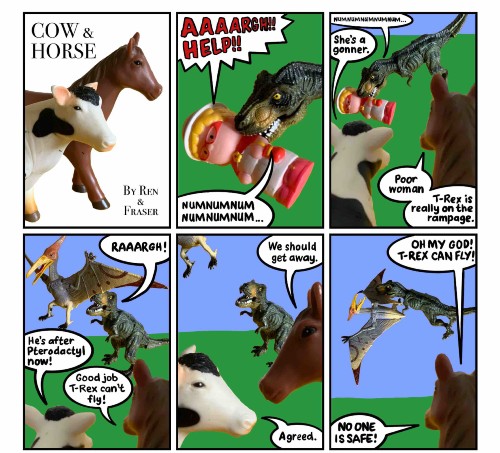 If you ever had that quiz machine question about the last time France executed someone by guillotine (it was 1977 for the record as Geesin mentions in his introduction) then that other long-form offering in #2 focuses on a criminal's final chat with his executioner about this supposedly merciful method of being dispatched. It's like the moral lesson from an old EC Comic but played in reverse. A kind of drolly cynical Python-esque pastiche. Scattered around these strips are a number of one-pagers which occasionally feel like filler (Geesin making weird cartoons out of his son's scribbles were among my favourites) but to a large degree that's actually part of the charm of a disparate compilation like this.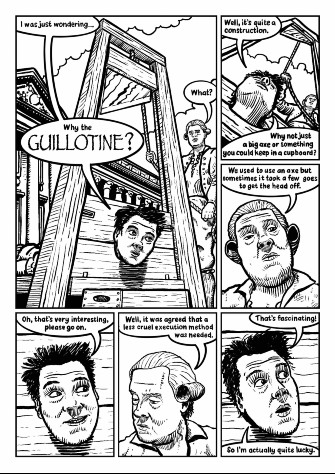 Ultimately Journey to the Surface of the Earth is the perfect pub read – the kind of comic to unwind with over a pint at the end of a tough day and revel in its non-conformity and randomness. A new Fraser Geesin comic is always a much anticipated Thought Bubble tradition. In this of all years his unrepentant, escapist silliness is more welcome than ever.
For more on Fraser Geesin visit his site here and online store here and follow him on Twitter here. Colours by Dom Regan.
Review by Andy Oliver