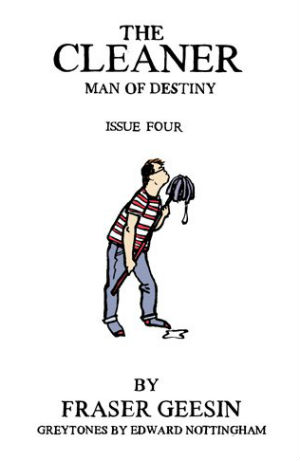 I was very taken by Fraser Geesin's The Cleaner: Man of Destiny when I reviewed the first three issues a couple of years back at Broken Frontier. Geesin's irreverent, relentlessly self-deprecating humour as he catalogued his forays into the world of employment (you will be unsurprised to hear, given the book's title, in the cleaning profession) while attempting to establish a profile as a stand-up comedian led me to describe the series as "a gloriously self-referential meditation on the tediousness of work that, fittingly, is almost too apathetic to muster the energy to skewer its subject matter; an indictment on the 9 to 5 that can't really be asked to be angry or confrontational; and a languid sigh in the direction of the career-orientated and the professional climbers."
There has been a sense of procrastination in reviewing this fourth issue of The Cleaner knowing that it would conclude such an eminently readable slice-of-life saga; one that has eschewed the usual autobio comics route of overt earnestness for something richly slapstick and comedic. And yet as the run draws to a close there are moments of self-reflection amidst the bleak comedy that are intense in their profoundness and even poignancy.
Issue #4 begins with an account of mixed reactions to Geesin's one-man show at the Edinburgh Fringe Festival as he deals with the usual procession of drunks, hecklers and studied indifference. It's full of clever storytelling touches that the casual reader may not even dwell on given how effectively Geesin uses them. Not simply in terms of pacing, timing and some gloriously ruthless character depictions but also in the subtler moments. Look at the page below and how a critic's appearance at a show is masked by speech balloons as his entrance is slowly foreshadowed before he is brutally lampooned as a phallus-headed interloper.
There are moments of social commentary herein as well (the deleterious effects of social media for one) which are all the more cutting for their witty and often absurd delivery. But there's also the usual array of by now trademark Geesin ostentatious self-ridicule – the time he debuted the "cock-oracle" as part of his comedy set (yes it's just as bad as you'd imagine), accidentally cleaning up human excrement with his own fingers, and dying on stage.
But as funny a book as this is, it's when Geesin's narrative takes a more introspective turn that the book comes into its own. For all the performative cynicism of his role as a raconteur through the run Geesin concludes the book with a quieter visual essay that casts his employment as a cleaner in family homes into its vocational light. The late connection he made with a previously abrupt client just before she died of cancer; the people he's met and the way their lives have become intertwined with his; and the cathartic nature of the job. There's a pathos in the existential ruminations of those last few pages that underlines what an absorbing and involving read this has been in ways that a showy punchline as coda never could.
Publishers be aware – these four issues deserve to be collected and there's more than enough material here to constitute what I have no doubt would be a very well-received graphic novella. Someone needs to do that and do it fast. Because this is genuinely laugh-out loud work with that all-important crossover appeal, a comic that tells its story in a way that only comics can, and a tale that speaks to us because we connect so tangibly with its author's experiences… however bizarre they sometimes are…
For more on Fraser Geesin visit his site here and follow him on Twitter here. You can buy The Cleaner: Man of Destiny here priced £2.00 per issue. 
For regular updates on all things small press follow Andy Oliver on Twitter here.