THOUGHT BUBBLE 2023! Before diving into the contents of Fraser Geesin's traditional Thought Bubble debut comic (again a collaboration with Laurie Rowan) let's get the confusing part out of the way first. Pricks #3 launches at TB this weekend but, in a possible bid for global comics fame/notoriety/shame by outmanoeuvring even Marvel in the confusing numbering stakes, this is the follow-up to Rowan and Geesin's two previous one-shots Purple Hate Balloon and the numberless issue of Pricks from 2022. These are now considered Pricks #1 and #2 respectively. Followed all that? Good. For more insights on the inner workings of the Geesin psyche you can check out our interview with the great man here earlier this year.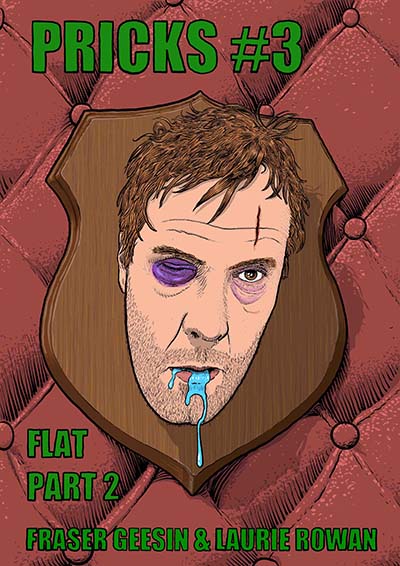 To date the Pricks series of stories (which Geesin describes as "a parody of the patriarchy") has centred on the bizarre worlds of central characters Roger and Darren and involved such elements as a hate-eating purple balloon, pay-as-you-go housing, and glove-bedraped genitalia. Picking up from the second issue, Pricks #3 sees the two characters continuing on their paths of contrasting fortunes.
Roger's new career as an exploitative landlord has led to him hobnobbing with his rather peculiar peers in the Worthing Successful Businessmen's Men's Club for Men. Meanwhile, Darren is struggling to find the money to pay the space meter in his flat to stop the walls contracting in on him, and has made a new acquaintance in Richard Excitement, a crypto enthusiast into NNFTs (non-non-fungible tokens). "They're like NFTs but you can copy them as many times as you like. So they're better and worth much more!". And in the background to all this "cod gloves" are really taking off on social media…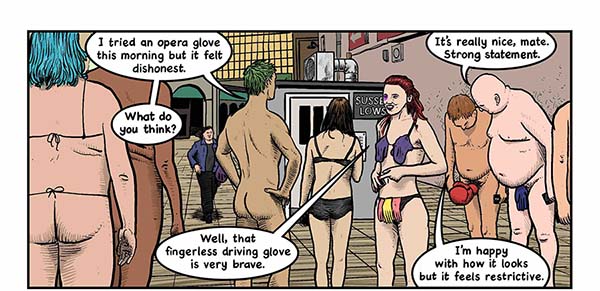 The glorious absurdity of Geesin and Rowan's story is matched only by the richly ridiculous dialogue and character interaction. Every gag lands, whether it be those with a cleverly paced build-up or the more immediate visual jokes, while the parodic elements absolutely skewer their intended targets; be that the ludicrous, masonic-like rituals of the Worthing Successful Businessmen's Men's Club for Men or the social media influencer happy to be seen in nothing but one boxing glove to protect his modesty.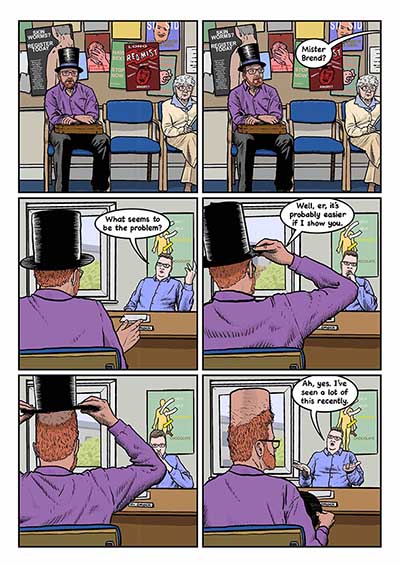 Geesin's cartooning is, of course, key here with his obvious ability to project both the grotesque and the surreally slapstick onto the page reaping dividends. If laugh-out-loud grim is a thing then it perfectly sums up this exercise in comedy-melancholy. Pricks is an annual gem of UK small press publishing. Give it your support in Harrogate this weekend.
Fraser Geesin & Laurie Rowan • Self-published
Fraser Geesin  will be at Table B19-20 in the Redshirt Hall at Thought Bubble 2023
Review by Andy Oliver