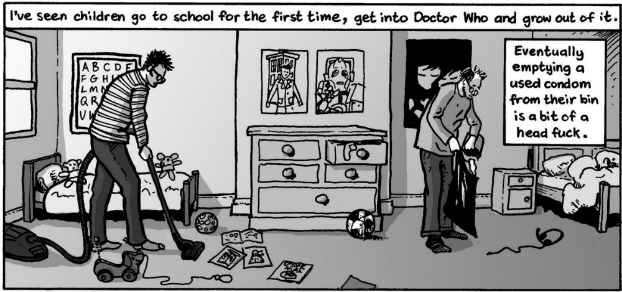 There's something almost gleefully cathartic about reading autobio comics work that centres on other people bemoaning the tribulations of their day-to-day employment. Whether those accounts focus on a particular position, a physical workplace or the maddening horror of being confined in an inescapable space with irritating colleagues, they nevertheless represent a reassuring solidarity in drudgery and a welcome reminder that We Are Not Alone.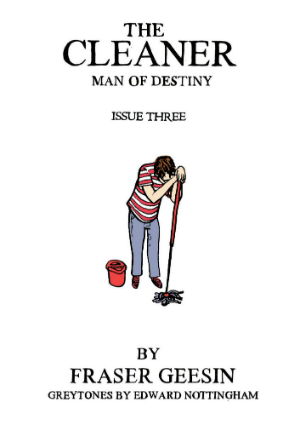 I've reviewed a number of small press titles that provide slice-of-life soliloquies on the world of work here at Broken Frontier over the years including one of my all-time favourite zines Can I Borrow Your Toilet? by Gareth Brookes, the themed anthology Steak Night #3 and my introduction to the quick-form diary scribblings of Elizabeth Querstret in Enter My Working World.
We can now add Fraser Geesin's The Cleaner: Man of Destiny (greytones by Edward Nottingham) to this pantheon of job-focused reflections in sequential art form. Geesin's long-running project recently reached its third instalment and, if you were one of those lucky punters in the New Dock Hall at Thought Bubble last weekend, you may well have already picked up a copy of this rather splendid ramble through the artist's employment history that is strangely uplifting in its undeniable bleakness.
The comic's title, of course, refers to one of the creator's many forays into the daily (or nightly) grind but, while a focal point of the anecdotal amusement herein, the mop and bucket hijinks are just one aspect of a title that also gives us Geesin's wittily dry accounts of working as a fairground ride attendant, traffic surveyor, photographic model, stand-up comedian and bar person among others.
It will have to remain a mystery to the casual reader as to whether the contents of The Cleaner: Man of Destiny are strictly autobio or, rather, looser biographical embellishment. Of course, the nature of memory and our interpretation of it means that, to differing degrees, those two things are far closer to being one and the same than we may care to admit anyway. What isn't in doubt is Geesin's keen observations on human nature that are far more nuanced than his ostentatious on-panel clowning would have us believe.
The first part of the series effectively acts as an origin issue. Here we look back with Geesin on the events prior to his employment as a cleaner of other people's homes. A super-hero obsessed childhood, his student days in Brighton and that inevitable sense of post-graduation aimlessness all leading up to him wheedling himself into a gig as an agency cleaning operative. Geesin takes a warts and all approach in portraying his unfocused, drifting existence in these years but his depiction of his foibles and insecurities has an endearing quality. A scene where the kid-phobic narrator bonds with a small child over his Marvel action figures is a particularly resonant example of this.
Cleaning is a job that makes him feel at once both intimately involved in the lives of his clients and yet the ultimate outsider as well given that it's a position that, to all intents and purposes, counts intrusion and voyeurism as essential skills on its job description. This is so effectively communicated by Geesin's narrator's eye view of his surroundings on panel in the first issue, placing him one step back from the lives of his clients while still making him seem complicit in their every unspoken secret.
The emphasis throughout all three issues is, of course, on the slacker funnies which manifest themselves in gentle social commentary, physical humour (as Geesin's gauche interactions with his environment are embodied in his ever awkward visual characterisation), punchline-led yarns and the odd fantasy cutaway (his brief time as a rollercoaster operator is squirmingly brilliant in its on-page representation). By the time we get to the third issue – and our hero's sideways movement into stand-up comedy – the rhythm and the pacing of his narrative patter has been firmly established.
There's a lot going on in the book with a broader, overarching, thematic storyline that is effectively composed of smaller, discrete episodes. Where The Cleaner: Man of Destiny succeeds so well, though, is in our empathetic relationship with its likeable protagonist. He's flawed enough to be recognisable as an on-page avatar for our own frustrations with our working lives but not to the degree that he becomes unsympathetic in the process. We root for him while excusing his indiscretions, and occasional lack of ambition or drive, because we see ourselves embodied in his disaffected demeanour.
The Cleaner is a gloriously self-referential meditation on the tediousness of work that, fittingly, is almost too apathetic to muster the energy to skewer its subject matter; an indictment on the 9 to 5 that can't really be asked to be angry or confrontational; and a languid sigh in the direction of the career-orientated and the professional climbers. Geesin has created one of those rare comics that you'll go back to time and time again, smirking in knowing agreement as your affinity with its unlikely hero grows with each re-reading.
For more on Fraser Geesin visit his site here and follow him on Twitter here. You can buy The Cleaner: Man of Destiny here priced £3.00 per issue. 
For regular updates on all things small press follow Andy Oliver on Twitter here.