THOUGHT BUBBLE 2019!
"Voyage into the known with these credible tales of the expected" says the cover copy of Journey to the Surface of the Earth, Fraser Geesin's new collection of comics for this year's Thought Bubble. It's a fittingly witty celebration of the mundane given Geesin's propensity for finding bleak mirth in the everyday minutiae of life (albeit with an often grotesquely weird spin). From his brutally self-deprecating series The Cleaner: Man of Destiny detailing the (many) trials and (even more) tribulations of his employment history, to the world's first IKEA-themed comics anthology Komisk, Geesin's own endearingly peculiar worldview is always a treat as Thought Bubble approaches.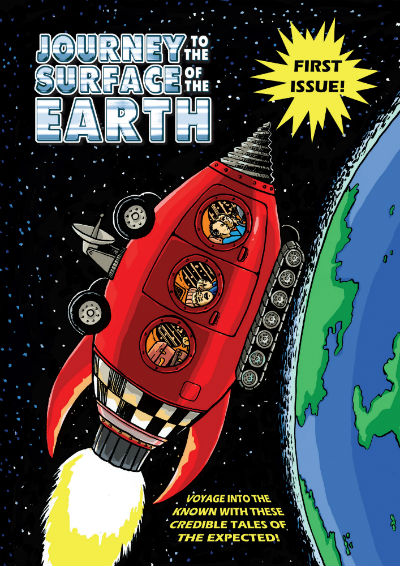 Journey to the Surface of the Earth collects new Geesin work alongside some assorted material from the archives. Of the older work the colour 'Edney and the Sheep' (below) has hints of The Cleaner and one suspects it was originally created to channel those autobio experiences into a more symbolic strip. Brashly incompetent cleaner Jack Bunce is employed by Edney Bear to rid him of an infestation of miniature sheep in a bizarrely amusing landscape-style four-pager. It's full of the dark flights of fancy we've come to expect from Geesin, all presented with a suitably cynical glee. There are a selection of other Geesin curiosities – a proposed satirical newspaper strip for a music magazine that didn't quite happen (top banner image), a Westworld one-page parody and an environmentally-themed undersea illustration that manages to be both effective in message and also in the most gloriously bad taste.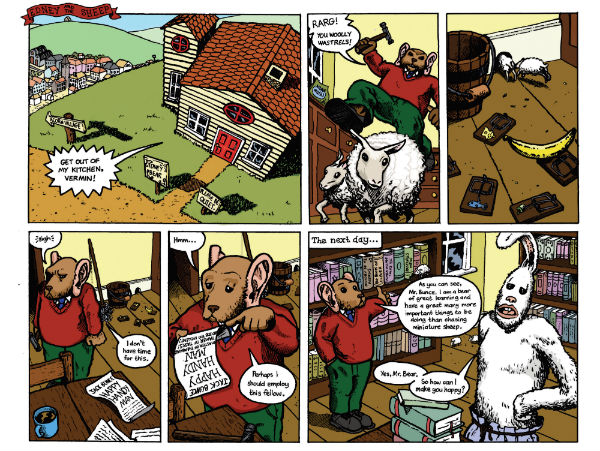 It's the central story 'Ashes', though that is the main draw. A strange account of an urn full of human ashes picked up by a woman at a flea market in the mistaken belief that it was a vase, it moves from blackly comedic farce (what do you do with an urn full of someone else's ashes?) to a more existential saga about fate and free will. Geesin manages to ascribe a certain everyday pedestrian quality to even the unlikeliest twists and turns of destiny here as the urn appears to exert control over the woman's life, supposedly guiding her through a series of portentous accidents and coincidences. Geesin's understated but bleak humour gives it an added philosophical edge.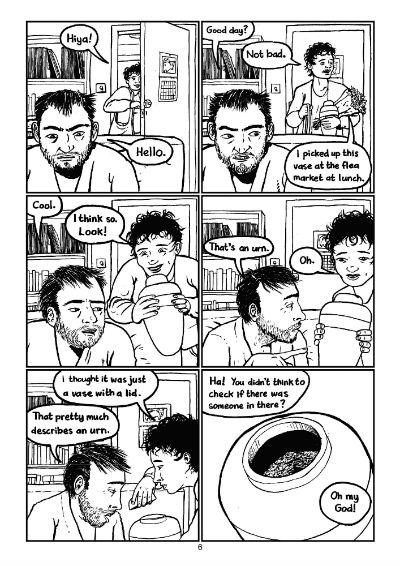 Those Thought Bubble-bound who are long-term fans of the Geesin oeuvre will no doubt find much in these pages to make this a must-buy item. But it's also a neat entry point for those new to his work. I'd recommend grabbing all four issues of The Cleaner: Man of Destiny as well while you're there and immersing yourselves in the unique mindscape of this seriously underappreciated mainstay of the UK self-publishing scene.
For more on Fraser Geesin visit his site and online store here and follow him on Twitter here. Fraser Geesin will be exhibiting at Thought Bubble 2019  at the Mindless One and SILENCE! Podcast Table 16 in the ComiXology Originals Hall.
For regular updates on all things small press follow Andy Oliver on Twitter here.
Review by Andy Oliver