Press Release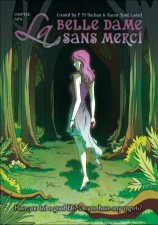 Chapter Two of English Gothic horror comic-book series, La Belle Dame Sans Merci (LBDSM), created by P M Buchan (BLACKOUT) and Karen Yumi Lusted (Tommi C. and the Cat Burglar) is now on sale, in print and digital versions, at http://pmbuchan.bigcartel.com. Based on the poem of the same name by John Keats, LBDSM is a four-part series that drags The Beautiful Lady out of the forest and screaming into the modern world.
American dark punk-rock band For the Wolf, from Tulsa, Oklahoma, have recorded A Faery's Song, based on the first issue of LBDSM, to tie in with the release of issue two. A Faery's Song is the first song to be released from For the Wolf's second album, Turn on the Dark, which will be launched by HorrorHound Records in March – www.horrorhoundrecords.com. Watch the music video for A Faery's Song here and download the MP3 here.
Speaking of the origins of A Faery's Song, Kristy Emory from For the Wolf said: "I grew up in a family made up of pastors and evangelists, but I also grew up a fan of horror.  Staying up late watching Tales from the Crypt with my Mom, the horror that I've always gravitated toward has involved that struggle with heaven and hell – the dark and the light.  After reading the first issue of LBDSM I was hooked, so when we were asked to write a theme I was ecstatic.  We were listening to a lot of Ghost B.C. at the time and knew we wanted a certain feel for the song so it made it really fun to write.  I read LBDSM and the original poem multiple times to prepare, trying to put myself in the shoes of the mysterious 'Faery' and explain her side."
LBDSM: Chapter Two features a bonus short story by P M Buchan, pin-ups by Anna Fitzpatrick (KORE) and Jessica Monster, an additional design by Mike Stock (VS Comics, Dead Roots). This follows the first issue, which featured a back-up essay about the feminism of Keats by feminist pop-culture writer Miranda Brennan (Bad Reputation), cover colours by Kate Brown (Young Avengers) and a free soundtrack by composer Brendan Ratliff (Echolevel/Syphus). Chapter One was also made into a short film by Mitsuko Studios in 2011.
For the Wolf's Turn on the Dark will be available to buy at the HorrorHound Weekend, March 21st to March 23rd 2014, where For the Wolf will join Calabrese, Harley Poe and the Creeping Cruds for an all night concert at Sharonville Convention Centre. P M Buchan collaborated with Harley Poe's Joe Whiteford in 2012 and 2013 for their obscene horror-comedy anthology comics, BLACKOUT and BLACKOUT II: YOLO.
Speaking of LBDSM, Richard Bruton of Forbidden Planet International said: ""This comics adaptation delivers PM Buchan's take (on the poem by John Keats), a different, inventive relocation, a dark and bloody affair, and most importantly La Belle Dame here is both seductress and victim, her bloodstained hands a defense against all manner of demons following her. La Belle Dame Sans Merci is an intriguing comic: skillful, nuanced horror, starting as a mundane urban tale, switching to a dramatic betrayal and finally ending on a gut-wrenching twist that disturbs."
Jim Reader at Exquisite Terror had the following to say about LBDSM: "What Buchan has done here is taken the femme fatale of a 19th-century poet and used her in a contemporary and completely different framework. It's reminiscent of how John Milius used Joseph Conrad's Heart of Darkness to write Apocalypse Now. In Keats' original poem the knight is the narrator; in Lusted and Buchan's adaptation the 'faerie girl' will get the lead role as narrator and vengeful antagonist. Like Apocalypse Now, this means Buchan and Lusted will take their source material far beyond a simple adaptation and transform it into something much more personal and complex."
For more information about La Belle Dame Sans Merci visit http://pmbuchan.com and for more information about For the Wolf visit www.forthewolfok.com.