Nothing is quite what it seems on Earth or in space.
Letter 44 messes with your mind, and you won't mind at all.
While newly elected President Blades is being given the nickel tour of Project Monolith and its advanced weaponry complete with a condescending explanation of the logic behind his predecessor's decision to prepare the nation for the inevitable conflict with the alien presence in space, the crew of the Clarke has crossed the signals curtain and is dealing with a total systems shutdown.
The technological advancements achieved thus far by Project Monolith could put a swift end to both of the wars the U.S. is currently fighting. But President Carroll had given a strict order not to deploy the technology because he didn't want the aliens to know our full military capabilities. That isn't sitting too well with President Blades, and it's clear that the military establishment isn't telling him everything.
Meanwhile, the space-walking crew of the Clarke restores the power after realizing that passing through the curtain overloaded the ship's sensors. The ship was obviously designed in haste, however, as the simple power reboot had to be conducted externally. The trip is taking a toll on the crew members, and writer Charles Soule invests some quality panels in character development. This crew is an interesting collection of scientists and military personnel who care about each other and the unborn child of their very pregnant captain.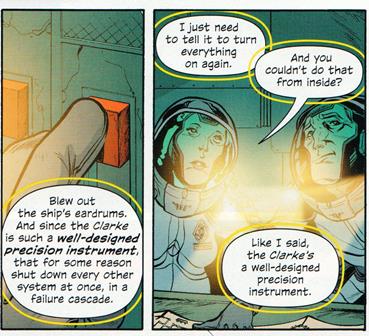 Letter 44 #2 is a gorgeous mix of political intrigue and sci-fi. Because of the considerable attention Soule gives to the individual characters, the twists and turns of the multi-layered plot are beautifully executed. He has created a world where everyone is dedicated to doing their job—but who determines exactly what those jobs are? Who is really in charge? Individual perceptions will forge the path that this world takes, and it's going to be a tense, bumpy ride.
Alberto Alburquerque's art gains momentum with this issue. This is a very large cast of mostly male characters, and he is taking great care to make the individuals stand out in each panel. His art invokes the classic lines of Mystery in Space with a modern sense of pace.
Charles Soule (W), Alberto Jimenez Alburquerque (A) • Oni Press, $3.99 November 27, 2013