We are, of course, always happy to promote queer-focussed comics material and in Pride Month that becomes all the more important. Details below about a new graphic memoir Liberated by Kaz Rowe and published by Getty, spotlighting queer icon Claude Cahun.
New Graphic Biography on the Life, Art, and Activism of Queer Icon Claude Cahun 
Cahun created some of the most iconic photographs of Surrealist France—and led a secret resistance against the Nazis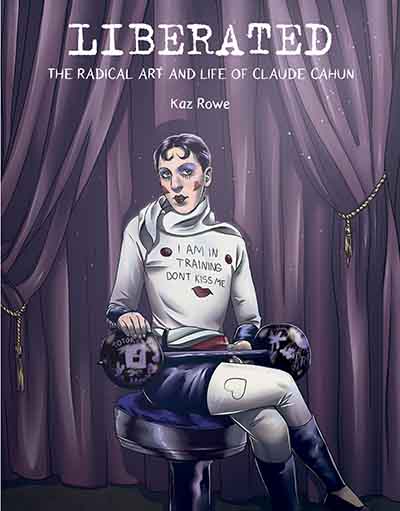 At the turn of the twentieth century in Nantes, France, Lucy Schwob met Suzanne Malherbe, and lightning struck. The two became partners both artistically and romantically and transformed themselves into the creative personas Claude Cahun and Marcel Moore. Together, the couple embarked on a radical journey of Surrealist collaboration that challenged gender roles and championed freedom at a time when strict societal norms meant that the truth of their relationship had to remain secret.
Liberated: The Radical Art and Life of Claude Cahun (Getty Publications, $19.95), the debut young adult graphic novel written and illustrated by cartoonist and YouTuber Kaz Rowe, brings to life the inspiring and powerful story of Claude Cahun's radical artistic career and creative and romantic partnership with Marcel Moore. Rowe dreamily illustrates Cahun's upbringing, honoring their Jewish roots, time in the Surrealist milieu in 1920s Paris, and finally deeply courageous resistance to the Nazi occupation during World War II, for which Cahun and Moore were both sentenced to death. For ages 13 and up.
Kaz Rowe is a Chicago-based cartoonist, an illustrator, and a YouTuber.
Pre-publication endorsements for Liberated: 
"A powerful representation of gender diversity and queerness in history, this graphic biography serves as a reminder that LGBTQ+ folks have always existed . . . and that as long as there's been oppression, there has been resistance. . . . An uplifting portrayal of the beauty of diversity and courage in the face of oppression."
—Kirkus Reviews
"Claude Cahun lived at the crossroads of masculine and feminine, of artist and activist, of blessed and cursed by the circumstances and time period they were born into. Rowe weaves together historical photos, direct quotes, and lyrical imagery to tell the tale of this brave queer icon to great effect."
—Maia Kobabe, author of Gender Queer  
Publication Information: 
Liberated: The Radical Art and Life of Claude Cahun  
Kaz Rowe
Getty Publications
96 pages, 7 x 9 inches
91 color illustrations, 11 b&w photographs
Hardcover
ISBN 978-1-947440-07-4
US $19.95
Publication Date: 12 September 2023