Who could ignore a tagline like "More frozen screams from the post-industrial wasteland" on an alt comics collection's cover? Samuel Hickson's Liquid Realm returned recently with a second issue of quirkily offbeat comic strips that again have something of an old school indie small press feel. Back in 2021 I took a look at the first, as then unnumbered, issue of the series and called it "a darkly comedic collection… that has a definite underground sensibility." Traits that are very much in evidence again in this follow-up edition.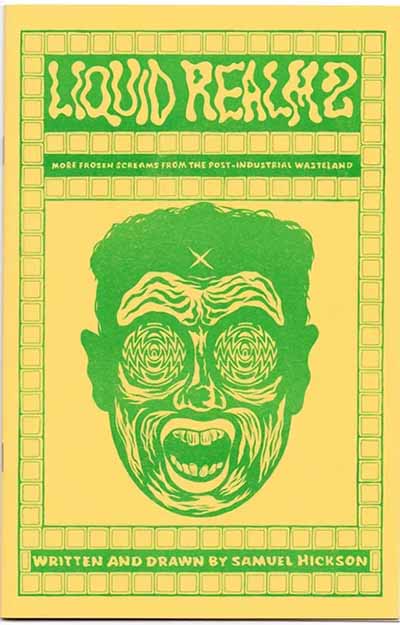 Liquid Realm #2 has a more polished feel than its predecessor which is possibly an ironic thing to say given that is probably the last thing Hickson is looking to provide here. Structure and tied-up narrative denouement are less important in Liquid Realm than an immersion in the moment whether that be in the late night, flat-share, slacker conspiracy humour of '8 O'Clock Rot', a one-pager about a cat in silhouette (about which I can say no more for fear of ruining its rather disarming revelations), or a short visual essay on the phenomenon of plodding.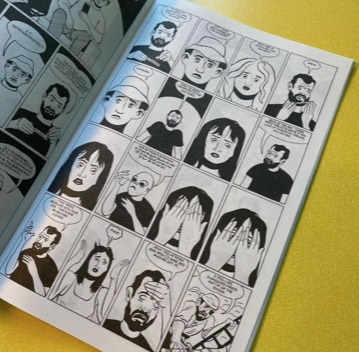 The longest-form story in this volume is 'Nightmare Tory Hellscape' which takes us to a future extrapolated from our own present where a couple looking to escape their dire existence in an authoritarian society are forced into organ-selling just to maintain anything approaching a comfortable existence. Here NHS staff are forced to extremes to protect their communities, Conservative MPs act like feudal lords, and the threat of being deported to Rwanda hangs over everyone's heads. A cutting piece of extreme satire or the next step in the far-right degeneration of the UK? You decide.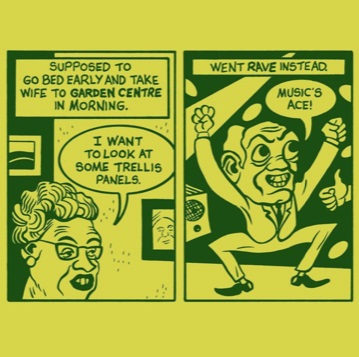 Rounding things off is 'Revenge', a tale of a downtrodden individual wreaking robotic vengeance on such familiar characters as the bullying boss or the tyrannical physical education teacher. There's not a lot in terms of plot here but there is much value to be found in its cathartic quality and bleak visual slapstick. Hickson has an aptitude for exposing authority figures while also ensuring his everyman characters' victories are fleeting at best, reminding us that the decks are so stacked against us that social justice is an often unattainable goal.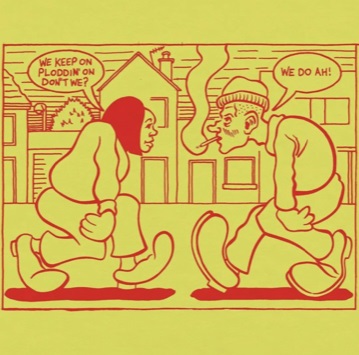 Liquid Realm is reminiscent of the kind of chaotic, underground-style comics that once made up a significant portion of the self-publishing scene. We need more work like this to challenge some of the middle-class cosiness that has become something of a phenomenon in UK small press comics in recent years. It deserves your support for that aspect alone.
Samuel Hickson (W/A) • Self-published, £5.50
Review by Andy Oliver