From Draw the Line: 100+ Things You Can Do to Change the World to Sorry for the Inconvenience… We Are Trying to Save the World Myfanwy Tristram's comics activism has undeniably produced some of the most relevant UK practice in the turbulent times of the last few years. It's that latter offering – a response to the Conservative government's attempts to drastically limit our basic human right to protest – that makes up the subject matter for a new exhibition, 'Word on the Street', opening at the Workers Gallery this week. The gallery has a remit to "agitate for real social and cultural positive change" and 'Word on the Street' is part of "a schedule of shows looking at political issues, our right to protest and social justice." More details in the press release below.
WHAT WOULD GET YOU MARCHING IN THE STREETS?
WORD ON THE STREET – a Celebration of Our Right to Protest
EXHIBITION, ARTIST ACTIVIST TALK, WORKSHOPS & NEW COMIC (free entry) inspired by the PROTEST COMICS of Myfanwy Tristram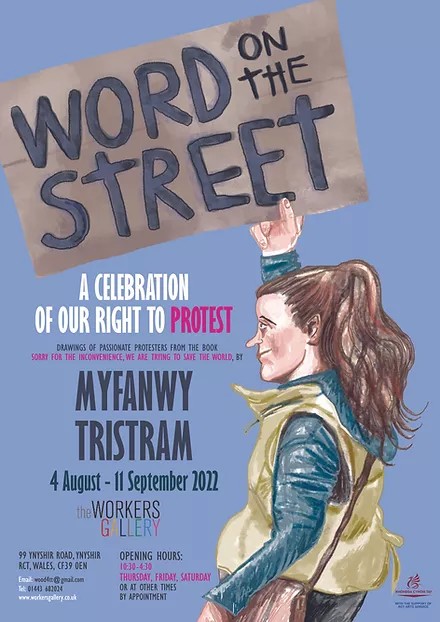 WHAT: Word on the Street: Protest Comics
WORD ON THE STREET centres on an exhibition of drawings by Tristram. These drawings depict real protestors, from all over the world, holding placards with witty, indignant and poignant slogans demanding change.
'As source material, I used photographs from recent protests and from historic ones, finding far more examples I wanted to include than there were days in the month.
The slogans were witty, thoughtful, persuasive — and when seen together, are demonstrative of how protest, far from being solely about anger and violence, can actually bring out the best in dissenting citizens.'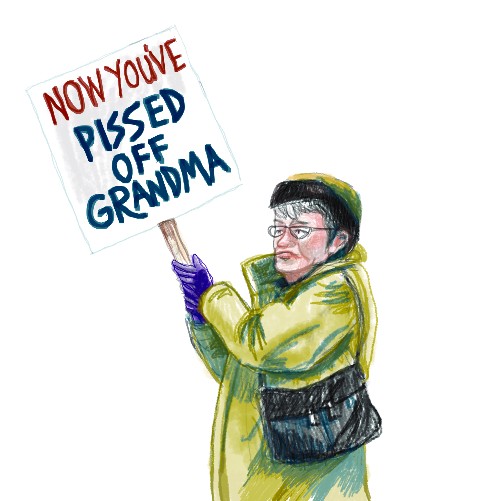 Accompanying the exhibition are an artist activist talk, a zine making workshop day and a call for people of Wales (but especially the valleys) to share what issues would make them 'take to the streets' today and what provoked them to act in the past. Whether that be the impact of climate change manifesting in the recent multiple landslips in the area, disused buildings endangering communities, issues causing flooding, the cost-of-living crisis or other social injustices. Comics artist Myfanwy Tristram will listen to protesters – past, present, and future and engage with their stories and testimonies, collaborating with local people to create a new comic!
When the Workers gallery approached me, I discovered that I couldn't have wished for a better venue in a more suitable place. Rhondda's living history of protest, struggle and campaigning means that I'll have the chance to talk to locals and hear their first-person accounts of boycotts, strikes, marches and campaigns, which, with their permission, I hope to weave into a brand new graphic novella (or comic! But it's important to realise what a broad term "comic" is these days, just in case anyone is thinking of the Beano or Dandy).  – Myfanwy Tristram, comics artist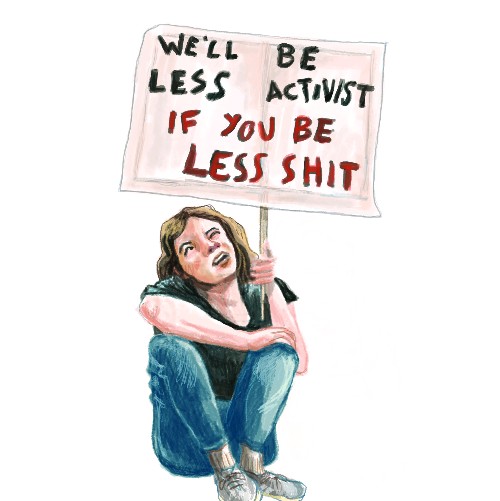 Visitors are invited to respond to the show through a free activity and interactive worksheet and these will be displayed as part of the show at the gallery.
The show will tour to local community venues via cargo e-bike and groups are invited to be part of the show's tour – just contact the gallery via www.workersgallery.co.uk/contact
Word on the Street is supported by RCT Arts Service.
WHERE: Workers Gallery, 99 Ynyshir Road, Ynyshir, RCT, Wales CF39 0EN www.workersgallery.co.uk
WHEN: EXHIBITION: 4 August – 11 September 2022, 11am – 4.30pm Thurs-Sat or at other times by appointment.
TALK: 7pm, Thurs 4 August ACTIVIST & ARTIST TALK featuring Myfanwy Tristram & Cat Lewis
ZINE MAKING WORKSHOPS: 11am – 1pm or 2-4pm, Sat 6 August Led by Myfanwy Tristram, supported by Gayle Rogers
WHO: 'The inspiration for this series of participatory events is Myfanwy Tristram's recently published protest comic called 'Sorry for the Inconvenience, We are Trying to Save the World'. The comic includes the portraits of protestors but also a series of wonderfully illustrated 'how to' guides and references to protest as an important part of our democracy.
In 2021, infuriated by the UK's government's crackdown on the right to protest in the Police, Crimes and Sentencing Bill, I spent the month of October drawing a different protest placard every day. This was the first seed of an 80-page book, Sorry For The Inconvenience, We Are Trying To Save The World which is the focus of my show at the Workers Gallery – Myfanwy Tristram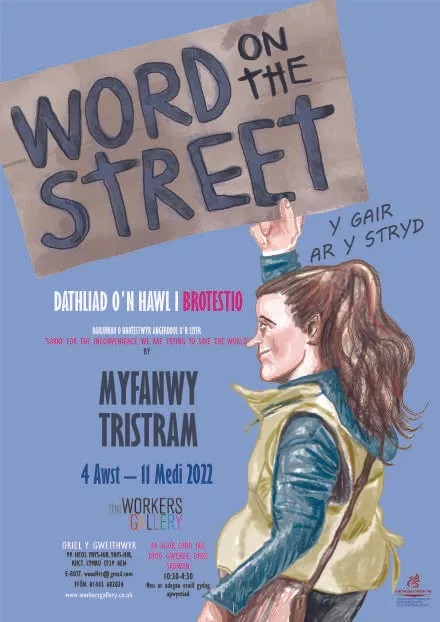 WHY: I am interested in how comics can encourage activism and make real political change – Myfanwy Tristram
When we saw Myfanwy's drawings of protestors online, they made us feel connected to others around the world who were also fighting against injustice and challenging decisions that adversely affected the lives of ordinary people. We want others to feel that connection by visiting the Word on The Street exhibition.
We hope by creating opportunities for people to come together, to discuss and respond to activist art, they'll to be inspired to develop their own 'radical voices' and take action to bring about positive change in their communities.
The exhibition includes portrayals of protestors with placards of resistance that some may find challenging or witty. It's important to us as a gallery to celebrate work that responds to important social issues. What could be more important than our democratic right to peaceful protest? – Gayle Rogers, Resident Artist, Workers Gallery