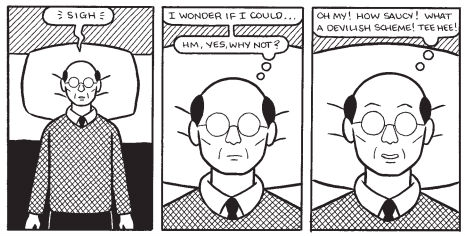 Newly released via Drawn & Quarterly, The Follies of Richard Wadsworth marks the first major comics collection from Toronto-based satirist Nick Maandag. Previously micro-published (Streakers, Mean Dog Comics 2011) and self-published (The Libertarian, 2012; Facility Integrity, 2014), Maandag's work has already earned him a cult following which counts Seth, Chester Brown, John Porcellino and Simon Hanselmann among its ranks. Yet where few were lucky to grab copies of those limited editions, now woefully out of print, the wider distribution of this new graphic compendium should finally establish Maandag as one of the foremost humour cartoonists working today.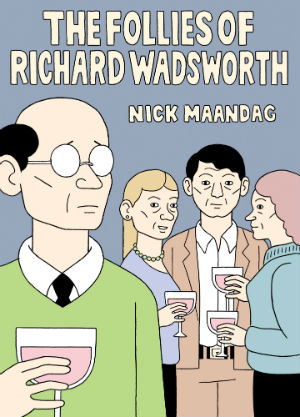 Comprised of three parts (the titular story, plus 'Night School' and 'The Disciple'), The Follies of Richard Wadsworth casts a loving gaze on the types of unpleasant, socially inarticulate outsiders that the likes of Clowes and Tomine might throw into an awkward situation as fodder for animosity and embarrassment to ensue. Maandag somehow takes his sad beta-male punchlines further, setting his characters' misadventures in circumstances so mundane they become ludicrous, and thereby encouraging the reader to scrutinise certain institutions, conventions and stereotypes they might take for granted.
Take for example titular character Richard Wadsworth; a 37-year-old metaphysician seeking tenure at a new university. When we first meet Wadsworth, en route to his new placement, he can't fathom his own inability to keep down a steady job, believing there must be a curse against him. He is after all a genius in his academic field, with Maandag's own background as a Philosophy graduate lending an essential authenticity to his dialogue about the Quinean criterion of ontological commitment, or substrata unification theory. Nevertheless, despite his book smarts, Wadsworth's attempts to ingratiate himself to his new class and colleagues achieve quite the opposite. His fluency in complex philosophical concepts doesn't predicate an ability to comprehend a simple pun, or a culinary palette beyond what is served at his Americana chain-restaurant of choice. All hope of Wadsworth winning favour from the faculty is lost when he confuses the university's dean with its groundskeeper, or buys an erotic massage from a student whilst poorly disguised in a cheap Halloween costume.
As in these tableaux, ideas around identity and comedy of errors represent a consistent thread through Maandag's work, wherein minimalist character designs are easily – and intentionally – mistaken for one another. Dome-headed, crosshatched, and largely devoid of distinguishing features, the simplistic linework on these interchangeable men and women allows Maandag to skewer and single out social misfits in an otherwise homogenous majority with particular sophistication. Those who might initially 'pass' as ordinary on appearance quickly reveal themselves as unfit to function within the structures of the workplace, education and organised religion on the basis of their nonconforming attitudes and behaviours, making their oddball transgressions all the more unexpected and farcical.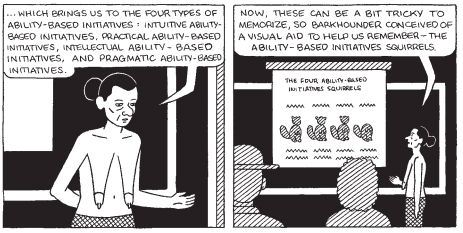 'The Disciple' finds its setting in a monastery, where robes and hairstyles are uniform, and faces are identifiable only by the thickness of their eyebrows or the prominence of their frown lines. Within a setting of superficial tranquillity, these outwardly neutral individuals suppress deeply troubled and frustrated psychologies which, once surfaced, lead them to engage in decidedly impious exploits. Ideas of philosophy and ideology again come under the microscope, as characters' intentions to live life in a certain way are satisfyingly scuppered by their innate human natures, wherein sexual desire, greed, creature comforts and freedom of expression are more powerful motivators than theoretical teachings. Taking this idea to the extreme is the introduction of 'Brother Bananas', a monkey from the neighbouring forest who has started attending meditation sessions and integrating himself within the monastic community, and who stands as good a chance at attaining enlightenment as the adolescent human males he studies alongside.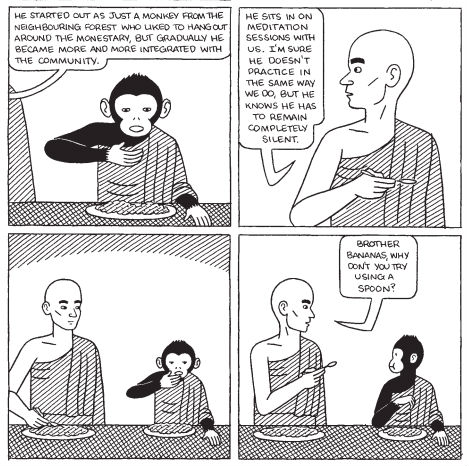 Meanwhile, in 'Night School', a familiar cast of educators, caretakers and pupils intersects at a 'Modern Managerial Business Administration and Operational Leadership' course; the most dreary setting imaginable, until the arrival of a delusional guest sees the class gradually descend into an absurdist death trap. That the lesson's curriculum entails a squirrel-based skit to illustrate "the four types of ability-based initiatives", and the custodian of the building can't navigate his way around its halls, exemplifies Maandag's flair for matching the pedestrian with the preposterous to hilarious effect.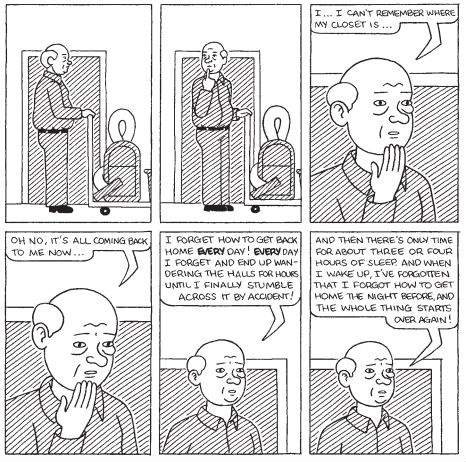 Relentlessly cruel and outrageously funny, The Follies of Richard Wadsworth showcases Nick Maandag's talent for good old-fashioned comic strip cartooning and intelligence for observing the human condition. Be it a topless night school instructor, a power-hungry fire chief or a simian member of a monastic brotherhood, his characters are at once thoroughly unbelievable and – dare I say at the expense of my own non-existent social standing – surprisingly relatable. With this enviable skill set, we can expect to see Maandag considered a new master of cringe-worthy comedy off the back of this release.
Nick Maandag (W/A) • Drawn & Quarterly, $19.95
Review by Ally Russell